One mix doesn't fit all lawns though and to choose the best seed mix you need to know your type of soil, what you want from your lawn and how much time you can put in to looking after it.
It's more important to choose a seed mix for how you will use the lawn rather than how it looks. We might all want a bowling green looking lawn but in reality those lawns are looked after by professionals and are very high maintenance. The healthier the lawn the better it will look so choose a mix to fit your lifestyle and your garden.
Grass seed comes in different varieties and cultivars. To help you understand these different types, below is a list and small description on what they look like, how they grow and what conditions they are best for.
Types of grass seed
The majority of grass seed mix tends to be a combination of Perennial Ryegrass (lolium perenne) which is a hardwearing and fast growing grass and Fescues that are finer leaved and give the lawn a lush more luxurious look.
Perennial Ryegrass – Lolium perenne
This is a fast-growing, hard-wearing seed that is great for lawns with heavy use. It doesn't like short mowing but will germinate in lower temperatures On it's own it wouldn't be the prettiest looking but combined with others this gives a super all-round lawn and if you have an active family that use the lawn a lot its good to choose a mix heavy in this seed.
Strong Creeping Red Fescue – Festuca rubra rubra
This is a grass that spreads by sending out rhizomes so is excellent for filling in bare patches and thickening thinning lawns but like the ryegrass it does better not being mown too short. This is also a good seed to have if you live near the sea as it's salt and wind tolerant.
Chewings Fescue – Festuca rubra communata
Named after the Mr Chewings who developed it . This is a velvety, tufted and slender grass that tolerates close mowing so is great for those after a more ornamental looking lawn.
Hard Fescue – Festuca trachyphylla
This is a drought tolerant grass seed so good for areas that tend to be in full sun for longer. It's also fairly resistant to disease so a stress tolerant seed that is a good all rounder.
Smooth stalked Meadow Grass – Poa pratensis
This is a shade tolerant grass seed and also drought tolerant so good for those areas shaded by a large tree that also takes most of the moisture. It also has high recovery rates, is nicely tufted and adds thickness to a lawn.
Brown Top Bent – Agrostis tenuis
A tufted very fine bladed grass that is commonly used in a golf course mix as it can tolerate very short mowing. Good for a high maintenance luxury looking lawn.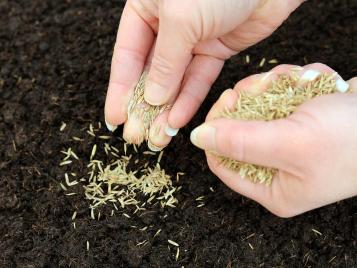 How should you choose?
The most important reason for choosing a particular lawn seed mix is to know what you want to use it for.
You might want a stripey immaculate lawn but if you have kids that play football on it, pets that run around on it or a trampoline then really what you will need is a hard wearing type with a larger percentage of perennial ryegrass.
For those that have the time to maintain a luxury lawn and prefer to look at it rather than use it then you will need to get a mix with more brown top bent and fescues such as slender creeping rather than ryegrass heavy. Remember though that you will also need to feed, scarify, aerate, top dress and mow regularly.
Other factors to consider are if the lawn is shaded by trees, hedges, walls or if its in full sun most of the time. If that's the case then make sure your mix has hard wearing, shade or drought tolerant seeds in it. Bent mixes don't do well during a drought and do brown very quickly.
If you live in a cooler climate then look for a perennial ryegrass mix as they tend to germinate and establish better in colder weather.
Soil type, temperature, but most importantly how will you use the lawn.