Onions are an essential vegetable for all kitchens and are easy to grow from small immature bulbs, called sets. Or they can be grown from seed.
Spring (salad) onions are always grown from seed. Shallots are similar, but always grown from sets. Each shallot set produces a cluster of bulbs.
---
How to grow onions
Culvtivation
Onions prefer a sunny spot with well-drained soil. When digging over the soil, remove any perennial weeds, to prevent them competing with the onions, and improve the soil by incorporating some well-rotted organic matter, such as compost.
A light sprinkling of a general plant food, such as Growmore or fish, blood and bone, will ensure the crop is fed throughout the summer. Then rake the soil to a smooth friable surface.
Onion varieties
Onion sets: All are good croppers, including Sturon, Jet Set and Golden Ball. For red onions, try Garnet or Red Baron/Red Emperor.
Onion seeds: Ailsa Craig and Bedfordshire Champion are traditional favourites.
Salad (spring) onions: White Lisbon, Eiffel, Ishikuro.
Autumn, overwintering or Japanese onions are also available, which are planted in autumn. These will give you an earlier crop in summer than the spring-sown/planted onions.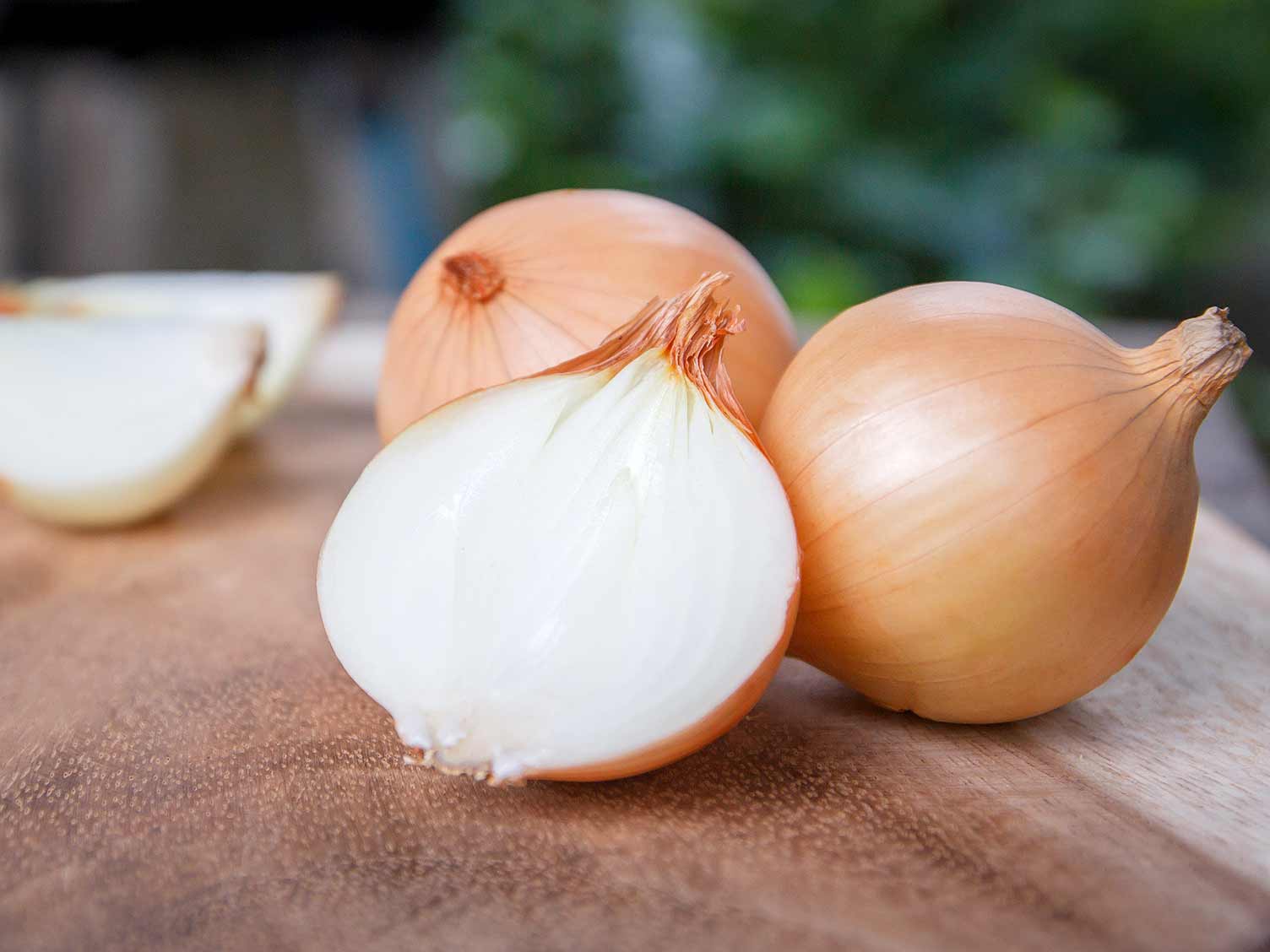 Sowing onion seeds or planting onion sets
Most gardeners grow their onions from specially prepared small, immature onion bulbs, called 'onion sets'. This is the easiest way to grow onions and generally gives better, more reliable results. Each set forms one full-sized onion bulb. Simply plant them from mid-March to mid-April as detailed below.
Growing onions from seed will give you more onions for your money, but reliable crops are more dependent on good, warm spring weather and growing conditions.
Planting onion sets
Plant sets from mid-March to mid-April where they are to mature and crop. Carefully push them into well-prepared soil or, better still, plant with a trowel, so that the tip is just showing above ground level. Leave a gap of 10cm (4in) between each set and 20cm (8in) between rows.
Overwintering Japanese onion sets are planted in the same way in early to mid-autumn at the same spacing.
Sowing onion seed
When the soil is warm enough in spring (usually March or April) take out a shallow drill 13mm (1/2in) deep (a drill is a shallow trench that you sow seed in). Sow the seeds thinly and then cover with fine soil and water in.
Seed of overwintering Japanese onions is sown in late summer at the same depth and spacing.
---
How to care for onions
Salad onions don't normally need thinning, just lift them and eat when they are large enough. Bulbing onions grown from seed need space to expand, so carefully pull out overcrowded seedlings to leave 10cm (4in) between each plant. Onion sets will have been planted at the correct distance apart, so there is no thinning needed.
Water thoroughly during any periods of extended dry weather to keep the soil moist.
Because onion leaves are thin, keep weeds under control throughout the growing season, otherwise they will reduce the size of the onions and the overall crop.
A feed with sulphate of potash in June/July will strengthen the bulbs, improve their flavour as well as their storage ability.
Harvesting
When the foliage has turned yellow in mid to late summer for autumn-planted onions or August/September for spring planted ones, carefully lift the bulbs with a garden fork. The old advice of bending over the necks to help ripening is no longer recommended.
Dry the onions for 7 to 21 days under cover to prepare them for storage. Store in an airy place in net bags, tights or tied to cord to make an onion rope.
Those bulbs that are soft, damaged or have thick necks are unlikely to store well, so use them immediately.
Pests
Onions may be susceptible to the following disease: onion white rot.
| | |
| --- | --- |
| Flowering season(s) | Spring, Summer |
| Foliage season(s) | Spring, Summer, Autumn, Winter |
| Sunlight | Full shade, Partial shade, Full sun |
| Soil type | Clay, Loamy, Sandy |
| Soil pH | Neutral |
| Soil moisture | Moist but well-drained |
| Ultimate height | Up to 30cm (1ft) |
| Ultimate spread | Up to 10cm (4in) |
| Time to ultimate height | 5 months |