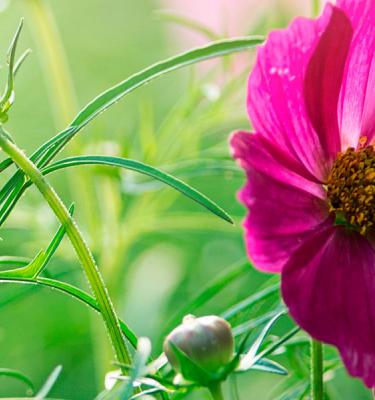 Your Monthly Planting Guide
Gardening in July
We never know quite what the weather will be like in July, so when the sun shines, take every opportunity to get out and enjoy your garden. Most plants are in full bloom now, and there's plenty to do to keep things looking good, whether it's watering plants in dry spells, deadheading faded flowers or keeping on top of the weeding. And don't forget to take some time to simply sit and appreciate all the results of your hard work!
What to plant and do in July?
You'll really start to reap the rewards of your gardening efforts in July with so many vegetables and fruit to harvest. There's still lots to do and plant in July, so choose your favourite category below and read our top gardening tips for the month.
Vegetables
What vegetables to plant in July
The vegetable garden is in full swing in July, and there's plenty to do, with winter vegetable seedlings to plant out, successional crops like salad leaves to sow, and delicious vegetables to harvest for the dinner table. Keep up with the weeding, watering and feeding to give your vegetables everything they need to ripen, and be on the lookout for any signs of pests and diseases.
Sow outdoors directly into well-prepared soil, in beds, borders or containers.
Beetroot
Kohl rabi
Pak choi
Spring onions
Turnips
Plant out seedlings into vegetable beds:
Sprouting broccoli
Winter cabbage
Kale
Leeks
What vegetables to harvest in July;
There are plenty of vegetables to harvest this month, giving you a chance to enjoy the taste of your own home-grown, fresh-picked produce. These vegetables should all be ready to harvest in July:
Courgettes
Garlic
Runner beans
Beetroot
Peas
Chard
Potatoes
Salad
Tomatoes
Vegetable plant maintenance in July
Pinch out tomato side shoots on cordon tomatoes. There's no need to do this for bush tomatoes.
Feed tomatoes, courgettes, peppers and cucumbers weekly with a liquid high potash feed.
Harvest courgettes, runner beans and French beans regularly – they taste best when young and tender, and it encourages the plants to produce more.
Tie in cucumbers and cordon tomatoes to supports.
Pinch out the tips of aubergine, squash and courgette plants to produce bushy plants.
Water regularly, especially container-grown plants.
Check for cabbage white eggs under brassica leaves and squash any you find.
Earth up potatoes to improve the yield and prevent those developing near the surface turning green.
Weed regularly, hoeing carefully around plants to avoid damaging shallow roots.
Fruit
What fruit to plant in July
There's an abundance of fruit to harvest in July, especially soft fruit like currants, summer-fruiting raspberries, gooseberries and the last of the strawberries. Use them fresh in delicious puddings and tarts, or freeze them to keep you well stocked with fruit for the winter. These fruits should all be ready to harvest in July:
Strawberries
Blackcurrants
Redcurrants
Whitecurrants
Blueberries
Raspberries
Cherries
Apricots
Peaches
Nectarines
Fruit plant maintenance in July
Thin out fruit on fruit trees like apples, plums, pears and peaches by removing some of the fruit from each cluster. This helps to concentrate the plants' energies in developing the remaining fruits.
Feed container-grown fruit plants.
Feed citrus trees with a specialized citrus feed.
Water container-grown fruit trees regularly in dry spells.
Peg down runners from strawberry plants to produce new plants for next year. If you don't need new strawberry plants, cut the runners off.
When summer-fruiting raspberries have finished cropping, cut out the old fruiting canes to ground level.
Prune stone fruit such as plum, cherry, apricot and peach trees now, as there's less risk of infection by silver leaf disease if the trees are pruned in summer.
Prune espalier, fan and cordon trained fruit trees.
Treat apple scab by cutting off and disposing of any infected twigs, leaves or fruit.
Lawns
Lawn maintenance in July
Lawns get a lot of wear in summer when we're all out in our gardens enjoying the sunshine. The main task for this month is to keep your lawn looking tidy by mowing regularly, trimming the edges and giving it a feed if necessary.
In very hot, dry summers, lawns can start to look a little brown, but don't rush to water yours straightaway if this happens. Grass is tough and will generally bounce back once it gets some rain, so be water-wise and wait a while.
Apply a high-nitrogen feed to the lawn if you have not already done this in previous months.
Tackle lawn weeds – dig individual weeds up by hand or use a selective lawn weedkiller to tackle heavy infestations.
Water newly laid turf or recently seeded lawns regularly in hot dry weather to avoid them drying out before their roots have had a chance to establish.
Mow the lawn regularly. In hot, dry summers, raise the blades on your mower to reduce the stress on the grass.
Use edging shears to keep the edges of the lawn trimmed around borders and paving.
If you do need to water established lawns, do it in the mornings to reduce the risk of red thread, a fungal disease.
Herbs and spices
What herbs and spices to plant in July
Herb gardens really come into their own in summer, bursting with growth all ready for harvesting and using in the kitchen. Sow these herbs in July for a constant supply of fresh leaves:
Sow outdoors in pots or in well-prepared soil:
What herbs and spices to harvest in July
Many herbs benefit from regular harvesting and will simply put on more growth, ready to be used. All herbs can be harvested in July, including:
Lavender flowers (for drying)
Borage flowers
Basil
Coriander
Thyme
Sage
Parsley
Rosemary
Dill
Mint
Chives
Herbs and spices plant maintenance in July
Water container-grown herbs regularly in hot weather.
Harvest herbs like thyme, basil and rosemary regularly for cooking. This promotes the growth of fresh new leaves.
Sow annual herbs like coriander every few weeks, so that you have a continuous supply through summer.
Pinch off any developing flowers from annual and biennial herbs like basil, coriander and parsley, as the flavour of the leaves deteriorates once the plants have flowered (this isn't the case for shrubby herbs like rosemary and lavender).
When harvesting herbs for drying, pick them early in the morning as soon as they're dry, so that they're still filled with their essential oils.
Ornamental plants
What flowers and bulbs to plant in July
Perennials, annuals and summer-flowering bulbs are all in full bloom in July, so take some time to sit and enjoy the results of all your hard work in the garden. There are still flowers to sow and bulbs to plant though, to make sure your garden keeps on looking great throughout the year.
Sow these seeds in a greenhouse or on a sunny windowsill now for flowers next spring and summer:
Aquilegia
Delphiniums
Foxgloves
Wallflowers
Plant autumn bulbs now in well-drained soil or in pots, planting them at a depth of around 2 times the length of the bulb. Water them after planting. These autumn-flowering bulbs are ready for planting in July:
Nerines
Colchicums
Cyclamen hederifolium
Arum italicum 'Marmoratum'
What flowers to prune in July
Cut back faded perennials once they've finished flowering to keep the garden looking tidy. They will put on fresh growth and often a second flush of flowers in late summer. Perennials to cut back in July include:
Hardy geraniums
Delphiniums
Lupins
Flower maintenance in July
Deadhead perennials regularly to encourage them to keep producing flowers.
Cut sweet pea flowers for the house and to stop the plants setting seed.
Lift overgrown clumps of bearded irises and divide them to rejuvenate the plants.
Spray perennial weeds like ground elder and bindweed with a glyphosate-based weedkiller now, as the plants have plenty of leaves to absorb the weedkiller. Always follow the manufacturer's instructions when using weedkiller, and protect surrounding plants before spraying.
Things to do this month
Open greenhouse doors and vents on hot days.
Water plants regularly during dry periods, watering in the mornings or evenings to reduce water loss through evaporation.
Water rhododendrons and camellias regularly in dry spells, as they are developing the buds for next year's flowers now.
Keep ponds clear of weeds and topped up.
Keep feeding wild birds with suitable bird food as they rely on us for food all year.
Wild birds may be short of natural water supplies, so keep bird baths topped up.
Add waterlilies and floating aquatic plants to help provide shade and keep water cooler.
Only give your fish enough food that they can finish within a few minutes and remove any uneaten food.
Prune wisteria, cutting back the long whippy shoots to about 5 leaves from the main branches.
Deadhead repeat-flowering roses to keep the flowers coming.
Treat paths and drives with a path weedkiller to kill existing weeds and prevent new ones appearing.
If you are going away on holiday for a short period, water your houseplants well before you go and move them into a cool location away from bright sunlight to stop them drying out.
What to do in your garden in July