Peonies are fabulous plants, grown for their brilliantly coloured, big, blousy blooms in late spring and early summer. These are usually in shades of whites, pinks and reds, often very highly scented, and make great cut flowers too.
The most commonly grown and the most popular are the herbaceous peonies, but there are also the so-called woody, tree peonies, which are medium-sized deciduous shrubs.
How to grow peonies
Cultivation
Peonies prefer a position in full sun, providing it doesn't get too hot in summer, although a few types will tolerate light shade.
Peonies need a good, fertile, well-drained soil, which is preferably neutral to alkaline. Paeonia anomala should be planted in slightly acid soil.
The flower buds of tree peonies can be damaged by late frosts, so avoid planting them in frost pockets.
Peony varieties
There are dozens of fabulous varieties available. Here are just a few of the most popular…
Herbaceous peonies
Paeonia Bowl of Beauty Cerise pink flowers with a cream centre.
Paeonia lactiflora Duchesse de Nemours Very fragrant, double white flowers.
Paeonia lactiflora La France Fragrant, double pink flowers.
Paeonia lactiflora Sarah Bernhardt Fragrant, double pink flowers.
Paeonia lactiflora White Wings Single white flowers with orange centres.
Paeonia mlokosewitschii – commonly known as "Molly the witch", because of its unpronounceable species name. Single lemon yellow flowers.
Paeonia officinalis Rubra Plena Deep crimson red flowers.
Tree peonies
Paeonia delavayi Maroon flowers with yellow centres.
Paeonia x lemoinei Alice Harding Double lemon yellow flowers.
Paeonia rockii (sometimes listed as Joseph Rock or Rock's Variety) Semi-double white flowers with maroon bases.
Paeonia suffruticosa Hana-kisoi Double magenta-pink flowers with yellow centres.
Paeonia suffruticosa Duchess of Kent Double deep rose red flowers.
To see the wide range available, visit the website of a peony specialist, such as Kelways or Claire Austin, where you can see pictures of all the varieties.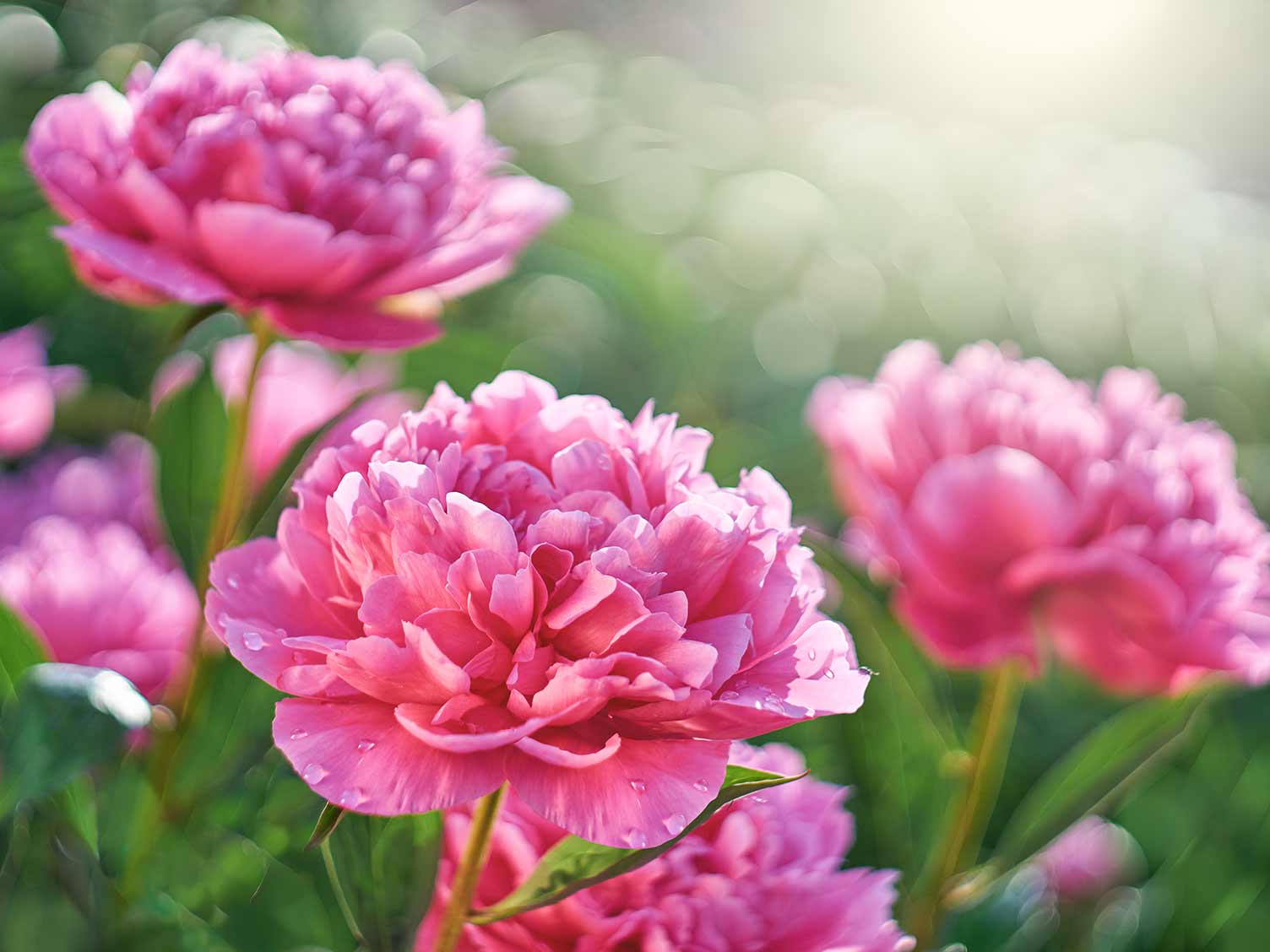 Planting peonies
Herbaceous peonies are available as either bare-root or container-grown plants. Bare-root plants should be planted in autumn. Container-grown plants can be planted in autumn or early spring
Tree peonies are best planted in the autumn, or in winter to early spring.
Dig over the planting area, incorporating lots of organic matter – such as compost, leafmould or well-rotted manure. Dig a good sized hole big enough to easily accommodate the roots or the rootball.
Place the roots in the planting hole and adjust the planting depth accordingly to the type being planted.
Herbaceous peonies dislike deep planting, so make sure that the top of the crown of bare-root plants is no more than 2.5-5cm (1-2in) below soil level and that of container-grown plants is at soil level.
Most tree peonies are grafted onto a herbaceous peony rootstock; look for the graft union (a slight bulge) close to the base of stem. When planting, the graft union should be about 10-15cm (4-6in) below the soil level. This deep planting encourages the grafted plant to form its own roots and reduces suckering from the herbaceous rootstock.
Mix in more organic matter with the excavated soil and fill in the planting hole.
Water in well, apply a granular general feed over the soil around the plant and add a 5-7.5cm (2-3in) deep mulch of well-rotted garden compost or bark chippings around the root area.
Suggested planting locations and garden types
Flower borders and beds, patios, containers, city and courtyard gardens, cottage and informal gardens, cut flower gardens.
How to care for peonies
Water plants well in the first year or so, while they are establishing. Herbaceous peonies are relatively drought tolerant when established, but water thoroughly during prolonged dry periods in summer.
Feed every spring with a balanced granular plant food.
Mulch around plants with a 5-7.5cm (2-3in) thick layer of organic matter, such as compost, composted bark or well-rotted manure. Make sure the mulch does not cover the crown of herbaceous peonies and is kept clear of the base of the stems of tree peonies. The stems of herbaceous peonies may need staking to support the weight of the flowers. This is particularly true of those varieties with very large or fully double, many-petalled flowers.
Cut the foliage of herbaceous peonies down to ground level in autumn.
Peony bud blast disease prevents the buds from developing, reaching pea size and then dying and turning brown. Peony wilt (caused by botrytis/grey mould) causes the foliage, flower buds and flowers to wilt and dieback. Spray the plants with a systemic fungicide if these problems are noticed.
| | |
| --- | --- |
| Flowering season(s) | Spring, Summer |
| Foliage season(s) | Spring, Summer |
| Sunlight | Partial shade, Full sun |
| Soil type | Chalky, Clay, Loamy |
| Soil pH | Neutral to alkaline |
| Soil moisture | Moist but well-drained |
| Ultimate height | Up to 1.5m (5ft) depending on variety |
| Ultimate spread | Up to 1.5m (5ft) depending on variety |
| Time to ultimate height | 5-7 years |