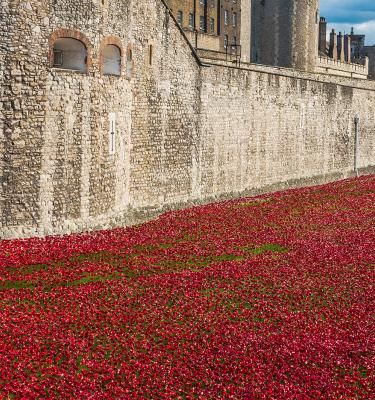 Support the poppy appeal with your remembrance poppy
2018 marks the 100th anniversary of the First World War, a day that has echoed through our ancestor's lives, our lives and will continue to do so for generations to come.
This year's target for donations to the British Legion is £40m and it is an amazing cause. Every donation - no matter how small - goes toward helping current and ex-service people of the armed forces and their families that have suffered in the line of duty.
If you would like to donate, it is a simple process on the British Legion website
---
The History Of The Poppy Appeal
The poppy appeal is a symbol of 'remembrance day', which is an annual moment in which we stop what we are doing and remember the sacrifices and suffering of the people that were killed, injured or affected in World War One, and all conflicts since.
The First World War officially ended on November 11, 1918, at 11 am Armistice Day, now known as Remembrance Day. The following year on the same day a 2-minute silence began in reflect and remember those that sacrificed so that we could live in a better world.
The origination of the poppy flower in relation to the World War was during the springtime on the front lines in France and Belgium. We wrote an article earlier this year that covered the origination of the Poppy in depth. Since then Moina Michael was inspired by the poppy as a way of remembering fallen heroes and making the plastic poppies as a method of raising money for the suffering. She became known as 'The Poppy Lady' and was instrumental in making the poppy as significant as it is today as a symbol to remember.
If you are interested in reading up on the entire history of the poppy and how it came to be such a prominent symbol, this is a fantastic resource.
---
About The Poppy
The Royal Horticultural Society's Plant Finder lists 374 poppy species and varieties available in Britain, including perennials, biennials, and annuals. Poppies have many different purposes, primarily ornamental due to their vibrant colours, with some growing to more than 1.2m (4ft) tall with flowers of up to 15cm (6in) wide.
They are also commonly used as an edible ingredient in cooking. Poppy seeds are derived from seed pods that develop below the base of the flowers when the flowers die. The seeds are either nutty or sweet in flavour depending on the species.
For whatever the purpose, growing your own poppies can be very rewarding. Cut flowers often only last for a day as the cut stems leak (tip: seal the cut end by dipping them in boiling water or use a bare flame), whereas a plant can produce a proliferation of beautiful poppies over a season.
---
Growing Your Own Poppies
If you are considering growing your own poppies, it is important to note that they thrive best in well-drained soil and in a sunny location. There are lots of different types you can grow. We recommend growing Shirley Single Mixed – annuals that can grow up to 60cm (2ft) in lovely shades of pink and red.
Find out how to grow your own poppies
Of course, if you don't want to grow your own poppies. you can buy them from the British Legion. They sell a variety of different poppy products, such as pins, brooches and other goods. 100% of the donation for every poppy goes to the cause.