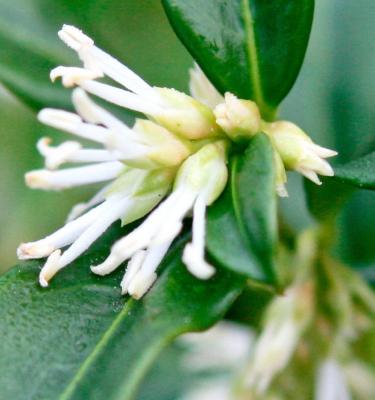 Winter box, sweet box (Sarcococca)
Winter box (or sweet box) is a delightful evergreen, winter-flowering shrub – despite its difficult to pronounce botanical name! The flowers are highly scented, so plant them near the house where you can fully enjoy the gorgeous aroma.
It is perfect for growing in containers, so position them on the patio, just outside the back door, and open the door or windows during warm winter days.
They are tough plants with leathery leaves and the small, creamy-white flowers are followed by red, black or purple berries in summer. These often persist into the following winter.
Sarcococca is closely related to common box (Buxus sempervirens), but has sweeter smelling, winter flowers – hence its common names.
---
How to grow winter box
Cultivation
Winter box prefers a position in shade, and can even tolerate positions in deep shade. They can tolerate sites in full sun, providing the soil is kept damp.
They prefer a humus-rich, moderately fertile, moist, but well-drained soil that doesn't dry out in summer.
Sarcococcas are perfect for growing in containers of John Innes Compost No.3.
Winter box varieties
Sarcococca confusa: Black berries. Height 1.8m (6ft).
Sarcococca hookeriana var. digyna: Purple Stem New shoots flushed purple-pink. Blue-black berries. Height 1.5m (5ft).
Sarcococca hookeriana var. hookeriana: Black berries. Height 90cm (3ft)
Sarcococca hookeriana var. humilis: Black berries. Height 60cm (2ft).
Sarcococca ruscifolia var. chinensis: Dark red berries. Height 1.5m (5ft).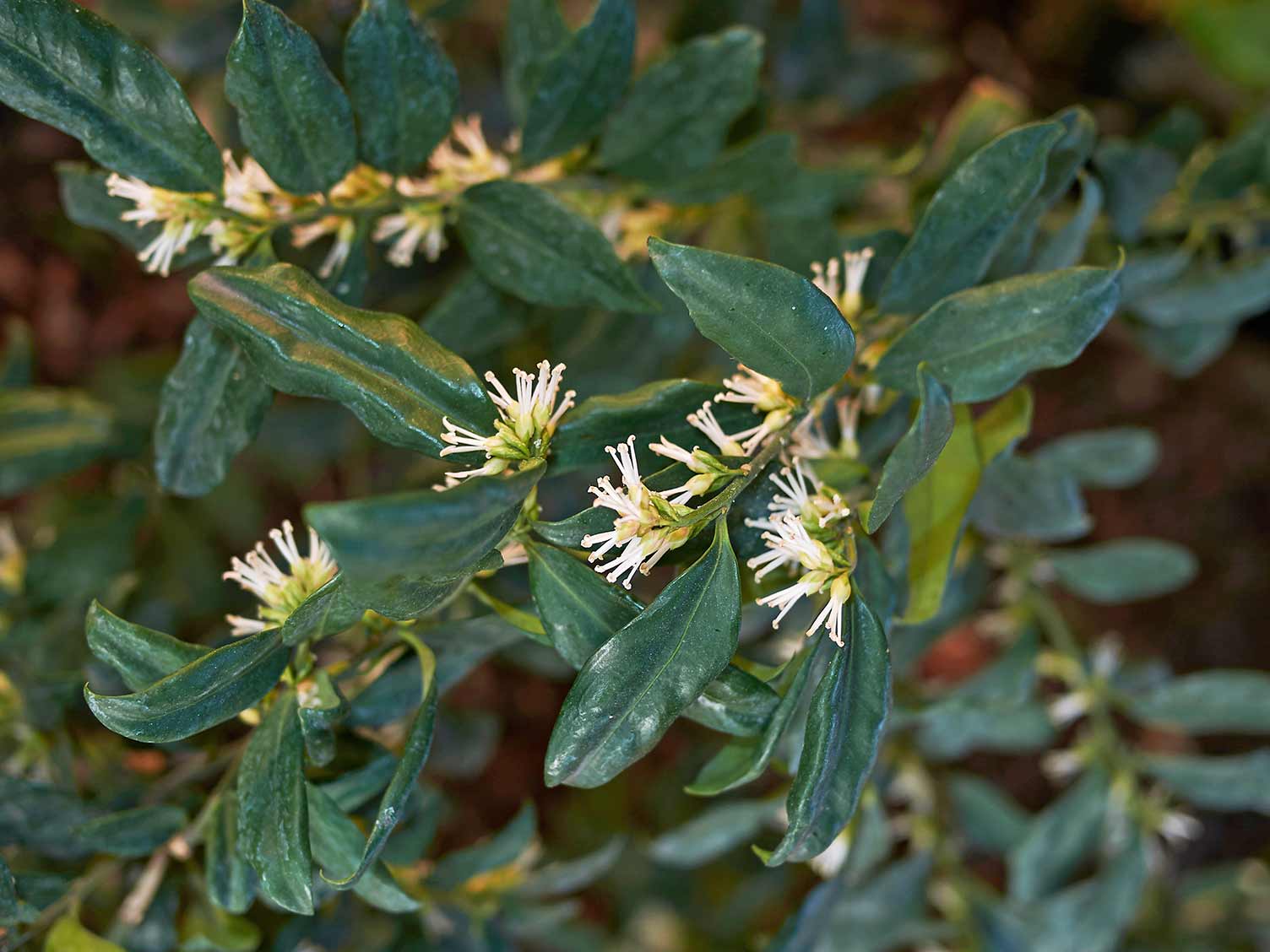 Planting winter box
Sarcococcas can be planted at just about any time of year, but avoid planting when the soil is frozen solid, waterlogged or extremely dry.
Dig over the planting area, incorporating lots of organic matter – such as compost, leafmould or well-rotted manure. Dig a good sized hole big enough to easily accommodate the rootball.
Place the rootball in the planting hole and adjust the planting depth so that it is planted at the same depth as it was originally growing and the top of the rootball is level with the soil surface.
Mix in more organic matter with the excavated soil and fill in the planting hole. Water in well, apply a granular general feed over the soil around the plant and add a 5-7.5cm (2-3in) deep mulch of well-rotted garden compost or bark chippings around the root area.
Suggested planting locations and garden types
Flower borders and beds, patios, containers, city and courtyard gardens, cottage and informal gardens, woodland gardens.
---
How to care for winter box
Sarcococcas are very easy to look after, and rarely need much in the way of care and attention once established.
Water plants well in the first year or so, while they are establishing. Thereafter, plants in the ground are only likely to need watering during prolonged periods of very dry weather, unless the soil is very light and very well drained.
Feed every spring with a balanced granular plant food. Those suitable for camellias and rhododendrons are a good choice, especially in alkaline soils.
Mulch around plants in spring with a 5-7.5cm (2-3in) thick layer of organic matter, such as compost, composted bark or well-rotted manure. Make sure the mulch is kept clear of the base of the stems. Plants rarely need any pruning, but if needed this should be carried out in spring after flowering has finished.
Winter box plants are rarely bothered by any pests or diseases.
| | |
| --- | --- |
| Flowering season(s) | Winter |
| Foliage season(s) | Spring, Summer, Autumn, Winter |
| Sunlight | Full shade, Partial shade |
| Soil type | Chalky, Clay, Loamy, Sandy |
| Soil pH | Neutral |
| Soil moisture | Moist but well-drained |
| Ultimate height | Up to 1.5m (5ft) depending on variety |
| Ultimate spread | Up to 1.5m (5ft) depending on variety |
| Time to ultimate height | 5-7 years |