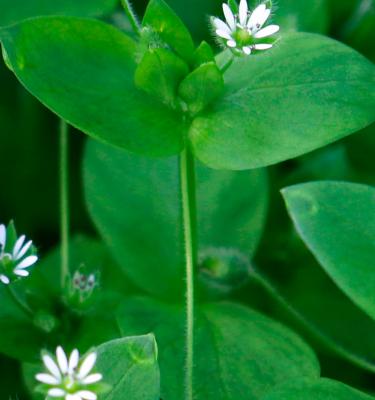 What is chickweed?
Common chickweed (Stellaria media) is an annual weed frequently found in gardens. It grows and sets seeds quickly, so can produce several generations in a year.
Chickweed has shallow roots and is easy to pull out by hand, but it can be a nuisance in borders because it spreads so quickly and easily.
How to identify chickweed
Common chickweed forms clumps of trailing stems which can grow to around 35cm in height, bearing small bright green oval leaves. You'll find the leaves in opposite pairs – they fold towards each other in the evening to protect tender new growth.
Chickweed flowers several times a year, producing small white starry flowers - they have five deeply divided petals that last for just a day or so and are most noticeable in spring and autumn. They then produce large amounts of seed.
It's important to avoid confusing chickweed with yellow pimpernel (Lysimachia nemora), which looks very similar to chickweed, but with yellow flowers. Chickweed also has tiny hairs on its stems, whereas yellow pimpernel has smooth stems.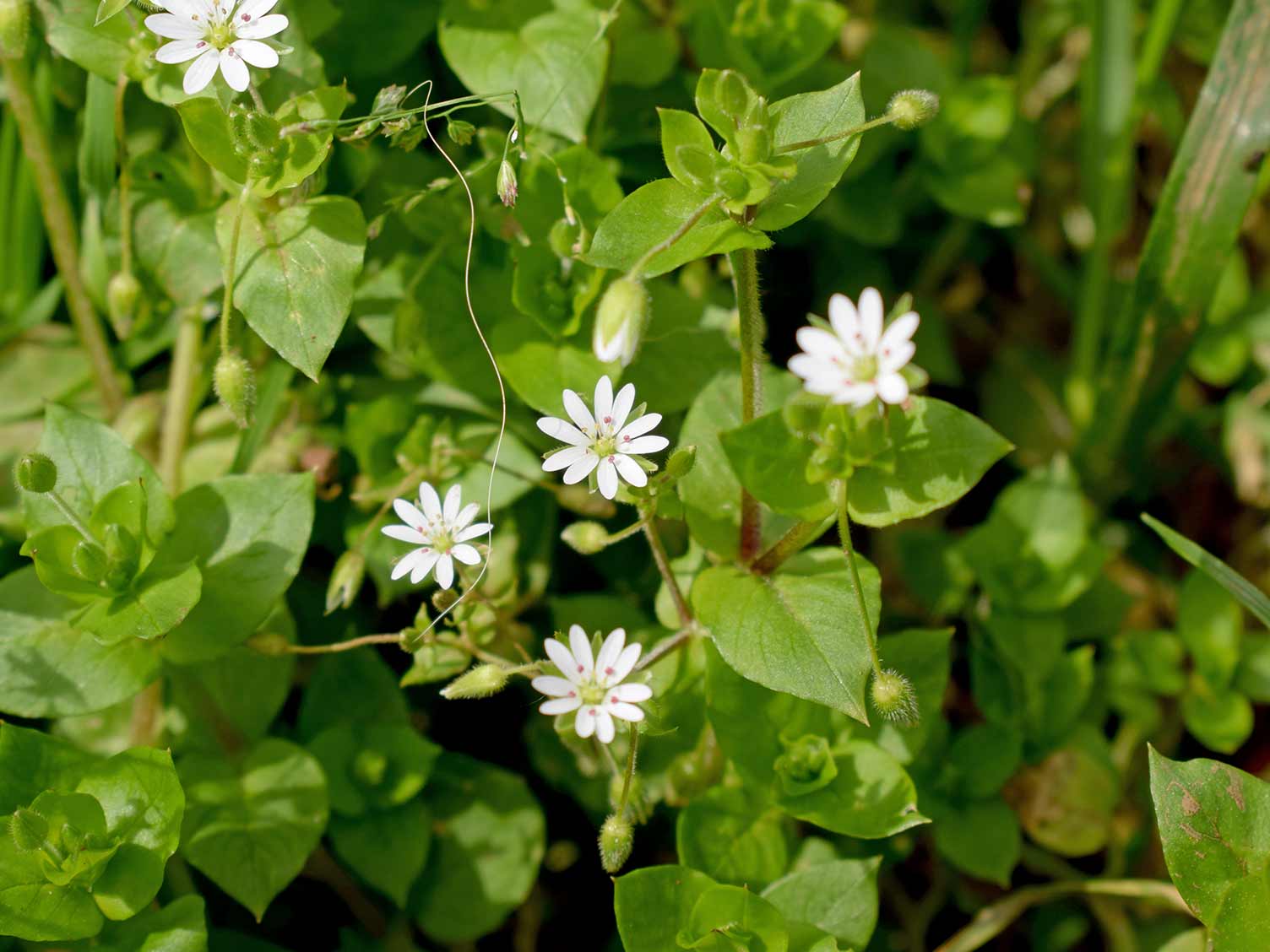 Chickweed damage
Chickweed spreads by self-seeding, and can quickly colonise any bare areas in a border. It competes with plants for nutrients and water and can harbour viruses that are then spread by aphids to other plants.
One of the biggest problems with chickweed is that it produces huge quantities of seeds – an individual plant can produce around 1,300 seeds. Germination is also a quick process – taking only five to six weeks – whilst the plants are capable of four or five generations a year.
It is easy to control individual plants, but the issue lies with the sheer volume of seeds produced. To stay on top of chickweed in the garden, control needs to be carried out regularly.
Chickweed removal and control
Chickweed can usually be controlled without the need for chemicals.
Hoe beds regularly to remove seedlings before they flower and set seed. Choose a dry day to hoe, so that the cut-off weeds will shrivel and die, rather than re-rooting.
For small areas of chickweed, pull up individual plants by hand, using a hand-fork if necessary.
If weedkiller is needed (for example, to clear very large areas of chickweed), use a contact weedkiller like Weedol Fast Acting Weedkiller. Take care to avoid weedkiller drifting onto other plants and always follow the manufacturer's instructions.
How to prevent chickweed
To prevent chickweed occurring in your garden in the first place, make sure you:
Mulch new beds thickly with organic material (e.g. compost or bark) to block light from chickweed seeds, preventing germination. The loose texture of the mulch also makes any young weed seedlings easy to pull up.
Remove chickweed plants before they set seed.