How to grow and care for Crocosmia
Crocosmia bring flashes of bright colour and vibrance to a garden, with their graceful, delicately arching flower stalks and clumps of sword-shaped leaves. They are easy to grow and will return year after year to provide late summer and autumn interest. Crocosmia are eye-catching plants and a great addition to any border. 
Crocosmia is a small genus of plants in the wider Iris (Iridaceae) family. They are notable for their blazing red, orange or yellow flowers which emerge from clumps of more upright, strappy green foliage.   
Sometimes known as Montbretia, all plants in the Crocosmia genus are grown from corms, which are similar to bulbs.  All are grown as perennials, so they will reappear without needing to be re-planted or sown, each year.   
The following are formally recognised species of Crocosmia: 
Crocosmia ambongensis 
Crocosmia aurea (also known as falling stars, and Valentine flower) 
Crocosmia fucata 
Crocosmia masoniorum 
Crocosmia mathewsiana 
Crocosmia paniculata 
Crocosmia pearsei 
Crocosmia pottsii 
Crocosmia × curtonus 
Crocosmia × crocosmiiflora 
Within these species, there are hundreds of cultivars to choose from. We particularly like: 
'Lucifer', with bold red flowers. 
'Citronella', with delicate soft yellow flowers. 
'Emily McKenzie', with captivating deep orange flowers. 
'Aunt Eliza', with orange flowers and a towering height of up to 1.5m (5'). 
A mix of all of those cultivars of Crocosmia, spread throughout the back of a border, can create a beautiful backdrop for other colourful plants.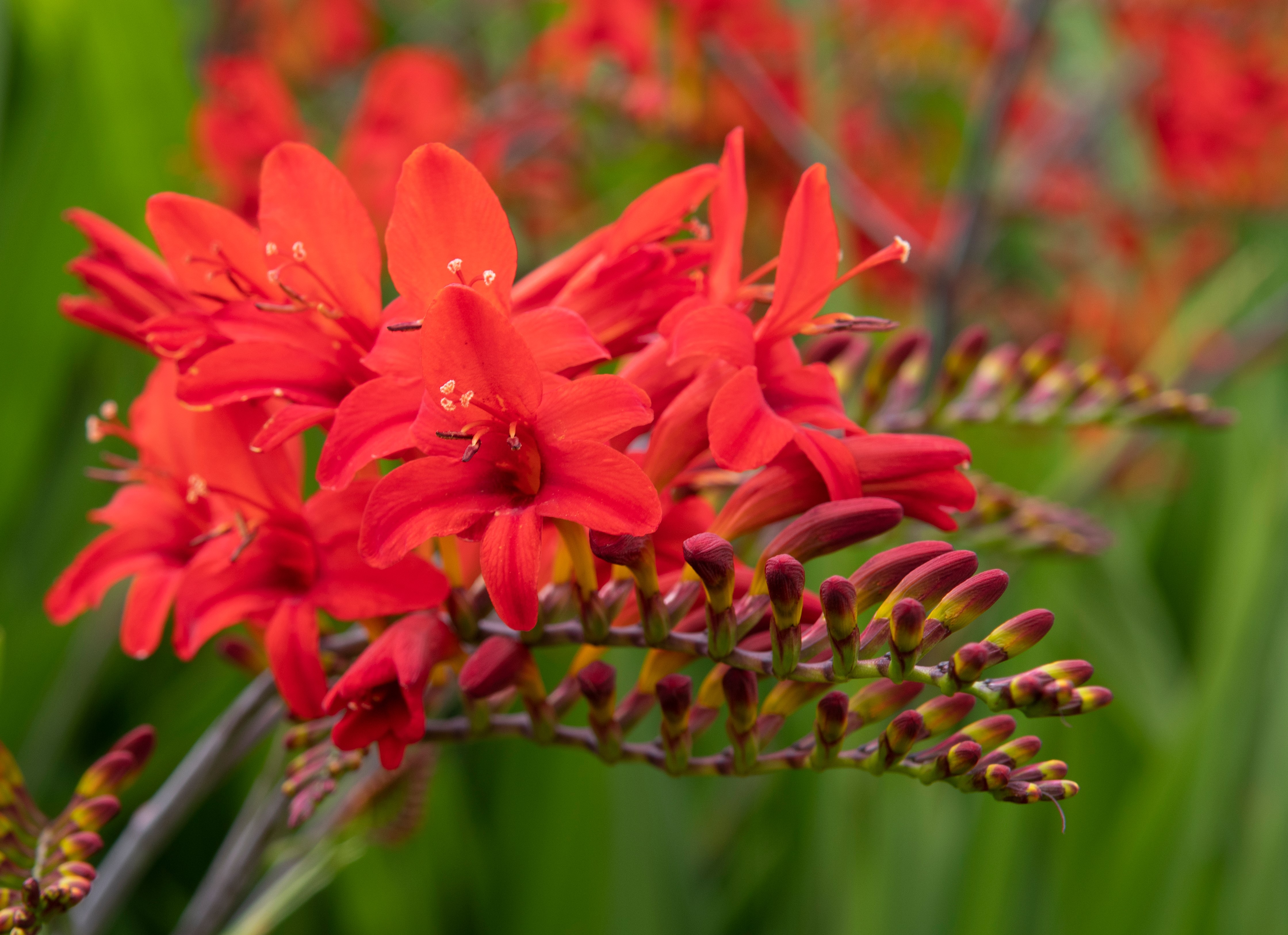 What you'll need to grow crocosmia 
Corms (rather than Crocosmia bulbs) can be purchased online or from a garden centre, or propagated by dividing existing plants. To grow from existing specimens, dig up the plant and gently remove some of the corms by hand. Select those which were growing nearest to the soil surface, as these will grow most vigourously.    
To plant Crocosmia, you will need: 
A spade 
Gloves 
Crocosmia corms 
Always put on gloves when handling compost. Then: 
Use the spade to dig a hole in the soil about 10cm (4") deep.  
Add a spadeful of compost to the bottom of the hole so that the corms can be placed 5-8cm (2-3") below the soil surface.   
Place corms in the hole, with the pointed end facing upwards.  Allow 15-25cm (6-10") between corms so that they can spread.   
Backfill the hole with soil, and add a further layer of compost on top. 
Crocosmia can also be grown in containers, following the guidance above.  
Where to plant and place your crocosmia 
lant corms in the spring, when all risk of frost has passed. Crocosmia prefer full sun but will tolerate partial sunshine. A more shaded spot will mean less prolific flowers. Aim for a place in the garden which is moist but well-drained. Crocosmia are native to the warmer regions of South and Eastern Africa, but are tolerant of cold UK winters.   
Crocosmia form dense clumps of foliage, so avoid planting near to smaller, more delicate plants, which may get crowded out. Most Crocosmia are at least 60cm (2') tall, and often double this, so they are best placed behind other plants. 
Caring and nurturing your crocosmia 
Crocosmia need very little care to thrive. They will naturally spread, so divide every three years, in the spring. This is an opportunity to increase airflow around all plants in the border, and will help to rejuvenate the plants. Replant the divided clumps elsewhere in the garden or give to a neighbour or friend. 
Water in the summer if conditions are very hot and dry. This is especially important for container-grown Crocosmia which, like many potted plants, are more prone to drying out. 
Feed in the spring with a slow-release fertiliser such as Miracle-Gro All Purpose Continuous Release Plant Food, and apply a mulch around the base of the plant in the autumn. 
Flowers can be cut and brought indoors to add colour to the home.  Browning leaves can be removed in the autumn to improve the appearance of the plant, cutting back to 5-8cm (2-3") above the soil, or they can be left for wildlife to enjoy.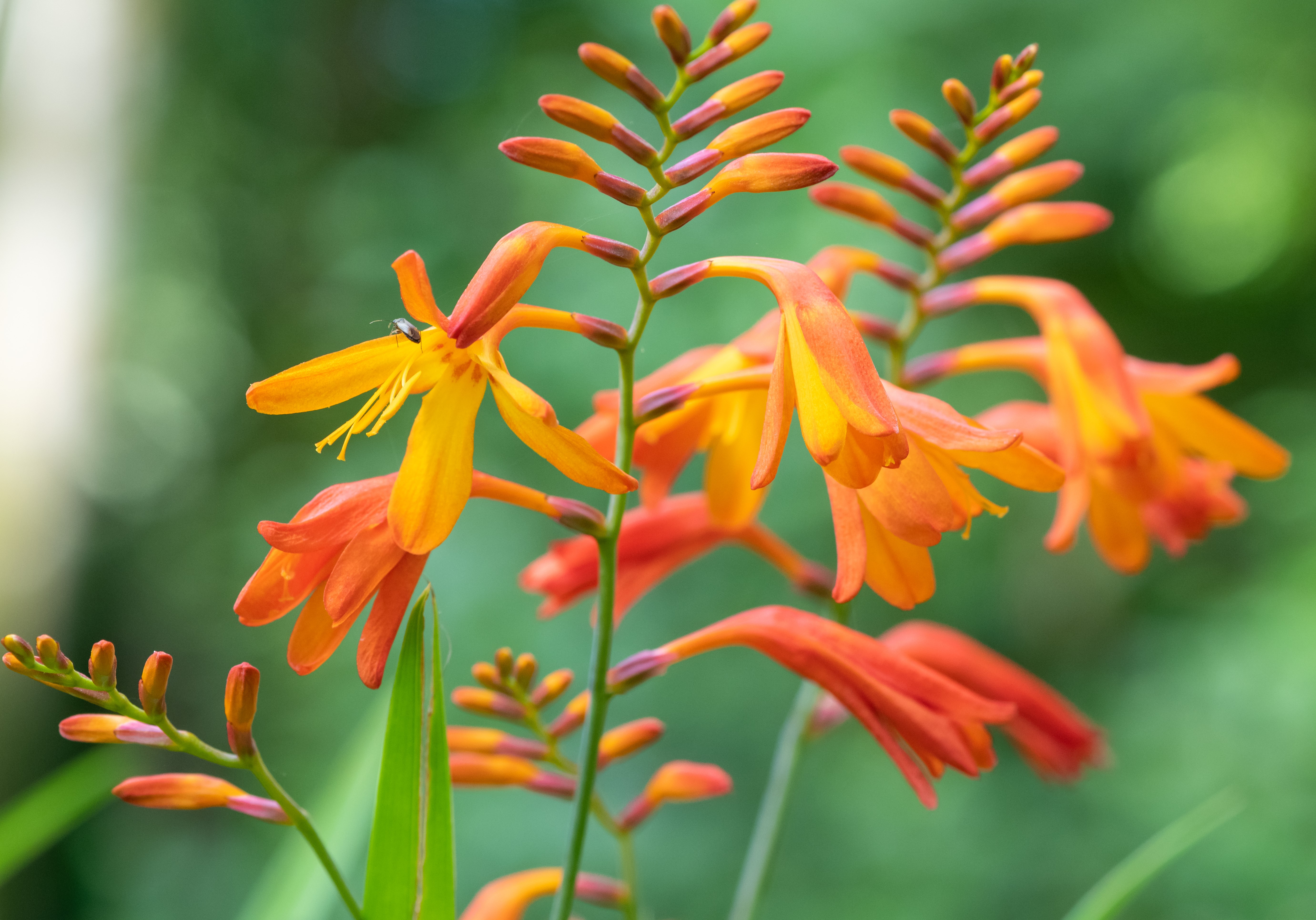 Common pests and diseases with crocosmia 
Crocosmia are generally pest and disease free. Watch out for: 
Corm rot. Symptoms are poor plant growth and yellowing leaves. Dig up corms and discard any which appear to be damaged or rotting.  
Gladilous rust. Brown spots appear on the leaves and occasionally on the flowers. Increase airflow and exposure to light, by splitting and/or moving the plant if it is in a shaded position. 
Red spider mite. Look out for fine webbing, particularly on foliage. Apply a strong spray of water to remove the webbing and mites. Repeat regularly until the problem is under control. 
To prevent Crocosmia becoming a problem plant, simply dig out if they start to spread to areas where they are not wanted. This may need to be repeated several times until all corms are removed.