How to grow and care for Hollyhocks
Common hollyhocks, or Alcea rosea, are an elegant, traditional flower, perfect for a classic cottage garden. With masses of showy flowers covering their towering stems, these easy to grow summer favourites are a must have at the back of a sunny border. Hollyhocks make beautiful cut flowers, or can be left in the garden for bees to enjoy.
Types of Hollyhocks to grow
Common hollyhocks are biennials, or short-lived perennials. They develop root systems and foliage in their first year, and then flower, seed and die in the second year.
Hollyhocks flower from June through to September. They are available in both single and double flowers.
Single varieties are great for pollinators, which can easily reach the centre of the flowers. They include:
Alcea rosea 'Black Knight' - almost black flowers.
Alcea rosea 'Halo Candy' - dark purple flowers, turning lighter pink towards the petal edges.
Alcea rosea 'Halo White' - large white flowers.
Alcea rosea 'Mars Magic' - warm red flowers.
Alcea rosea 'Nigra' - dark purple flowers.
Double flowering hollyhocks are especially attractive, but less appealing to pollinators. They include:
Alcea rosea 'Banana' - yellow flowers.
Alcea rosea 'Chater's Double Apricot' - apricot coloured flowers.
Alcea rosea 'Chater's Double Icicle' - pure white flowers.
Alcea rosea 'O Hara' - dark red flowers.
Alcea rosea 'Peaches 'n' Dreams' - peach-pink flowers.
If you have space, grow both single and double flowering hollyhocks. But if you can only pick one variety, try Alcea rosea 'Creme de Cassis', which has both single and double maroon-pink flowers on the same plant.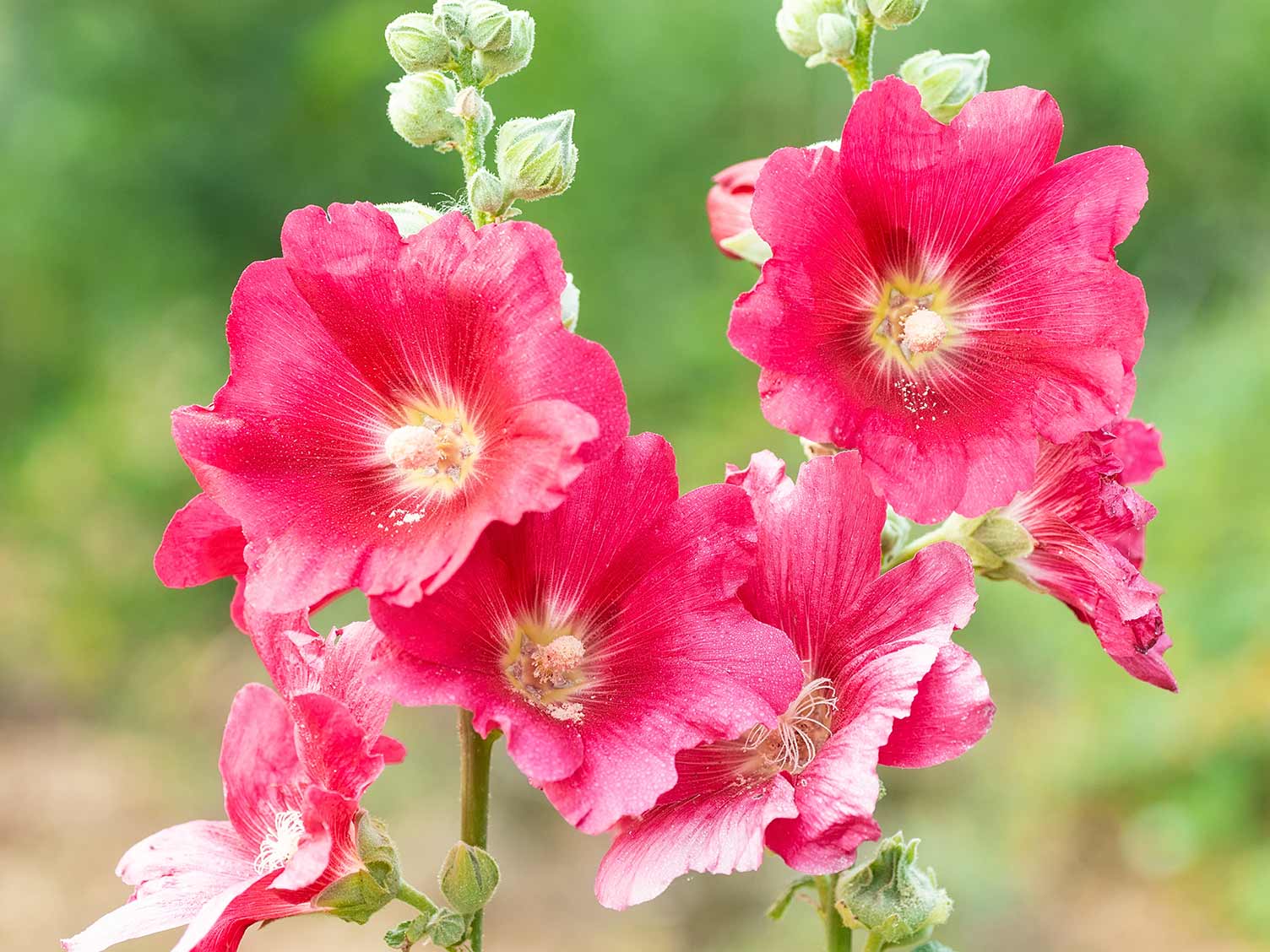 Nurturing your Hollyhocks
Hollyhocks needs very little care once established. Spray young plants with FungusClear® Ultra 2 to help prevent hollyhock rust from developing.
Water the soil around them in dry spells being very careful not to water the foliage. Most varieties will grow to 2m (7') high, so stake them if in an open position to prevent them from falling over.
In the autumn, after flowering, collect seeds for sowing next season. They will self seed freely, and can be left to grow in situ, or potted up and moved to a more suitable location. If you don't want hollyhocks to seed themselves and spread, cut the stalks back as soon as they have finished flowering.
Hollyhocks are tolerant of cold weather and do not need protection over the winter.
Where to plant your Hollyhocks
Hollyhocks like a bright spot with full sun, and do not tolerate shade well. They will flourish in a south or west-facing position. Hollyhocks like moist, well drained soil but will grow well in most soils, including heavy clay, as long as it's not too dry.
Their height makes them suitable for the back of a border. This will also give them protection from strong winds. Hollyhocks look good planted alongside other traditional flowers, such as roses, foxgloves and hardy geraniums. They flower all summer long, so choose somewhere you wish to keep colour and interest over a long period.
Hollyhocks should be grown in the ground rather than pots, as they need lots of space for the roots to spread.
When to sow Hollyhock seeds
Sow hollyhock seeds under cover from April to May, or in late summer for flowering the following spring:
Soak hollyhock seeds in water overnight.
Fill a seed tray to within 1cm of the top with Levington® Peat Free Seed Compost with added John Innes.
Water the seed tray, and then place seeds on the surface, about 2.5cm (1") apart.
Lightly cover the seeds with a thin layer of compost.
Move the seed tray to a warm location and allow it to germinate.
Once the roots begin to show at the bottom of the tray, prick out seedlings to individual pots.
Hollyhocks can also be bought as young 'plug' plants. These should be transferred to a pot on arrival and allowed to grow on, before planting out in early summer.
Before planting out, get the ground ready by clearing it of weeds and debris. Dig in a good amount of Miracle-Gro® Performance Organics Peat Free All Purpose Compost. Allow 60cm (2') space between each plant, and water regularly until established.
Key features of Hollyhocks
| | |
| --- | --- |
| Botanical Name | Alcea rosea |
| Plant Type | Biennial |
| Family | Malvaceae |
| Light Exposure | Full sun |
| Soil pH | Neutral to slightly alkaline |
| Flowering Time | July to September |
| Flower Colour | Orange, pink, red, white or yellow |
Frequently asked questions about Hollyhocks
Are hollyhocks poisonous to dogs?
No, hollyhocks are not poisonous to dogs, or to humans for that matter - in fact, the flowers can be eaten in salads and used to garnish cakes just make sure to remove the stamen first.
Do hollyhocks come back every year?
Hollyhocks are not perennials, but do seed themselves prolifically, making it seem like they are. If allowed to selfseed, new plants will pop up year after year.
Do hollyhocks bloom the first year?
Not usually - their usual pattern is to begin to grow in the first year, and then flower in the second year.
Can you grow hollyhocks in pots?
It is better to grow Hollyhocks in the ground, as they have a large tap root and supporting root system. A pot, unless very large, will not be able to provide the room that the roots need, and will need lots of attention to ensure they do not dry out.
Common pests and diseases with Hollyhocks
What is eating my young hollyhock seedlings?
Slugs and snails, and some caterpillars, love to eat hollyhock seedlings. There are lots of ways to discourage these pests, one of the best being to encourage predators into the garden - hedgehogs and birds will feast on them.
What are the tiny holes all over the leaves of my hollyhock?
Flea beetles occasionally damage hollyhocks, making them unattractive. They are a particular threat to young plants, although mature hollyhocks will usually withstand them. Keep plants well watered so that they are strong enough to grow on through an attack.
What are the orangey-brown spots covering the underside of my hollyhock's leaves and stems?
Hollyhock rust is a serious fungal disease and can spell the end for a plant if untreated. The damage can cause foliage to drop - diseased leaves should be removed and destroyed. Prevent hollyhock rust by growing resistant varieties, such as those in the 'Halo' range. Spray young plants with a fungicide, such as FungusClear® Ultra 2, in early spring to help prevent it from developing. Keep plants well watered and do not allow them to dry out. Try not to splash water on the leaves, and make sure enough space is left between plants to allow air to circulate.