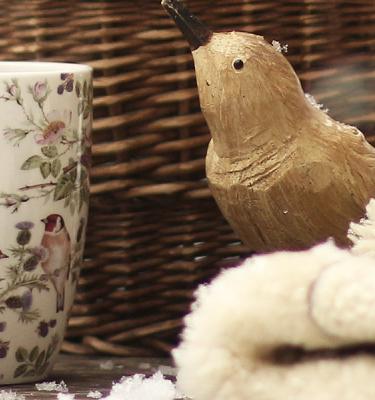 Your Monthly Planting Guide
Gardening in December
Short days and minimal sunlight hours can make December feel like a dark month. Most parts of the country will see frosts and snow, and many plants will be dormant, meaning they won't grow. It is, however, the perfect time to plant and maintain roses, perennials and shrubs. Make the most of tidying them by turning the garden prunings into seasonal decorations.
What to plant and do in December?
After a busy year in the garden, you can turn some of your attention to inside the house. You can enjoy looking after your indoor plants, and spending time in the kitchen, where your efforts from earlier in the year continue to provide a steady supply of homegrown vegetables. To understand what to plant, prune and maintain in December choose from the below December gardening guides.
Vegetables
What vegetables to plant in December
There's still time to sow the following vegetables if you haven't already done so:
On the kitchen windowsill you could also be sprouting seeds in a jar:
Aduki beans
Alfalfa
Chickpeas
Fenugreek
Lentils
Mung beans
Radish
Check the instructions on individual packets and use a purpose-built seed sprouter to keep them fresh. The sprouted seeds can be added to salads as a great source of protein.
You can also try growing lettuce, herbs and cress on a windowsill.
What vegetables to harvest in December
Still cropping in the vegetable patch are:
Brussels sprouts
Carrots
Celeriac
Chard
Jerusalem artichokes
Kale
Leeks
Lettuce
Swede
Turnips
If very cold weather is forecast, cover or harvest any vegetables you need to see you through the icy snap whilst you can still get a garden fork into the ground.
Vegetable plant maintenance in December
There are just a few small jobs to do in the vegetable patch in December. All of these jobs are concerned with the brassica family of plants such as broccoli, Brussels sprouts, cabbage, cauliflowers, kale, swede, and turnips. All that needs to be done is to:
Check netting is secure, so that birds can't damage the plants. The netting should be held up with supports so that birds are unable to perch on the plants and peck through it.
Check plants are firmly in the ground. Plants which can easily move around, in particular Brussels sprouts, can shorten the cropping life. Gently firm in if there is any looseness.
Remove yellowing leaves, to prevent any diseases from spreading.
If you are overwintering rhubarb, this is also a great time to divide it for more, stronger plants.
Fruit
What fruit to plant in December
Fruit trees and bushes can be bought all year round, but bare-root plants are intended for planting when the plant is dormant, in winter. So December is the perfect time to plant any of these:
Apricots
Blackcurrants
Cherries
Grapes
Figs
Peaches
Plums
Quince
Redcurrants
When buying canes of soft fruit, gently scratch the cane - it should be green under the bark. It should be labelled with the variety, and the roots should be evenly spread.
Fruit plant maintenance in December
December can be a busy time in the fruit garden. The following plants are dormant throughout winter, and so should be pruned:
Apples
Blackcurrants
Grapes
Mulberries
Pears
Remove any dead, diseased or branches that are touching. Freestanding apple and pear trees should be pruned to encourage good airflow through the branches.
Check that fruit ties are attached to supports, but not too tight. As the plant grows, it's easy to forget that the ties could cut into and damage the plant. Loosen and retie if needed.
Mulch existing fruit plants with compost or well-rotted manure, and prepare the ground for new fruit trees by digging over and adding the same.
A bigger project which you could tackle in the fruit patch is to construct a fruit cage for smaller plants. This will protect soft fruit from damage by birds. Use wooden stakes and upturned plant pots, and pin or weigh down the edges of netting so that birds can't get in. Alternatively, if you have space, a walk-in fruit cage made from rigid mesh will allow you to access the fruit without needing to adjust the netting each time.
Plants and shrubs
What plants and shrubs to plant in December
You may have spotted these stunning plants in other gardens during a winter walk. If you want to grow them yourself, now is the perfect time to plant them in your garden:
Cornus (dogwoods)
Hamamelis (witch hazel)
Ilex aquifolium (common holly)
Hamamelis (witch hazel)
Hardy geraniums
Sarcococca confusa (Christmas box)
There are also a lot of perennials which can be grown from seed sown in December:
What plants and shrubs to prune in December
December is a good time to prune perennials as many will not be actively growing. Cut back the following:
Acers
Berberis
Birch
Clematis (Group 3 varieties)
Cotinus
Hardy geraniums
Hedera helix (Ivy)
Some of the clippings can be used in the home. Decorate wrapped gifts for friends and family, and create seasonal decorations, such as wreaths and table decorations. You can take small pieces of material from other plants, such as Holly, to add a festive feel to the home. Check that berries and thorns are out of reach of animals and children.
Tidy up any other herbaceous shrubs which have died back but left unsightly brown foliage.
Plant and shrub maintenance in December
Mulch borders with leaf mould or compost.
Clear heavy snow from on top of perennials and shrubs so that they are not damaged by the weight of it.
Roses
What roses to plant in December
There are plenty of bare-root roses that can be planted now, as long as the ground is not too cold.
When deciding where to site a new rose, consider:
Sunlight: Most roses like full sun, although some will tolerate partial shade.
Drainage: Roses need well-drained but moist soil.
Support: Taller and trained roses will need support, such as a wall, to grow against.
Space: Some roses are suited to containers, whilst others will need a large area to spread into.
What roses to prune in December
Roses which were planted earlier in the year should be pruned now.
For both climbing and rambling roses, remove dead and damaged branches, as well as any that are rubbing against other branches.
To prune a climbing rose, do the following in December or later in the winter, when the plant is dormant:
Cut back side shoots back by about a third, to four buds. The bud nearest the tip of the shoot should point in the same direction that you want new growth to develop.
Remove old branches where doing so would help to improve air circulation.
Check that old ties are not cutting into the branches of the rose and remove if they are.
As long as the rose is healthy, add the prunings to the compost heap. You may want to cut larger pieces into smaller sections to speed up the composting process. Cut back any long spindly growth
Other types of established rose should be pruned next year.
Rose maintenance in December
Tie any loose stems of climbing and rambling roses, so that the plants are not damaged in strong winds.
If a rambling rose has become overgrown and untidy, it can be renovated now. Do this by:
Removing all but 5-6 young stems and pruning the rest of the rose to the ground.
Shortening side shoots on the remaining branches by about a third.
Rambling roses that are in good shape and condition, and do not need such drastic renovation, should be pruned in the summer.
Ericaceous plants
What ericaceous plants to plant in December
There are plenty of ericaceous plants which can be planted in December:
Blueberries
Hamamelis (witch hazel)
Heathers
Hydrangea
Magnolias
Pieris japonica
Rhododendrons
Ericaceous plants are plants which will thrive in acidic soil. In fact, some ericaceous plants will not survive in conditions that are at the other end of the scale, where the soil is alkaline. Kits for testing this are widely available. A pH test should confirm that your soil has a pH level of 7 or below, and ideally as low as 5.5. If it needs to be lowered, add sulphate of iron.
It is easiest to control the acidity of soil by growing smaller plants in containers. Water well and then mulch all newly planted ericaceous plants, whether in the ground or in containers. Use a specially formulated ericaceous compost, leafmould, wood chip, or pine needles to provide a good source of acidity for plants.
What ericaceous plants to prune in December
Blueberries - remove dead, diseased or rubbing branches.
Heathers - shear plants to remove old flowers and encourage new bushy growth. Use the cut flowerheads to create a delicate winter display in the home.
Ericaceous plants maintenance in December
Protect plants if very cold weather is forecast. Wrap with fleece or hessian.
Repot ericaceous plants that are in containers, if needed. Use a specialist compost which contains a suitable mix of nutrients.
Monitor Rhododendrons and Azaleas for Rhododendron leaf spot. This is a fungal disease which produces spots on leaves, which may then drop from the plant. Destroy the leaves, and make sure that the plant is well watered and fed.
Houseplants
What houseplants to plant in December
Growing plants indoors means we can be gardening all-year round. There are so many different houseplants to choose from that it's easy to find one that suits the space and environment you have available. There are lots of plants we would recommend for a frost-free room where the temperature is usually 18°C or cooler:
For rooms with good levels of light:
Chlorophytum (Spider plant)
Ficus elastica (Rubber plant)
Gerbera
Pelargonium
Streptocarpus (Cape primrose)
For rooms with poorer levels of light:
Aspidistra
Crassula ovata
Fatsia
Hedera (Ivy)
Monstera (Swiss cheese plant)
Check the needs of the variety to understand exactly what it requires to thrive.
Houseplant maintenance in December
Every houseplant has slightly different needs, but all indoor plants require:
Watering: Generally only water when the top third of the soil is dry. Remember that plants will dry out more easily when central heating is on over the winter.
Feeding: Provide essential nutrients to the plant by applying a houseplant food. Orchids have more specific feeding requirements.
Pruning: Deadhead by removing any foliage or flowers which have become brown and crispy.
Clean leaves to remove dust, which can stop the plant from growing strongly. You can do this with a cloth, or by putting the plant under the shower and gently washing with cool water.
Repot houseplants as needed, using a compost which is specially formulated for houseplants.
Things to do this month
Install a waterbutt: These collect rainwater from guttering on houses, sheds, and greenhouses. The water is slightly acidic, unlike tap water which has been treated such that its nutrient levels are different to those which plants would naturally take up.
Build a new compost heap: One is a good start, but if you have room then two or even three make it easier to move material through the composting process.
Clean and service your mower and other power tools.
Clean and sharpen hand tools, such as hoes and spades.
Clean paths and patios using a power-washer.
Weed between paving stones using a sharp knife or pour boiling water to kill them.
Add mulch or compost to bare soil to protect it from severe weather.
Dig manure into vegetable beds where you plan to grow peas, beans and other hungry vegetables.
Float a ball in the pond - the movement will help to stop it freezing over.
Top up bird baths and feeders as needed.
Put out extra bird food to ensure that native birds have plenty to graze on.
Add shelter for hedgehogs, frogs, and bugs. This can be a purpose-built small structure bought from elsewhere, or a simple pile of logs, twigs and leaves. Position it in a quiet part of the garden where creatures will not be disturbed.
What to do in your garden in December