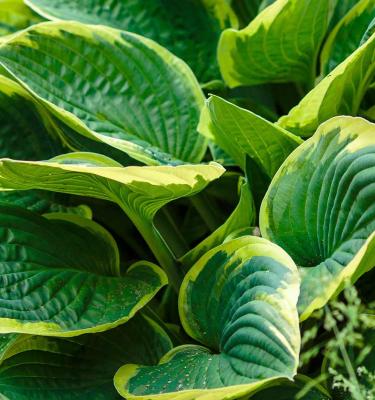 How to grow hostas
Hostas are usually grown for their beautiful leaves, with the attractive foliage coming in various shades of green, blue and yellow. They are great for a shady location - and some are suitable for sunnier spots too. Hostas have a reputation for attracting slugs, but don't let that put you off growing this tough, versatile and easy to grow plant. If you are worried about slugs, you can always opt for the larger and tougher blue leaved varieties such as Hosta Sieboldiana.
Types of hosta to grow
This diverse genus of perennials are widely known as the plantain lily, and there are thousands of Hostas to choose from.
A good starting point is to consider how much room you have for the hosta. There are some tiny varieties available, growing to around 12cm (5") tall, such as Hosta 'Blue Mouse Ears' and 'Pandoras Box'. And there are some much larger Hosta varieties, growing up to 1m (3') tall, such as Hosta sieboldiana. Larger leaved types tend to have better resistance to slugs and snails too.
Hostas will thrive in shade, and a few will tolerate full sun too, including:
Hosta 'Blue Umbrellas'
Hosta 'Dixie Chick'
Hosta 'Guacamole'
Hosta 'Honeybells'
Hosta plantaginea 'Aphrodite'
Hosta 'Royal Standard'
Hosta 'Sun Power'
You should make sure you check the needs of a specific cultivar before choosing a hosta for a sunnier location, although generally those with variegated, lighter leaves will tolerate more light than others. It's worth knowing that all types of Hosta plantaginea have highly fragrant flowers too.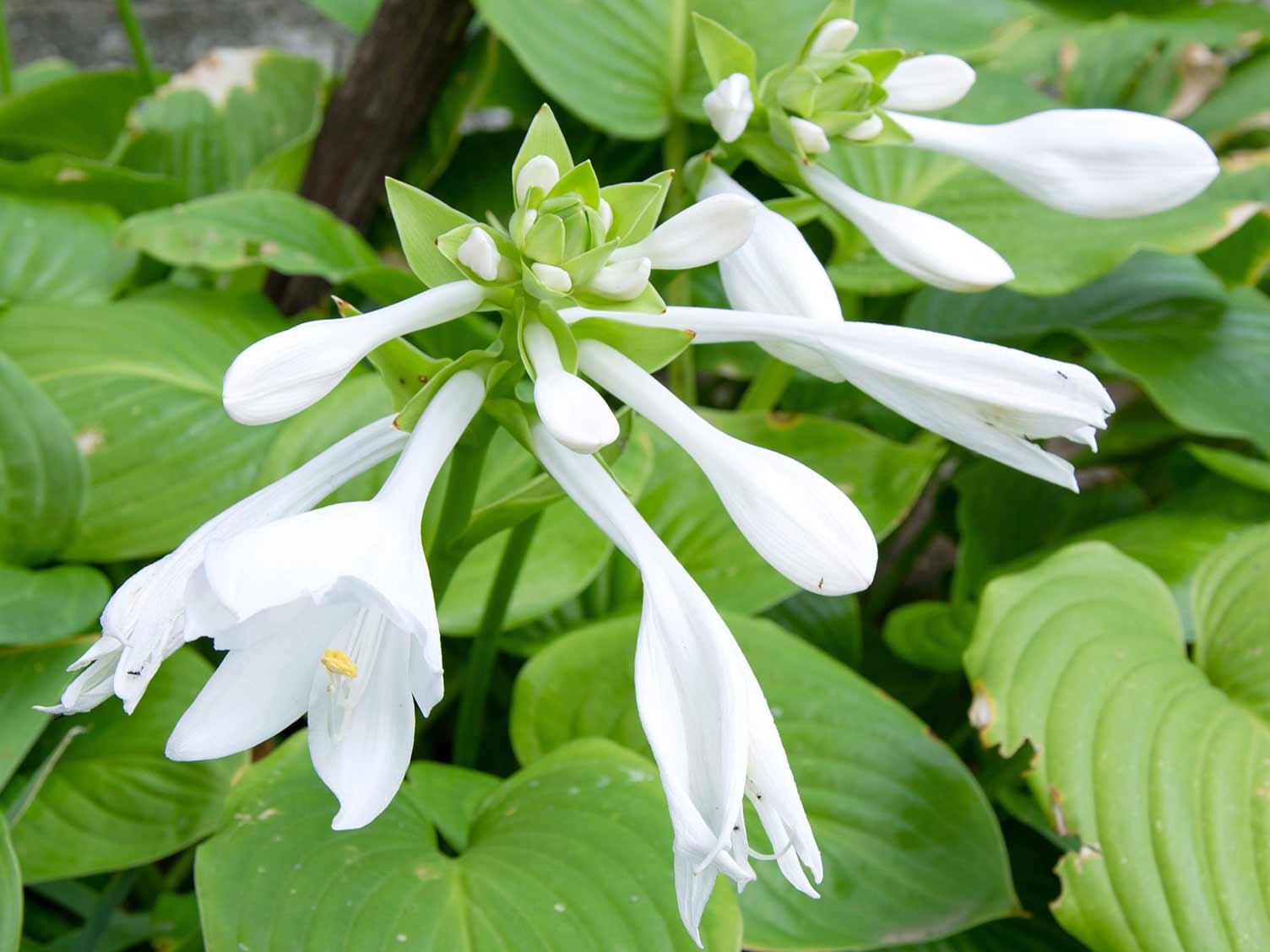 There are many more types of hosta that need to be planted in a shady location:
Hosta 'Big Daddy'. Glaucous blue leaves and white flowers.
Hosta 'Fire and Ice'. Wavy-edged green leaves with cream coloured centres and blue-purple flowers.
Hosta 'Francee'. White edged green leaves.
Hosta 'Frances Williams'. A variegated Hosta with heart-shaped leaves which have an irregular edge.
Hosta 'Gold standard'. Predominantly yellow leaves with a green edging.
Hosta 'Halcyon'. Blue leaves and lavender coloured Hosta flowers.
Hosta 'June'. Blue leaves with cream coloured middles.
Hosta 'Patriot'. Variegated dark green and white leaves, and blue-mauve flowers.
Hosta 'Purple Heart'. Plain mid-green coloured leaves with a dark purple petiole which reaches into the base of the leaf.
Hosta 'White Feather'. White leaves which turn green as they mature.
Hosta 'Wide Brim'. Heart-shaped green foliage with a cream coloured leaf margin.
What you'll need to grow hosta
There really is a Hosta for every garden, and they can be grown successfully in the ground or in a pot. Plant out in the spring or autumn when the Hosta won't need to struggle through high temperatures.
Gather the following items:
To plant the hosta:
Wearing gloves, dig a hole in the ground slightly deeper and wider than the size of the rootball.
Add a couple of handfuls of compost to the bottom of the hole or container. For those being planted in the ground, also sprinkle Miracle-Gro® Premium All Purpose Continuous Release Plant Food across the bottom of the planting hole.
Remove the Hosta plant from the pot. Tease apart some of the roots and place the plant in the middle of the hole or container.
Firm the Hosta in by backfilling the hole with more soil or by adding more compost around the edges of the container.
Water well, and for Hostas growing in the ground, finish by adding a 5cm (2") layer of mulch around the plant.
Where to plant and place your hosta
Hostas are happiest in shade but variegated varieties can tolerate sunnier conditions. All need moisture retentive free-draining soil or compost.
Hostas will tolerate heavy garden soils, and will benefit from the addition of organic matter, such as Miracle-Gro® Peat Free Premium Border Booster. They look great in a border alongside ferns and Brunnera.
Containers are a useful way to manage how much light and shade the Hosta receives. Hostas in pots can be moved around as needed, however, they will dry out more easily so remember to water them more regularly.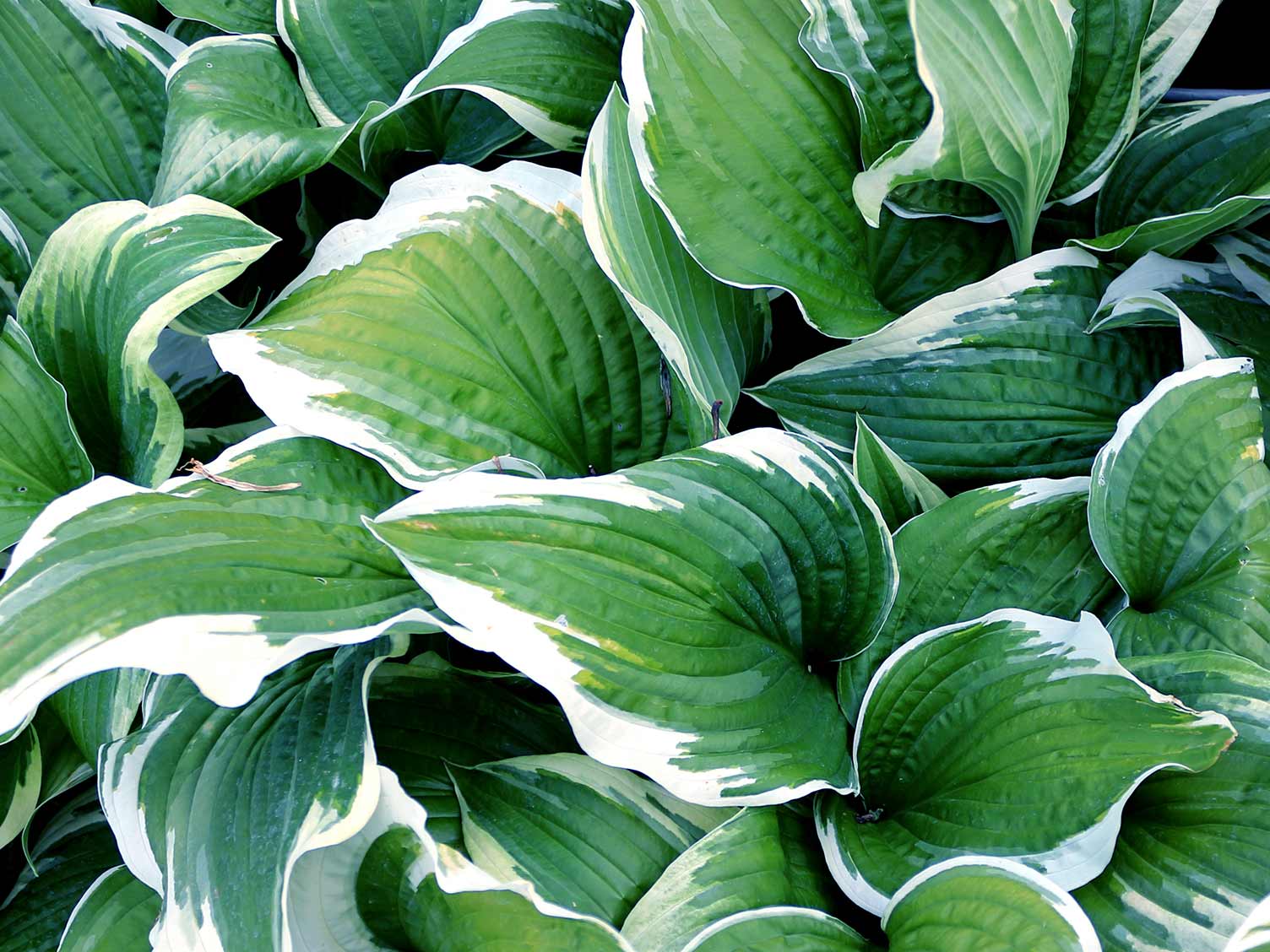 Caring and nurturing your hosta
You should water your Hosta regularly from spring through to autumn. Hostas which are exposed to dry conditions will start to brown along the leaf edges and can eventually die. Check down in the soil or compost to a depth of 10-15cm (6") that the soil is moist - if it is not, water it well.
Feed border Hostas with a slow release fertiliser such as Miracle-Gro® Premium All Purpose Continuous Release Plant Food, and mulch in the spring and the autumn. Container grown hostas should be fed monthly with Miracle-Gro® All Purpose Concentrated Liquid Plant Food.
You should also cut back flower stalks when they have finished blooming and remove dead foliage in the autumn. The good news is that Hostas will come back every year, emerging again in the spring.
Propagating hostas
Hostas are easy to propagate by dividing them, and you should do this every 5 years in the autumn or spring. To do so, simply lift the Hosta from the ground or container and use a sharp spade or pruning saw to slice through the root, making sure that each clump has at least one good shoot on it. Then all you need to do is plant, as detailed above.
Frequently asked questions about Hostas
Are hostas poisonous to dogs?
Yes, hostas can be poisonous to dogs and other pets if eaten in large quantities. Always keep an eye on your pets when they are in the garden.
Do hostas die back in winter?
Yes, the leaves of a hosta plant will die back in the winter, but the good news is that they will reappear once again in the spring.
Can I plant hostas in October?
Yes, you can plant hostas in October. In fact, hostas can be planted most of the year round. However, you should avoid planting them in the heat of summer and in frosty conditions.
Common pests and diseases with hostas
Why are the leaves of my hosta disappearing?
Slugs and snails are a common pest of hosta plants. They will eat large amounts of foliage, leaving trails of shiny slime on the remains of the plant. To try and avoid these pests, you can plant large leaved blue varieties which are more resistant to slugs and snails. And to help tackle them if and when they occur you can use Slug Clear pellets and see our guide to dealing with slugs and snails. Also rule out deer and rabbits, which can quickly devour entire plants.
Why are there notches on the leaf edges of my hsta?
Adult vine weevils can damage leaf margins by nibbling on the edges of them. Do not ignore this pest, as if it is allowed to lay eggs, the emerging larvae can kill plants by eating the roots of the hosta and other nearby plants. To tackle them, follow our guide for dealing with vine weevils and their larvae.
Why are the leaves of my hosta turning brown?
This is unlikely to be a pest or disease, but is probably due to too much sun or not enough water. Check how often the plant is watered and ensure it is not receiving too much direct sunlight, adjusting as needed.
Key features of hostas
| | |
| --- | --- |
| Botanical Name | Hosta |
| Plant Type | Herbaceous perennial |
| Family | Asparagaceae |
| Light Exposure | Shade |
| Soil pH | Neutral to slightly acidic |
| Flowering Time | July - August |
| Flower Colour | Lavender, purple or white |