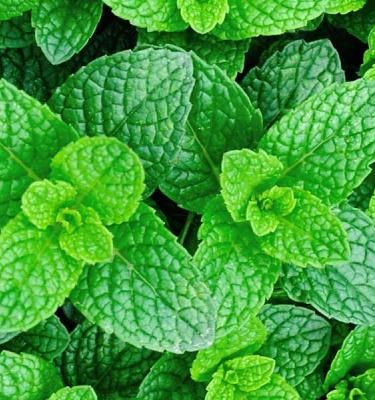 How to grow peppermint
Peppermint, or Mentha × piperita, is super easy to grow. It's an incredibly useful plant in the kitchen, with the aromatic leaves giving a refreshing flavour to food and drinks. The flowers attract beneficial wildlife to the garden, and peppermint plants are rumoured to deter mice, rats and mosquitos! Follow our peppermint growing guide to find out how to grow peppermint in your garden.
Types of peppermint plant to grow
Peppermint is a cross between two other species of mint - spearmint and watermint. It's grown worldwide but originates from Europe and the Middle East.
It's also a perennial plant, growing to about 90cm (36") tall. Peppermint has distinctive smooth, square shaped stems, with dark green pointed leaves and dark leaf veins. The delicate lilac-purple coloured flowers will appear throughout the summer months, and will teem with bees, butterflies, overflies and lacewings in the sun.
There are some stunning cultivars of peppermint to try:
Mentha × piperita 'Black peppermint' plant. Very dark leaves with a purple tinge and a strong flavour.
Mentha × piperita 'Candymint'. Slightly reddish stems.
Mentha × piperita 'Chocolate Mint'. The leaves and stems when rubbed between the fingers smell like a popular chocolate mint sweet.
Mentha × piperita 'Citrata'. Lots of different varieties, including basil, grapefruit, lemon and orange.
Mentha × piperita 'Crispa'. Wrinkley leaves.
Mentha × piperita 'Lavender Mint'. Lavender scented leaves.
Mentha × piperita 'Lime Mint'. Lime aroma and flavour.
Mentha × piperita 'Variegata'. Usual green leaves with a lighter pattern.
Peppermint will benefit from being cut frequently, so choose a cultivar which you think you will use a lot in the kitchen. Of course, you can just add prunings to the compost heap, but it's great to make use of the pungent foliage if you can! Don't be shy when harvesting - cut stems to within 3cm (1") of the ground, ideally just above a pair of leaves.
Add peppermint leaves to drinks, salads, peas and new potatoes. They can also be used to make flavoured ice cubes, by simply removing a few leaves from the stem, and immersing them in water in an ice cube tray – allow to freeze and then pop a cube or two into a glass of freshly poured lemonade. Peppermint leaves also make a wonderful tea, great for digestion.
What you'll need to grow peppermint plants
Peppermint has a much stronger flavour than spearmint. So, what's the difference between spearmint and peppermint plants? Spearmint, also known as common mint and garden mint, is related to peppermint. However, peppermint is distinguished by its typically purple-brown stems, and leaves which are much thinner than those of spearmint.
And can you grow peppermint outdoors? Yes, of course. Peppermint can be quickly and easily propagated from a piece of another plant. Simply remove the plant from the container, or dig up a clump from the border, and use a sharp spade to divide the clump into smaller sections.
Part-fill a freestanding container with Levington® Multi Purpose Compost. Alternatively, cut away the bottom of a container, and place it into the soil, deep enough to keep the rim of the container above soil level, and part-fill with compost. This will stop the roots from spreading, which they will do very quickly if allowed, crowding out other plants. Replant the clumps in the container, backfill with soil, and water well until established.
Peppermint plants are best planted out in the spring, ready to put on new growth which can be harvested throughout the summer and autumn. They can also be grown on a windowsill in a small pot, all year round.
Where to plant and place your peppermint plants
Because peppermint grows from rampant roots, give careful thought to how you will restrict its growth. The fleshy roots can grow very thickly and re-grow from short pieces, so don't allow it to get out of control. It's not difficult to dig out if it does spread, but better to prevent the problem, as by the time it has taken over, other plants may have suffered.
As with other herbs grown for culinary use, keep them within easy reach of the kitchen door. Make sure that the soil is moisture retentive, enriching with Levington® Multi Purpose Compost if needed.
Peppermint is hardy and can withstand repeated frosts, so don't worry about providing winter protection. It also isn't fussy when it comes to sunlight, so is a good plant for a tricky location where there's a lot of shade or poorly drained soil.
Caring and nurturing your peppermint plants
Peppermint is fine in full shade, or with full sun, or anywhere in-between. It's a very versatile plant and should be planted out into soil which has been enriched with a general multipurpose compost. This will help the plant to retain moisture. Make sure you water peppermint plants well in hot weather, as they do prefer damp conditions.
Cut back the entire plant to ground level in the autumn, and then mulch the surface to provide protection and food to the plant. Choose a mulch that will provide the peppermint with nitrogen, such as Miracle-Gro® Peat Free Premium Fibre Smart™ Mulch, which will encourage strong green growth.
Prune during the growing season if needed to maintain shape and dig out any roots which have spread.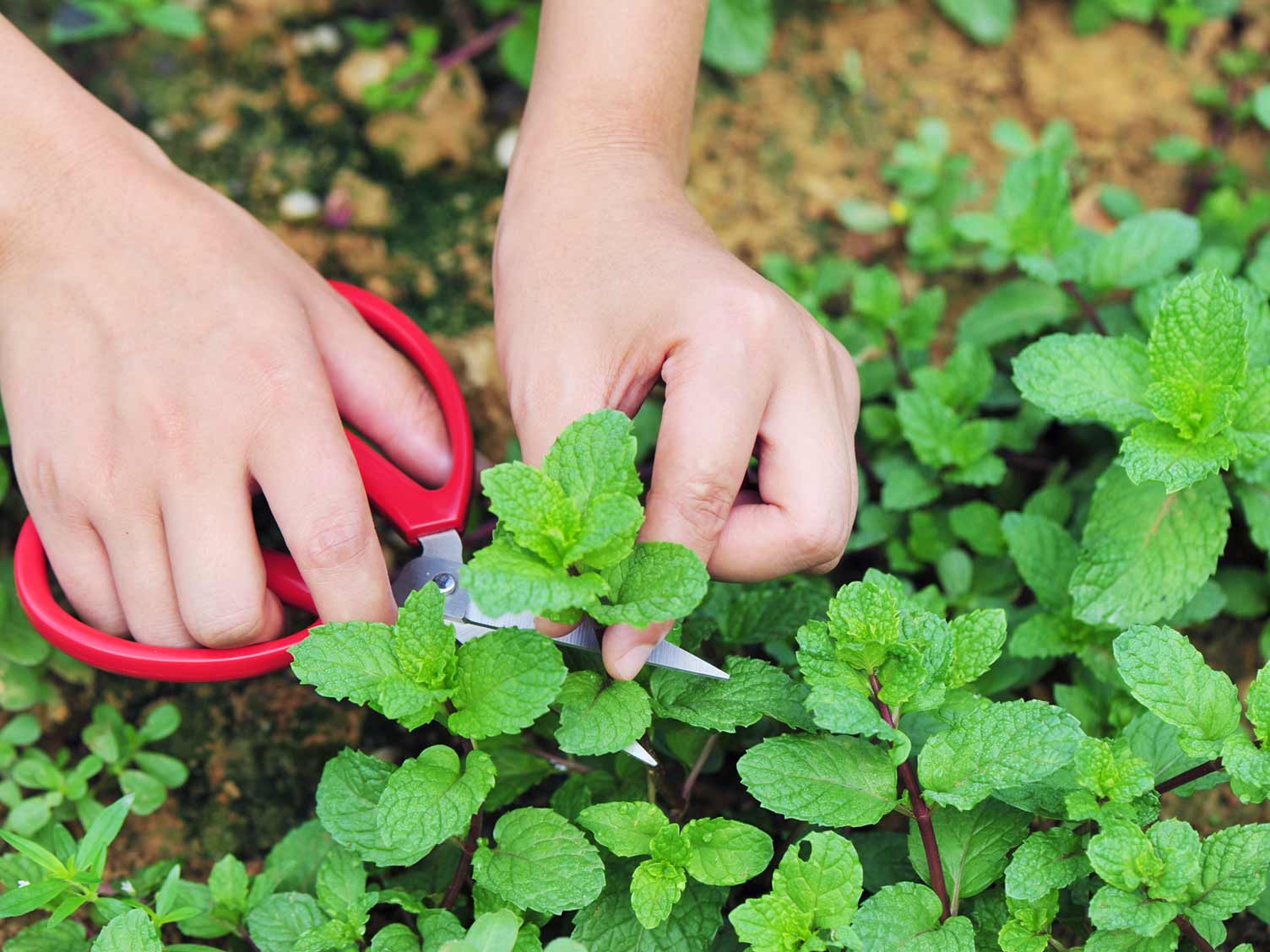 Common pests and diseases with peppermint plants
Peppermint is a resilient plant, and it will withstand attacks from a lot of pests and diseases. There are just a few worrying problems to look out for.
Why is my peppermint plant wilting?
Verticillium wilt can cause a peppermint plant to suddenly collapse, especially in hot weather. This is a fungal disease characterised by dark markings on (and in) the stem, as well as yellowing lower leaves. Remove and destroy any affected material, and ensure the peppermint plant receives adequate watering and a feed in the autumn.
What are the pretty metallic green insects on my peppermint plant?
Unfortunately, these beautiful bugs are the destructive Mint leaf beetle. This pest will create holes in the leaves as they chew on the foliage. The leaves then don't look attractive. However, peppermint is so vigorous that it will usually survive a nibble. If you're worried, remove by hand and destroy.
What are the orangey-yellow patches on my peppermint?
Rust can cause patches of orangey-yellow to appear on the plant. Dig up and destroy affected plants, and don't propagate a new plant from another which has signs of rust.
Frequently asked questions about peppermint plants
Are peppermint plants perennials?
Yes, peppermint plants will come back year after year.
Can you eat peppermint leaves?
Absolutely, yes! They are reputed to aid digestion and are great paired with potatoes and peas. They add a different flavour dimension to salads and drinks and can be made into a refreshing tea by just adding a few leaves to a cup of boiling water.
Key features of peppermint plants
| | |
| --- | --- |
| Botanical Name | Mentha × piperita |
| Plant Type | Herbaceous perennial |
| Native Location | Middle East and Europe |
| Family | Lamiaceae |
| Light Exposure | Full sun to shade |
| Soil pH | Acid, Neutral, Alkaline. |
| Flower Time | June to September |
| Flower Colour | Lilac |