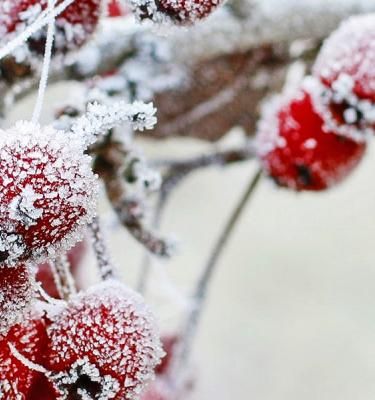 Your Monthly Planting Guide
Gardening in January
January is the start of an exciting new year in the garden. The weather may be cold, but if you look, you can see the first signs of spring outdoors, with bulbs poking up out of the ground and the days growing ever so slightly longer. Indoors there are seeds to sow, and January is also an ideal month to plant bare-root shrubs and trees. It's time to get ready for a great year of gardening.
What to plant and do in January?
So, what should you do in the garden in January? Get your gardening year off to a good start this month - whether you're planning for a garden full of flowers this year or looking forward to huge harvests of tasty fruit and vegetables, choose a category that interests you and read our top gardening tips for January.
Vegetables
What vegetables to plant in January
Even in January there are still vegetables to sow, and luckily this is something you can do indoors where it's warm and dry. If you don't have a greenhouse, it's worth investing in a windowsill propagator with a heated mat to get warmth-loving seeds off to a good start. Here are some vegetables to sow in January:
Sow indoors or in the greenhouse:
Celery
Celeriac
Broad beans
Salad leaves
Spinach
Spring onions
Turnips
Chit first early potatoes by leaving them in a bright, frost-free place for a few weeks to sprout shoots.
What Vegetables to harvest in January
Wrap up warm and head out to your vegetable bed to pick some winter vegetables for soups and stews. Vegetables to harvest in January include:
Parsnips
Leeks
Brussels sprouts
Swede
Celeriac
Turnips
Vegetable plant maintenance in January
Put cloches down to warm the soil for early seed sowings.
Remove any yellowing leaves from Brussels sprouts, kale and other brassicas, as they can harbour pests.
If you haven't mulched your vegetable beds yet, there's still time to do it. Spread a thick (5cm/2in) layer of well-rotted farmyard manure, compost or other mulch over the beds to improve soil structure and nutrient levels.
Buy your tomato and chilli pepper seeds now, as you'll need to start sowing them in a few weeks' time
Towards the end of the month, order first and second early seed potatoes.
Fruit
What fruit to plant in January
Provided the ground isn't waterlogged or frozen, January is a good month for planting fruit trees and fruit bushes. The plants are in their dormant state, so planting them now gives the roots time to settle in and establish themselves before growth starts again in spring.
You can often buy fruit trees and bushes as bare root plants in January, which is a very cost-effective solution if you're intending to grow lots of fruit this year. If you are planning to plant bare root fruit trees or bushes, prepare the ground ahead of time and plant the bare root plants as soon as you get them, to avoid the roots drying out.
These fruit trees and bushes can all be planted in January:
Redcurrants
Whitecurrants
Bare root fruit trees
Fruit plant maintenance in January
If you have several rhubarb plants, force a few of them by putting a cover (an upturned bucket will do) over the crowns to stimulate them into producing sweet, tender juicy stems in early spring.
Prune apple and pear trees now, but leave cherries, plums and apricots until summer to avoid the risk of disease.
Prune blackcurrants, redcurrants and gooseberries.
Prune autumn-fruiting raspberries, cutting all last year's stems to ground level.
Cover wall-trained peaches with a 'tent' of polythene to protect against peach leaf curl disease.
Ornamental plants
What flowers and bulbs to plant in January
At this time of year, most of the flower and bulb planting goes on indoors, but there are still a few flowers to plant outdoors in January, especially if your garden needs some winter colour.
Plant outdoors:
Hellebores
Snowdrops in flower
Sow indoors in a propagator
Antirrhinums (snapdragons)
Lobelia
Sweet peas
What flowers to prune in January
Wisteria: give this climber its winter prune in late January, cutting back last year's summer growth to 2-3 buds from the main framework.
Flower maintenance in January
Remove old hellebore foliage, to stop the spread of hellebore black spot and make the flowers easier to see.
Deadhead winter bedding such as violas to promote a second flush of flowers in early spring.
Keep deadheading winter-flowering pansies to ensure they flower during mild weather.
Clear away any old soggy leaves from perennials, but leave a few dead stems standing to provide homes for overwintering wildlife.
Cut back the dead leaves from deciduous ornamental grasses like Calamagrostis and Deschampsia. Wait until early spring to cut back Miscanthus and Pennisetum, which need a bit more protection from winter frosts.
If you've had pots of forced daffodils and hyacinths flowering indoors over winter, leave them somewhere bright until the foliage dies back, then store the bulbs in a frost-free place for replanting next autumn. The hyacinth bulbs can also be planted outside now, and should flower again in a year's time.
Things to do this month
Walk your garden to see which plants are in flower - there are often some surprises!
Insulate outdoor containers from frost - bubblewrap works well.
Raise containers onto pot feet to prevent waterlogging if you haven't already done it.
Avoid walking on frosty or snow-covered lawns, as this can damage the grass.
Keep bird feeders topped up and defrost bird baths
Use a garden shredder to turn the branches of your Christmas tree into garden mulch, and chop up the trunk to make a log pile for wildlife.
Clean your garden tools and get them serviced if they need it.
Check any stored vegetables and summer bulbs (for example dahlias) and discard any that are mouldy or starting to rot.
Keep an eye on your indoor plants, as central heating can often make the atmosphere too dry for them. Mist plants regularly or stand pots on a tray filled with pebbles and topped up with water.
Brush snow off the roofs of greenhouses and conservatories so that plants can get all the available light.
Plant bare root shrubs and roses.
If you haven't pruned your climbing roses yet, do it now, cutting back last year's flowered side shoots by a third of their length.
Keep feeding wild birds with high-energy bird foods to keep up their strength through the winter.
Make sure wild birds have access to unfrozen water to drink and bathe in.
You can still move deciduous small trees, shrubs and climbers growing in the wrong place.
Clean old pots and seed trays, so that they're ready for seed sowing in spring.
Melt an area of ice on frozen ponds to allow fish to breathe.
Check your mower blade and either replace it with a new one or have it sharpened.
On mild days, treat fences and other wooden structures with a wood preservative.
Use a weed-control membrane when planting up new beds to help keep them weed free.
What to do in your garden in January