FlyClear™ Fly Traps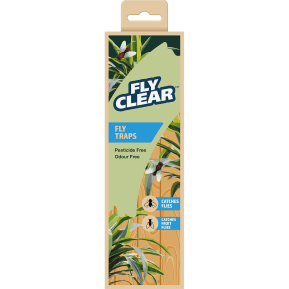 FlyClear™ Fly Traps
FlyClear™ Fly Traps are great for trapping house flies and fruit flies. The product effectively traps flying insects on the sticky surface, and they fit easily on a window. FlyClear™ Fly Traps are pesticide-free and safe for use around children and pets. They are odourless and will last for several weeks. The box is made from 100% recycled paper and is fully recyclable.
How to use
Open sealed bag and remove trap. Bend the lower part of the trap backwards and peel off the cover paper from the narrow tape.
Fit one corner to a window by slight pressure (the window should be free of dust and grease) at a 45 degree angle.
Activate the trap by removing the protective film from the adhesive surface. One trap is enough for a normal sized window (approx 1.5m2) Check traps regularly and replace after 3 months or earlier if needed.
---
Where to use
Inside your home, in and around windows.
---
How often to apply
Whenever flies are noticed.
---
Cautions
Keep out of reach of children and pets.
In case of contact with the glue remove with soapy water.
Always read the label and product information before use.
Health and Safety
Always read the pack label and product instructions carefully before use. For further information relating to product safety please review the product data safety sheet link below.

FlyClear™ Fly Traps
4 traps (other sizes available)