FlyClear™ Wasp & Hornet Killer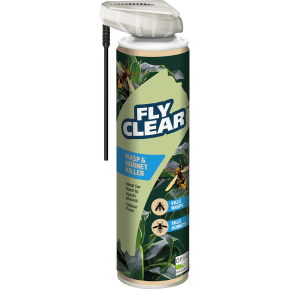 FlyClear™ Wasp & Hornet Killer
FlyClear™ Wasp & Hornet Killer effectively kills flying insects such as wasps and hornets with an immediate effect. The product is odour-free and quickly deals with flying insects in ways that are kinder to nature and includes a precision tool ideal for corners and cracks. The product is made from a plant based active ingredient exclusively developed by the scientists at Evergreen Garden Care and is OF&G certified. Both the bottle and cap are 100% recyclable.
How to use
Shake can well before use.
Surfaces: Fold the tube downwards to apply a wider horizontal spray.
Corners and cracks: Point the tube in horizontal direction for those hard-to-reach hiding places.
Press the button.
Spray directly at insects for 1 second.
Do not exceed 10 seconds in 20m² room.
Ventilate room thoroughly before re-entry.
---
Where to use
Inside your home as well as your seating area outside. Can be used all year around.
---
How often to apply
Spot treatment.
---
Cautions
Contains chrysanthemum cinerariaefolium and piperonyl butoxide.
Spray and leave the room. Ventilate room thoroughly before re-entry.
Keep out of reach of children.
Use insecticides safely. Always read the label and product information before use.
Health and Safety
Always read the pack label and product instructions carefully before use. For further information relating to product safety please review the product data safety sheet link below.

FlyClear™ Wasp & Hornet Killer
400ml (other sizes available)