Levington® Citrus Compost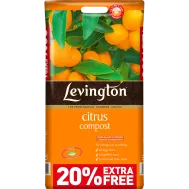 Levington® Citrus Compost
Levington Citrus Compost  is perfect for Citrus trees and bushes, including Orange trees, Grapefruit trees and Lemon and Lime trees. This product has a PH balance ideal for glossy green leaves.
Pack Sizes
8 litres + extra free
HOW TO USE
Use the compost directly from the bag. Do not mix with other materials. Firm only lightly after you have applied. Resealable bag keeps compost fresh.
POTTING:
For a healthy plant, pot on every two years into a pot one size larger.
Place Leveington® Citrus Compost in the bottom of the pot and put the root ball on the top of this layer.

Fill in around the edges with more compost ensuring the top feeder roots are covered with 2cm of fresh compost.

Water well and keep in the shade for a few weeks to allow new roots to grow.
 
CARE OF CITRUS PLANTS:
Watering: In hard water areas use rainwater whenever possible to maintain the slightly acidic conditions of the compost.  Allow the surface to dry out between waterings, then water thoroughly, do not allow to stand in water.
Feeding: Citrus trees actively grow all year round.  In summer they produce new leaves and flowers and in winter the fruits ripen.  As a result of this activity they need to be fed year round.  From March to September feed every two weeks with a balanced feed such as Miracle-Gro® Plant Food for busy growth and to prevent fruit drop and leaf yellowing.
Temperature: During Winter keep the plants in a cool, but frost free place such as a cool conservatory; greenhouse or unheated room.  Aim for a minimum temperature of 10°.
Greenhouses and conservatories will usually be too hot for citrus trees in the Summer.  Move them outside when all danger of frost has passed.  Place in partial shade for the first 3 weeks, to prevent leaf scortch. Spray the plants daily with plain water to keep them cool and encourage pollination of flowers.
WHERE TO USE
For Citrus trees and bushes, Orange trees, Grapefruit trees, Lemon and Lime trees.
CAUTIONS
Use in a well ventilated place and avoid breathing in dust. Always wear gloves when gardening and then wash your hands after use.
Always read the label and product information before use.
RECYCLING & HANDY HINTS
DID YOU KNOW THAT YOU'RE PART OF ONE OF THE WORLD'S LARGEST RECYCLING EFFORTS?
Each year,Evergreen Miracle-Gro resuses thousands of tonnes of material from gardens and forests in many of our compost mixes, to help you grow plants that enhance your environment and make the World more beautiful.
Health and Safety
Always read the pack label and product instructions carefully before use. For further information relating to product safety please review the product data safety sheet link below.