Levington® Organic Blend Soil Conditioner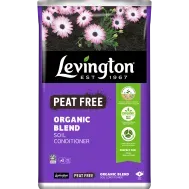 Levington® Organic Blend Soil Conditioner
An organic peat-free soil conditioner, high in nutrients that improves poor soil structure. Levington Organic Blend Soil Conditioner can be used also as mulch to suppress weeds.
How to use
For sandy soils: Levington Organic Blend Soil Conditioner will improve the structure of your soil by adding humus to help hold moisture and nutrients.
For clay soils: On clay soil use Levington Organic Blend Soil Conditioner to improve the drainage, helping excess moisture drain away and leaving your plant roots healthy.
For weed prevention: For effective weed suppression a minimum of 5cm (2") of Levington Organic Blend Soil Conditioner is required over the flowerbeds or containers. It should be applied to clean soil and maintained once a year.
For soil improvement: For general soil improvement, fork a 2.5cm (1") layer of Levington Organic Blend Soil Conditioner into the top 10cm (4") of soil.
---
Where to use
Perfect for roses, and also trees and shrubs.
---
Coverage
Fills 50 small pots 12cm (5").
Fills 10 medium pots 22cm (9").
Fills 5 large pots 25cm (10").
Fills 7 hanging baskets 30cm (12").
---
Cautions
Use in a well ventilated place and avoid breathing in dust.
Always wear gloves when gardening. Wash hands after use.
Store in a cool place, away from sun.
Open bag carefully and reseal after use.
Always read the label and product information before use.
Health and Safety
Always read the pack label and product instructions carefully before use. For further information relating to product safety please review the product data safety sheet link below.