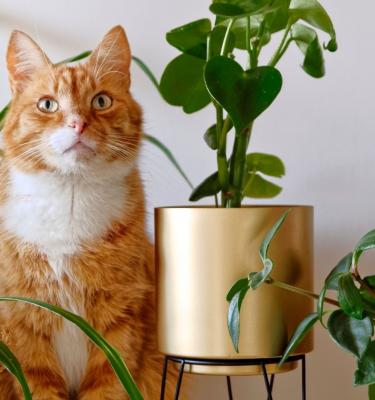 The Best Pet-Friendly Indoor Plants
Are you a proud plant and pet parent? Did you know that not all indoor plants are safe for our four legged, furry friends?
To help keep your pets safe, we've rounded up the best indoor plants that are easy to keep
---
Boston Fern
The Boston fern is a loyal and reliable houseplant that is also safe to keep around pets. Their lush fronds need only a little bit of the right care to grow rapidly.
Place your Boston fern in the bathroom or hang it up in another room with high humidity and bright, indirect light. Regular misting with Scotts Osmocote Mist+Feed will also help your Boston fern grow its ferny best!
---
African Violet
If you're looking for a safe splash of colour – then look no further! African Violets make for a great indoor plant, largely due to their colourful displays and ability to flower in low-light.
When growing African Violets, ensure that you use a low-salt potting mix to prevent chemical burning on leaf tips. Try Scotts Osmocote Premium Potting Mix for African Violets, it also feeds for up to 6-months.
---
Spider Plant
Spider Plants are fantastic air-purifiers and super resilient – making them easy to grow for even the most notorious of houseplant killers.
Tolerating a wide range of growing conditions, including low-light and periods of dryness, Spider Plants suffer from few problems. You may find that brown tips are the biggest problem with your Spider Plant.
---
Calatheas
One of biggest plant trends this season, Calatheas are proving to be very popular for their paddle-shaped and uniquely patterned foliage. Plus, being pet friendly is definitely an added bonus!
Position your Calathea in a spot with bright, in-direct light as their leaves can be easily burnt. They also appreciate a feed with Scotts Osmocote Pour+Feed once a fortnight, as well as, regular misting with Scotts Osmocote Mist+Feed, especially if around heaters or air conditioners.
---
Orchids
If you're wanting to add luxury and elegance to your home, orchid blooms are among the most beautiful in the world.
Although orchids are safe for pets, it's still best to keep them out of reach as they can be damaged easily!
Growing beautiful orchids can be challenging, but with the right tools and care they will thrive. Check out our expert guide to growing and caring for orchids.