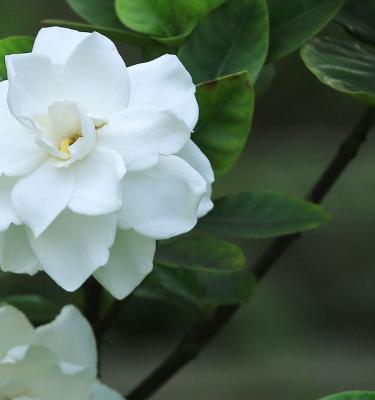 Gardenia FAQs by Melissa King
Gardenias can be a little fussy, but they're worth the effort for their fragrant blooms and glossy green foliage.
Better Homes & Gardens AU presenter, Melissa King is here to help answer your questions and get your gardenias blooming beautifully!
Why are my leaves yellowing and dropping?
It can be normal for the old leaves on Gardenias to yellow and drop off, particularly in early Spring when they're bursting into new growth.
Also, most Gardenias will yellow through Winter from the cold, but green up again in Spring if you give them a good feed. 
Other reasons to consider include:
Why are my flowers and buds going brown?
The flowers do turn brown as they age, but there are lots of other reasons to consider:
Intense sun can cause them to burn - protect them from hot afternoon sun, particularly in warmer climates
Prefer warm, sunny days and cool nights - if temperatures get too warm overnight, the flowers can brown and buds drop off
Water regularly to prevent plants from drying out
Keep an eye out for pests, like mites, that can cause harm to buds and flowers
Check your soil pH is slightly acidic (somewhere between 5.0 and 6.5 is ideal) - feed with an acid-loving plant fertiliser

 
Why is my Gardenia not flowering?
Ensure that it is planted in a spot where it gets full sun to light shade.
Ensure that your Gardenias has enough of the right nutrients to flower - feed it with an acid-loving plant fertiliser to promote new growth and an abundance of blooms.
How to keep flowers lasting longer in a vase?
Make a fresh cut about 10cm down the stem (so that you're cutting both foliage and flowers)
Pop straight into the water - remove any foliage below the water line
Change the water frequently and re-cut the stems each time you do it
TIP: Don't place your cut flowers near sunny windows or they'll fade quickly!
How often to fertilise Gardenias?
We recommend that you feed with Scotts Osmocote Controlled-Release Fertiliser for Roses, Gardenias, Azaleas and Camellias, which is formulated specifically for acid-loving plants and will feed your plant for up to 6 months.
That means, you only need to fertilise with Scotts Osmocote Controlled-Release Fertiliser for Roses, Gardenias, Azaleas and Camellias, twice yearly (once in Autumn and then in Spring).
You can also give your Gardenias a boost over the growing season with fortnightly applications of Scotts Osmocote® Pour+Feed All Purpose.