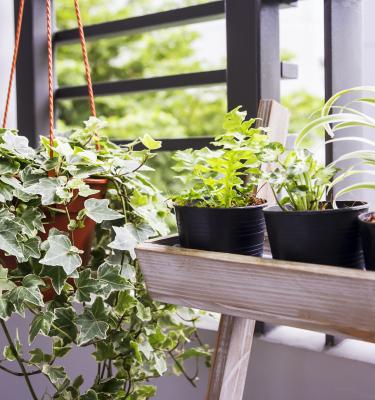 Grow a fruit & vegetable balcony garden
If you live in an apartment or townhouse you may have to think outside the box if you want to join the 'grow your own' trend.
While outdoor space may be limited, a verandah or balcony can be used to produce an abundance of fresh vegetables, herbs, and fruits throughout the year. Other than floor space, railings, walls, and ceilings can all be used, with clever pots that either hang off the railing or sit over it, tiered stands, vertical gardens, and hanging planters. There's really no limit to creating your own growing space!
Before you start, make sure it's possible to put up some shelter or shade as wind and lack of shade can be problematic on high-rise balconies.
JUMP TO: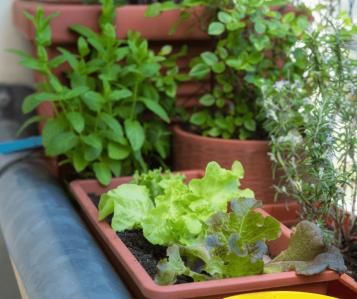 Check the growing conditions on your balcony
The growing conditions on your balcony will affect what you can plant and grow. North-facing balconies will get the most sun followed by north-east.
The amount of shade your balcony gets during the day will be a factor, as you'll want your plants to have some shade and not be in direct sunlight all day. For example, coriander does much better in the shade rather than full sun.  Before you decide where to place your plants on your balcony, check where the shade is at different times of the day. If there isn't any shade, consider investing in some shelter.
Wind is also a key consideration, as you'll expose plants to much more wind on a balcony than if they were growing in beds and borders for example. Again check it at different times of day and consider investing in some form of shelter. You can also use heavier pots like terracotta pots to stop any plants blowing over in the wind.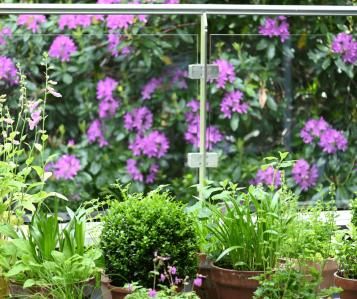 The best balcony plants & herbs
Seasonal herbs
Within a couple of weeks of sowing seeds, you'll have a ready supply of fresh herbs on hand when you need them - just outside the door!
Shrubby herbs
You can add lavender as well, to attract bees for pollination of your other crops. 
Leafy and fruiting vegetables
Lettuce, Asian greens (Pak choy and Bok choy), dwarf varieties of cabbage, cauliflower, broccoli, broccolini are all good choices.
You can also try dwarf tomatoes and beans. 
Root vegetables
Make sure you sow or plant them into pots that are at least 35 - 40cm deep. 
Dwarf fruit trees
Miniature citrus like lemons and limes are ideal for balcony gardens. They produce large crops of regular sized fruits on plants that rarely grow more than a metre in height.
Super-dwarf and columnar apples, dwarf pears and dwarf stone fruits can also be grown in large pots or small tubs.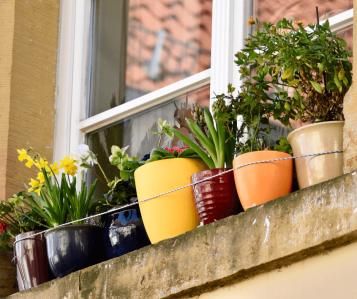 Choosing the right pots and containers
The right pots and containers for your plants will depend on the size of your space and your chosen plants. You can choose from the following:
Terracotta pots – vegetables, herbs and fruit trees will do better in larger pots. Just keep in mind that they can be heavy when filled and difficult to move around. Although this can be helpful if your balcony is windy.
Conventional plastic or ceramic pots – these will be easier to move around your balcony
Self-watering pots (in-built water and fertiliser reservoir) – these shouldn't leak, so they make a good solution when considering your neighbours below.
Hanging pots and baskets – these smaller options are ideal for herbs.
Railing pots that sit on or hook over balcony rails – again these will work well for herbs.
Choosing the right potting mix
The combined weight of pots, potting mix, plants and water is an important consideration for the balcony gardener. If pots are too heavy, they may be difficult to move.
Weight aside, you also need to choose the best potting mix for your chosen fruit or vegies. The best results will always come from using a premium vegetable or fruit potting mix.
For vegetables
Choose a premium potting mix that is specially formulated for vegetables. We recommend:
For fruit trees
Again, you'll need a premium potting mix that's specially formulated for fruit trees. We recommend:
These mixes have a light weight to volume ratio, wetting agent included and contain six month controlled release fertiliser. They all carry the 'red tick' for certified premium products. If you prefer to grow your fruit and vegetables in a completely natural potting mix, then look for Scotts Performance Naturals Premium Potting Mix (100% natural).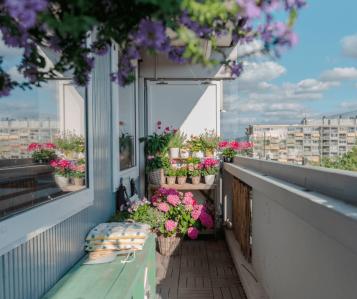 Balcony ideas – making the most of your space
Tiered plant stands
Metal or wooden stands with three or four shelves will greatly increase the number of plants you can have per square metre of floor space. Make sure shelves are deep enough to allow plants sufficient room to grow unhindered.
Pallet gardens
A great way to increase your growing space for minimum cost. Just be sure you source and use unbranded pallets! DIY plans are available from some hardware stores and home & garden websites.
Hanging pots
Use ceilings and wall space to install hooks or wall brackets to add extra growing space. Make sure these are securely fixed and even then, don't overload!
Railing pots
There are two types of railing pots - pots that sit over the railing and pots with hooks that hang off the railing. Either type will camouflage railings while increasing your growing space.
Stackable planters
There are several types available in kit form from hardware stores and garden centres - their pots interlock to form tiers or layers, making them great for vertical gardens. They are ideal for herbs and smaller vegetables because the individual pots are usually small - no more than 20 to 30cm in diameter.
Shelves
Make the best use of wall space by putting up some shelves. Make sure each is securely anchored to the wall and take care not to overload. Wire mesh shelves that allow for drainage will last longer than timber shelves.
For more balcony ideas, read our article on 6 looks to reinvent your balcony.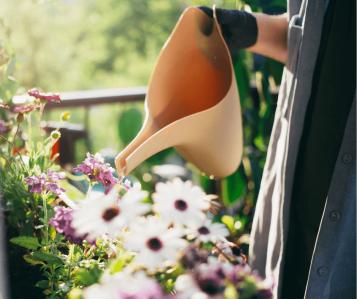 Watering your balcony garden
There's a lot to consider when planning how to water a balcony garden
Does the balcony have a stormwater channel and drain built in?
Does excess water run over the edge (and down on to the balcony below)?
Is there a tap on the balcony?
Is it practical to use a hose or watering can?
Is there room to set up a small holding tank for hydroponics?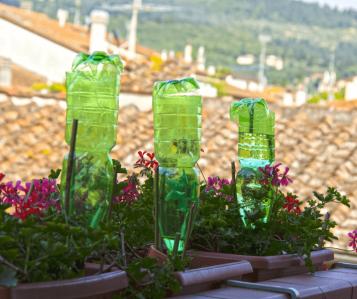 Different types of watering systems for plants
Drip irrigation (mini drippers) are water efficient, delivering water directly to potting mix at about the same rate as it is taken up by plants or lost through evaporation.
Overhead mini sprayers, like mini drippers, are very efficient and don't waste water. Runoff and drainage will be minimal.
Self-watering planters - pots with reservoirs in the base that are filled with water or fertiliser solution. Pots are only watered from the top once, after potting up. From then on, all watering is done via the reservoir. Avoid mess by not over-filling reservoirs.
Closed hydroponic system – this is the most water-efficient of all. Water or nutrient solution is pumped from a holding tank into planting troughs or pots and the excess which drains away is collected and flows back, via a filter, to the tank.
Common balcony garden mistakes to avoid
Having too many small pots – makes it hard to water your plants. Your balcony will also look cluttered and you'll be restricted on the range of herbs, veggies and fruits you can grow.
Poor drainage – it's not neighbour-friendly if excess water from your balcony garden drips down to balconies on floors beneath yours.
Not being careful with fertilisers, especially if you are renting. Dissolved nutrients in drainage water can stain or mark hard surfaces which your landlord won't appreciate.
Choosing the wrong plants. Don't choose trees and shrubs that grow more than 1.5m tall or have big root systems – they will be too big and heavy for most balconies.
Not watering often enough – pots on exposed balconies will dry out very quickly on windy days. You should always check them regularly and, if possible and permitted, put up some form of shelter or shade to protect your plants.
With the right approach and the right products tailored to your chosen plants – whether fruit trees or veggies – you can have a beautiful-looking balcony and plentiful supplies of fruit and vegetables.