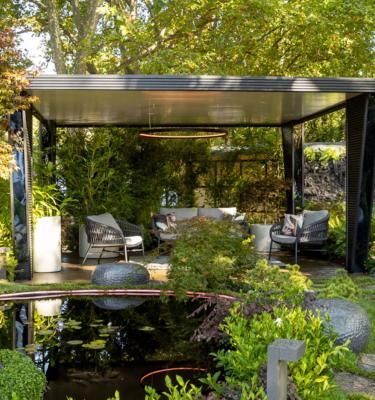 How To Recreate Christian Jenkin's Award-Winning Garden at Home
Japanese gardens are renowned for their beauty and tranquillity and Christian Jenkin's award-winning garden, Composition, at the 2023 Melbourne International Flower & Garden Show was a stunning embodiment of the style.
Read below for some expert tips and essential elements for re-creating an authentic Japanese-inspired landscape at home.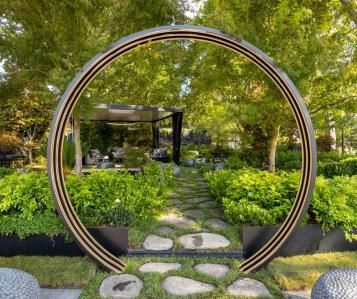 #1
The Entrance
Start by creating a statement entrance that encourages you to leave your stresses at the door and enter a quieter world.
Take inspiration from Jenkin's moon gate or create a decorate arbour that can be smothered with climbing plants. You could even use clumps of bamboo to define the entrance and create a sense of mystery.
#2
Garden Elements
Use stones, gravel and sand to create a dry stream bed or gravel garden for contemplation, or to build winding paths that invite you to slow down and simply stroll.
Strategically placed paths can also be used to take advantage of the best garden views, create a sense of movement and to separate areas into different 'rooms'. 
You might like to include some decorative accents, such as big stones to symbolise mountains and hills. Ornaments like stone lanterns and water basins are also an integral part of a Japanese-inspired garden and can be used to create focal points or a sense of intrigue.
In larger spaced gardens, islands and bridges are another key element designed to connect area and/or to complement nature.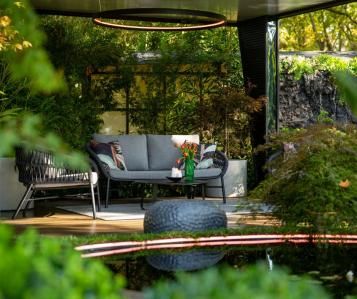 3.
Garden Structures
You'll often find garden structures like a pavilion or tea house integral to a Japanese garden design.
A centre pavilion like the one in Jenkin's design offers a comfortable space for rest and recovery.
You may like to opt for a more formal tea house for traditional ceremonies or rituals. Japanese garden structures are often made out of natural materials like wood and bamboo to help blend into their surroundings.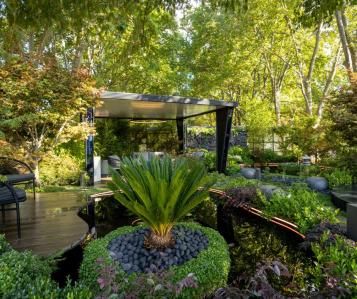 #4
Water
Water is another key element to a Japanese garden, so take a leaf out of Christian Jenkin's design book and include a reflective pond or two.
Use rocks, moss and groundcovers to soften the pond edges. Strategically place Japanese maples over the pond to take advantage of their gorgeous reflections. You may like to fill ponds with colourful goldfish or Koi for an extra touch.
Streams, waterfalls and other water features are a great addition as the soothing sound of running water helps create a peaceful and calming atmosphere. In dry gardens, the flow of water is often represented by 'river' paths of sand or gravel.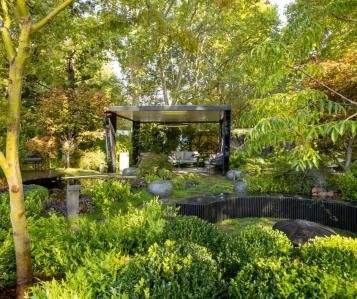 #5
The Plants
Japan is home to some of the most beautiful plants in the world, so there is a rich palette to choose from!
Jenkin's garden highlights the beauty of Japanese Maples, which are admired for their elegant form and outstanding Autumn leaf colours. In Spring, Cherry Blossoms are a must-have for any Japanese-inspired garden. For more seasonal highlights, include flowering plants like Azaleas, Peonies and Gardenias. Bamboo also is a favoured Japanese design element, a welcomed symbol of longevity and prosperity.
Make sure you don't overcrowd the garden because, in a Japanese-inspired garden, the plants should all be in balance with each other and the other garden elements - a key factor to the success of Christan Jenkin's award-winning garden, 'Composition'.