Scotts Lawn Builder™ Topdress Mix and Underlay Organic Lawn Soil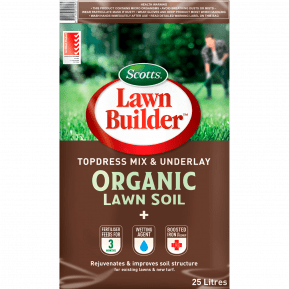 Scotts Lawn Builder™ Topdress Mix and Underlay Organic Lawn Soil
Lawn Builder Topdress Mix and Underlay Soil rejuvenates, feeds and improves soils to encourage better looking, healthier lawns. It's an organic lawn soil with added Scotts Lawn Builder™ slow-release fertiliser designed to make lawn care easy.
FEATURES
Contains composted organic materials as well as a slow-release fertiliser. Does not contain any animal waste or by-products
Includes a quick-release iron that helps green lawns up rapidly
Slow-release of nutrients eliminates waste through run-off and leaching and prevents burning
Wetting agent assists moisture to soak into the soil and improves nutrient uptake through roots
Traditional lawn foods release or 'dump' most of their nutrients within a couple of weeks of application, causing a rapid surge in growth that quickly drops off again as the food supply diminishes. Scotts Lawn Builder™ uses patented time-release technology to ensure nutrients are released slowly and continuously over a three month period
Lawn Topdress Mix complies with the requirements of the appropriate standard for a composted soil conditioner
SUITABLE FOR
All lawn grasses including all named varieties of buffalo, traditional couch, Santa Ana couch, kikuyu, bent, fescues and carpet grass
All grass substitutes such as dichondra (also known as pennywort or kidney weed), lippia, zoysia
Topdressing existing lawns and mixing into existing soil when preparing areas for sowing lawn seed or laying instant turf
NOT SUITABLE FOR
Scotts Lawn Builder™ Topdress is not recommended for use on garden beds
Do not use on lawns less than 8 weeks old - from germination of seed or installation of instant turf
HOW IT WORKS
Lawn Topdress Mix adds organic matter to impoverished soils to improve soil texture, moisture-holding and overall soil health
When applied as a topdressing, it can be used to remove hollows that may have developed
Provides a healthy soil environment for sowing lawn patching and repair products
Its nutrients are released at about the same rate that grass roots can take up the fertiliser so there is no wastage, run-off to waterways or damaging surge growth
HOW TO USE
Lawn Topdress Mix may be spread thinly over an existing lawn alone or in combination with over-seeding to boost lawn density
Spread evenly over the grass and rake to level the area. If over-seeding, use quality seed and follow package directions
For lawns that have a build-up of dead grass under the green top growth ("thatch"), raking with a steel tine garden rake followed by aeration with a sturdy fork is recommended before topdressing
To prepare an area for a new seeded or turfed lawn, spray the area with a non-selective herbicide such as Roundup according to label directions at least 10 days before planting, to eradicate all existing weeds and grasses
Dig out dead weeds and grass then loosen the soil. Spread a 2.5cm layer of Lawn Topdress Mix and mix into top 2.5cm of the existing soil
Spread seed or lay turf and water frequently. After 8-10 weeks, feed with Scotts Lawn Builder™ All Purpose Slow Release Lawn Food
For a complete guide on how to use Scotts Lawn Builder™ Topdress Mix, watch the video on this page and always check the packaging
WHEN TO USE
Topdressing an existing lawn is best done in Autumn, after the heat of Summer has passed and before Winter rainfall
It can be done at other times of the year but avoid topdressing in mid Summer
Sowing new lawns and patching existing grass are best done in mid Spring, allowing time for the seeds to germinate and grass to establish before Summer
New turf is best laid in Spring or Autumn - avoid Summer's heat and Winter's cold
SAFETY INFORMATION
IMPORTANT: We recommend using gardening gloves when using this and other planting mixes and composts
Store safely out of the reach of children and pets. This product contains iron which can be harmful to dogs' livers if eaten in quantity
SAFETY FIRST: Read the instructions on the product packaging before use and take particular note of any warnings or cautions on the label 
See the Safety Data Sheet for this product
Health and Safety
Always read the pack label and product instructions carefully before use. For further information relating to product safety please review the product data safety sheet link below.

Scotts Lawn Builder™ Topdress Mix and Underlay Organic Lawn Soil
25L (other sizes available)