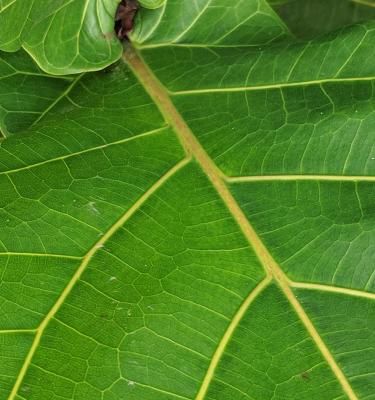 How to Grow & Care for Fiddle Leaf Figs
With their lush, upright stature and huge, glossy leaves, the Fiddle Leaf Fig (Ficus lyrata) is one of the most popular indoor plants around, and there's no doubt that they make a stunning statement in any space.
Staying true to their namesake, Fiddle Leaf Figs can be a bit 'fiddly' to care for, but with the right knowledge, you'll enjoy a happy and healthy Fiddle Leaf Fig for years to come!
What You'll Need To Grow
To successfully grow Fiddle Leaf Figs, you will need:
A Fiddle Leaf Fig of your choosing - there are dwarf varieties now available
A suitable pot with good drainage
---
Plant and Place
The Perfect Potting Mix 
The age-old, green-thumb secret is that when you start with the best, you'll grow the best.
Using a premium quality and free-draining potting mix, like Scotts Osmocote Premium Potting Mix for Indoor Plants, is especially important as it is made with the perfect blend of nutrients to give your Fiddle Leaf Fig the best foundation for healthy growth. It is also formulated without compost or pine bark, which are both known to shelter the peskiest indoor bug around - Fungus Gnats!
Light
Fiddle Leaf Figs do best in bright, indirect light or in a spot with lots of filtered morning sun. Position them close to an eastern-facing window, so that they can take in enough light during the day, but avoid direct light as it can burn their leaves. 
Be sure to rotate your Fiddle Leaf Fig 90° every 10-14 days to encourage upright growth by exposing all sides of the plant to the light.
---
How To Take Care of Fiddle Leaf Figs
Water
Fiddle Leaf Figs like to be watered well. They are, however, susceptible to root rot, which is caused by overwatering or poor drainage. Allow the Scotts Osmocote Premium Potting Mix for Indoor Plants to dry out between watering and select a pot or container with good drainage. 
The best way to tell when it's time to water is to use the 'knuckle test'. Simply, push your index finger into the potting mix until you reach your second knuckle. If the potting mix feels dry, then your plant needs watering. If the potting mix is still moist, be sure to check again in a few days. 
Temperature & Humidity
Being from the tropics, Fiddle Leaf Figs thrive in warm, humid conditions and don't do well in cold rooms. Mist their leaves with Scotts Osmocote Indoor Mist+Feed for Indoor Plants, to help increase humidity as well as give them a boost of nutrients, which is quickly absorbed through the leaves.
Feeding
The fertiliser in Scotts Osmocote Premium Potting Mix for Indoor Plants doesn't last forever, so it's important to continue replenishing nutrients with additional fertiliser to ensure that your Fiddle Leaf Fig remains happy and healthy.
Apply Scotts Osmocote Pour+Feed for Indoor Plants, every fortnight to boost your Fiddle Leaf Fig with a carefully balanced blend of essential nutrients, including Nitrogen, Potassium and Phosphorus.
For a more sustained approach, feed your Fiddle Leaf Fig with Scotts Osmocote Controlled-Release Fertiliser for Indoor Plants. The controlled release technology feeds your plant for up to 6 months, releasing nutrients and trace elements only when the plant needs them. Scotts Osmocote Controlled-Release Fertiliser for Indoor Plants is also boosted with Potassium for greener foliage and stronger plant growth.
Repotting
It's important to repot your Fiddle Leaf Fig every two years to avoid it from getting root-bound, and to maintain overall health and vigour. Alternatively, if roots start to show at the top of the pot, then it's time to repot! 
Be sure to pick a new pot that has good drainage and is around 25mm larger than the previous pot, any bigger and you run the risk of excess potting mix remaining damp, thus leading to root rot.
How to repot your Fiddle Leaf Fig:
Hold your Fiddle Leaf Fig by the stem and gently slide it out of its pot.
Carefully loosen the roots with your hands, removing some of the old potting mix from around the base. This will also help it settle easier into its new home.
Add a layer of Scotts Osmocote Premium Potting Mix for Indoor Plants into the new pot and pack it down, removing any air pockets. If your new pot doesn't have a drainage hole, use a slightly smaller plastic pot with drainage holes and pop it inside the pot. Alternatively, layer the bottom of your decorative pot with pebbles before adding the potting mix. The aim is to create a reservoir for any extra water to pool into, away from your plant's roots.
Place your plant in the pot, making sure it's centred, and then add potting mix around the plant until it's secure.
Give your Fiddle Leaf Fig a thorough watering and a capful of Scotts Osmocote Pour+Feed for Indoor Plants to welcome it into its new home!
---
Pests, Problems and Answers
Why is my Fiddle Leaf Fig dropping leaves?
Fiddle Leaf Figs are fussy plants, so dry air, underwatering or even people brushing past them may cause leaves to turn brown, spreading from the leaf edge. This is also often accompanied by the curling, dropping, and crisping of leaves.
To fix this, increase humidity by misting the leaves regularly, re-asses your watering schedule, and check for signs of soil compaction. You can also try to move your plant to a more protected location, away from draughts or walkways.
Why does my Fiddle Leaf Fig have brown spots on its leaves?
Direct and/or harsh light can damage Fiddle Leaf Figs by burning their leaves (usually the top leaves) and turning them brown, yellow or red.
To remedy this, gently move the plant to a low-light position to nurse it back to health, before slowly introducing it to brighter locations.
Other Pests and Problems
Root Rot

Overwatering or poor drainage can cause root rot, especially for plants in cool or low-light conditions.

Notable symptoms in Fiddle Leaf Figs include:

Yellowing leaves
Roots that are mushy, black, brown and/or smelly
Leaf drop
Dark brown and/or black spots on lower leaves

To fix this, remove damaged roots, repot with well-draining potting mix and reduce watering.

In case the roots are severely rotten, discard the plant and the soil from the pot into the trash. If you do plan on reusing the pot, make sure you clean it thoroughly.

Infestations

Some common indoor plant pests to watch out for include:

Spider Mites - Look for fine webbing covering leaves and stems. They don't like moisture, so mist plants to raise the humidity levels.

 

Mealybugs - Look for fuzzy, little white spots around where the leaf connects to the stem. These pests can form large colonies quickly, so deal with any signs of infestation right away. Remove mealybugs by swabbing them with a cotton wool bud, dipped in methylated spirits. Try not to get any on the leaves as it will burn them.

 

Aphids - Look for little green or black insects, pay particular attention to the undersides of leaves and stem tips. The easiest way to remove aphids is by spraying infested leaves with a strong stream of water to rinse them off. Alternatively, you can wipe and remove them by hand or with a cotton swap.

 

Fungus Gnats - Look for little fly-like bugs around the plant, however, the real issue lies in the potting mix. The quickest way to solve this problem is to repot the infected plant in Scotts Osmocote Premium Potting Mix for Indoor Plants as it doesn't contain compost or pine bark, which both attract fungus gnats.