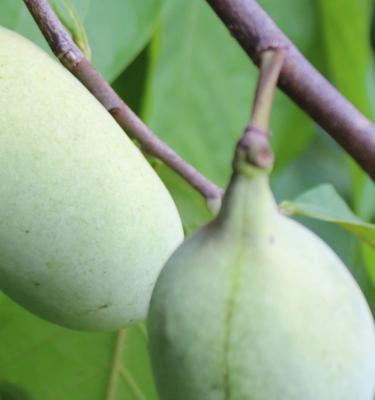 How to grow & care for Paw Paw
Paw Paw or Papaya (Carica papaya) originate from tropical and subtropical climates, so they thrive in warm, frost free areas around Australia. Paw Paw trees are easy to grow, so long as they have a full sun spot, with rich, moist and free draining soil. They grow from 2-5 metres tall and begin producing fruit 12-18 months after planting. 
The fruits of Paw Paw trees can be either red or orange fleshed and in the tropics they'll produce fruit year round. Trees will continue producing fruit productively for 5-6 years. Pick the fruit when they are half ripe and allow them to ripen indoors. 
Paw Paw trees can produce female only flowers, male only flowers or they maybe bisexual and produce both male and female flowers. You'll need 1 male tree for every 7 females for successful fruit production - but if you only want 1 tree, make sure you choose a cultivar that is bisexual (it produces flowers that are both male and female).
 
Top 5 steps to growing paw paw 
Choose a warm, full sun position, sheltered from strong winds.
Paw Paws need a free draining soil that's been enriched with Scotts Osmocote Compost Premium Soil Improver before planting.
Paw Paw trees can be female, male or bisexual - if you only want to grow 1 tree, make sure you choose a bisexual cultivar so you get fruit production. 
Paw Paws are heavy feeders for apply Scotts Osmocote Plus Organics Citrus & Fruit Plant Food & Soil Improver every 6 months
Prune Paw Paw trees after they've finished fruiting in winter, as they fruit on new growth - pruning will encourage new shoots for the following season's fruit production. 
Shopping List
 
Prepare
Paw Paw trees prefer a full sun spot that's protected from strong winds. Choose a space with free draining, neutral pH soil and prepare it for planting. 
Prepare the soil for planting by digging a hole that's twice as wide as the root ball of your tree and the same depth. 
Loosen the soil at the bottom of the hole and mix Scotts Osmocote Compost Premium Soil Improver and Scotts Osmocote Plus Organics Citrus & Fruit Plant Food & Soil Improver through the original soil. 
Planting in the garden
Potted Paw Paw trees can be purchased year-round, but they are best planted in winter when the trees are dormant and less likely to suffer from transplant shock. 
Plant your Paw Paw tree at the same depth it was in the pot. If needed, create a mound in your prepared planting hole to sit the root ball on so it's at the correct height. 
Firm down the soil around the roots of your newly planted Paw Paw tree and water in well. Top dress around the tree with an open organic mulch to suppress weeds and retain moisture. 
Paw Paw trees will need regular watering during the warmest months of the year, but they don't like soggy, waterlogged soil. 
Planting in pots
Choose dwarf or compact Paw Paw varieties to grow in pots. Find a pot or container with good drainage that's at least 60cm wide and the same depth. An old half-wine barrel with drainage holes added is an ideal size. Fill your pot with a premium potting mix like Scotts Osmocote Citrus & Fruit Potting Mix before planting your Paw Paw tree into the centre of it. 
 
Firm down the soil around your new tree and water it in well to settle its roots in. 
 
Mulch the top of the soil in the pot to retain moisture and ensure the pot can be easily watered during the summer months. 
Harvest 
Paw Paws are best picked from the trees once they are half ripe - cut them from the tree with sharp scissors or secateurs once 50-75% of their skin has changed to orange/red. Then leave them on the bench inside to completely ripen. 
Most Paw Paw trees will begin producing fruit within 12 months of planting and they'll continue to productively grow fruit for 5-6 years. 
You may need to securely net your trees to protect the crop from hungry birds and other animals. Once the fruits have formed, use a wildlife safe, 4mm hole or smaller white netting that's pulled tightly over the tree and secured around the truck or set up a frame structure over the tree so you can easily place the net over this. 
Pests & Diseases & General Care Advice
If Queensland Fruit Fly are a pest in your area you may need to net with insect exclusion netting once the fruit have started to form.
Paw Paw trees should be pruned in winter to encourage new growth - aim to remove any broken, crossing or diseased branches and then lightly prune the whole tree to keep it at a manageable height.
Fertilise in spring and again in autumn with Scotts Osmocote Plus Organics Citrus & Fruit Plant Food & Soil Improver or Scotts Osmocote Controlled Release Fertiliser: Citrus & Fruit if you're growing in pots. 
 
Mites and aphids can infest new paw paw growth, keep an eye out for distorted new leaves or mottled patterns on the leaves. If mites or aphids become a problem on spray with Defender Pyrethrum Insect Spray to control them. 
 
In hot and humid weather, fungal diseases can be a problem for Paw Paw trees. Remove any dead or diseased leaves/branches and try to improve airflow around the tree to reduce the risk of fungal diseases.