Scotts Everydrop™ Premium Water Storing Crystals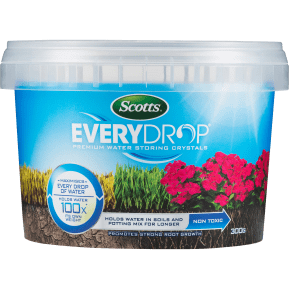 Scotts Everydrop™ Premium Water Storing Crystals
Everydrop Water Storing Crystals are long-lastingand able to absorb 100 times theirown weight in water.
When mixed into potting mix and gardensoil, these crystals enhance the waterholding capacity of your growing media andprevent the soil from drying out. Everydrop Water Storing Crystals are non-toxic. They can be used to prolong periodsbetween watering and prevent againstdrought damage.
FEATURES
Scotts Everydrop Water StoringCrystals advanced formula isnon-toxic and acrylamide free.
Unlike other crystals, ScottsEverydrop releases water backto the plant roots.
Ideal for indoor andoutdoor plants
Optimises water retention,storing water at the rootzone where it is needed
Promotes strongroot growth
Increases timebetween watering
HOW TO USE
Pots, Containers & Baskets 
Mix thoroughly - 1 teaspoon (5g) dry crystals with 5 litres of potting mix (1/2 garden bucket)
Garden Beds
Mix dry crystals into soil
Water in thoroughly 
Establishing new lawns
Apply 2 teaspoons (10g) per sqm and rake into the soil to a depth of 50mm
Tips
Re-apply every 6 months for maximum effectiveness
IMPORTANT
SAFETY: NON-TOXIC, KEEP OUT OF REACH OF CHILDREN AND PETS. IF INGESTED, DRINK PLENTY OF WATER. SEEK MEDICAL ADVICE IF INGESTED.
STORE UNDER COOL CONDITIONS.
Health and Safety
Always read the pack label and product instructions carefully before use. For further information relating to product safety please review the product data safety sheet link below.