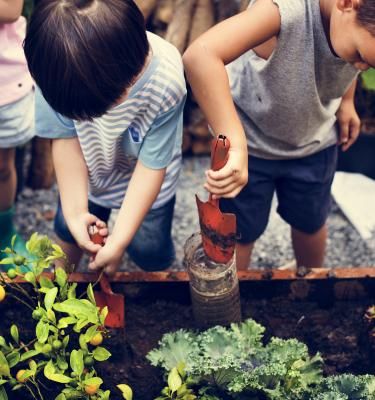 8 incredible gardens designed by kids
The limitless nature of children's imaginations is no secret, and after months cooped up with only family to keep them entertained, we thought there was no better time to unlock some of this creativity and apply it to our gardens.
When it comes to designing our outdoor spaces, we all have an idea of how we want it to look. From taking inspiration from the minimalist trends of Japanese gardens, to recreating the vibrant English cottage garden there's lots of design choices to make. But maybe it's time to think outside the box…
We did just this when we set a group of children a challenge to design their ultimate, dream garden. The outcomes were wonderfully varied and whilst it was difficult, we picked out our favourites to bring to life in 3D renders. From waterslides to potato farms, the results provide some real food for thought when it comes to your own back yard. We're not saying a lazy river through the middle of a garden is to everyone's taste, or maybe it is…
The Castle Garden
By Bonnie, aged 5, Manchester
Bonnie's garden brings the fairy tale to life whilst also paying tribute to the NHS with an amazing rainbow waterfall inspired by their incredible work over the past few months.
What Bonnie says about her design: "This is a drawing of my dream garden. In the garden is the castle, which has a purple front door (my favourite colour!) and inside is the King (my daddy), and he is looking out of the window at me and my little sister playing in the paddling pool by the green grass. The Queen (my mummy) is sitting outside on her throne, also looking at me and my sister while we play in the garden. The sun is shining and next to the paddling pool is a rainbow waterfall with a sign above it saying 'NHS'. This is my dream garden because it makes me very happy and the people inside it make my dreams come true."
The Ultimate Activity Garden
By Harvey, aged 8, London
Harvey didn't hold back when it came to the design of his perfect outdoor space. A clear activity lover, he managed to fit in everything from a football pitch to a giant swimming pool whilst also demonstrating his awareness of the environment with the inclusion of a host of beehives.
What Harvey says about his design: "I have designed my dream garden, and now I'm going to explain what everything is. I have drawn a decking area with a hammock and a fire to roast marshmallows. In front of the firepit is a pond and a fountain. There will be lots of fish and frogs. Behind the pond will be fruit trees (apples, pears and cherries). On the other side there will be a veggie patch. Behind the veggie patch are three beehives as bees are important to the planet.
Behind the fruit trees will be a real grass football pitch with a huge climbing frame on top of the pitch. The climbing frame will have some swings, tunnels, rock wall, a basketball hoop and a fun house with monkey bars from the roof. Behind the football pitch is a really cool games room which will look like a giant hill and be covered in grass. It will have a projector screen with all the gaming consoles, a football pitch and beanbags.
I then will have a huge swimming pool split in three. The 1st section will have three mega slides and three diving boards. The 2nd section will just be for floats and swimming. The 3rd section is the best ninja course ever. It will have floating steps, running balls, swinging ropes, extreme monkey bars and a hard rock wall to finish. I hope you like my garden!
Rainbow World
By Elizabeth, aged 5, Manchester
Elizabeth created a multi-coloured, magical wonderland. The rainbow is the prominent feature with the mystical unicorn and fairies adding a magical element to this colourful utopia.
What Elizabeth says about her design: "This is 'Rainbow World'. 'Rainbow World' is full of all my favourite things. There are unicorns, butterflies and lots of magic fairies watching over. The bottom of the garden is full of flowers and there is a giant rainbow. The sun is always shining, and the sky is full of airplanes."
Go-Karter's Paradise
By Jayden, aged 10, Canada
Jayden's garden is the perfect spot for any keen go-karters. And for anyone that gets peckish on the track, don't worry, he has you covered. Partial to a French fry, he has included his own potato farm to cover all your fried potato needs. What more could you ask for?!
What Jayden says about his design: "My dream garden has a track for my ATVs and go-karts. It also has a helipad. We have a pool with a massive slide. There is also a potato farm for my chips, because I love chips. I have lots of parking for people to visit. I drive a tractor. My house is huge, and rainbow coloured."
Candyland
By Lydia, aged 6, Sale
Clearly the owner of a very sweet-tooth, Lydia has created a sugar lover's dream garden. Not a flower in site, this garden is a fantastical representation of the everyday snack cupboard. We're not quite sure how those candy floss trees would fair in the great British weather though!
What Lydia says about her design: "My sweet garden is full of sweets because I love to eat them. There are candy cane flowers and lots of candy floss trees. The gingerbread men live in the garden with us and there is a chocolate stream that has chocolate steppingstones so you can get across it. When it rains there are custard puddles and even a house made of sweets! This would be my dream."
Hannah-Fest
By Hannah, aged 7, Glossop
One of two gardens named after their creators, 'Hannah-Fest' is a celebration of everything that Hannah loves, all brought to life through a festival like experience. With festivals unfortunately called off this summer, we think Hannah had the right idea by creating her own.
What Hannah says about her design: "My dream garden is like a festival because I've always wanted to go to one. It would have a giant trampoline that I could bounce on, and a chocolate fountain where you can eat as much as you want. There would be a huge bouncy castle too and a tepee to sleep in."
The Adventure Garden
By Francis, aged 4, Manchester
There's something for everyone in Francis' garden. For those looking to relax there is a giant lazy river running through the middle, but if a grand adventure is more your thing then there is also a castle built purely for those epic water fights. Francis has thought of it all.
What Francis says about his design: "The castle with water cannons is the best bit so we can have a water fight. There is a chocolate fountain and a digger pit. There is also a lazy river and go-kart track. Every-flavour bean plants grow in the garden too."
Connor-Land
Connor, aged 6, Glossop
With visits to theme parks still subject to stricter rules and restrictions, Connor decided to go ahead and build his own, with all the fun of the fair brought to his own back yard. With all his favourite rides included as well as they all important theme-park snacks, why would you ever need to leave?
What Connor says about his design: "My dream garden is a theme park. It has a log flume, a big wheel, a carousel, a roller coaster and a pirate ship. There is a hut giving out free cakes, sweets and donuts too."
The runners-up
Picking our favourite designs wasn't easy, so take a look below at some of the other amazing entries we had. From an underwater garden to a giant beanstalk leading to castle in the sky above, the imagination of children never ceases to amaze and delight us.
Whilst some of these designs may not be easy to recreate, the importance of building a garden for you and your family to enjoy has never been more apparent. If you're looking for tips and tricks to get started then we have lots of advice for you in our inspiration hub. From fun ideas to get gardening with the kids to design ideas for a balcony makeover, we've got you covered.