Levington® Tomorite® Concentrated Tomato Food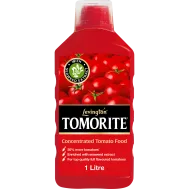 Levington® Tomorite® Concentrated Tomato Food
Levington Tomorite Concentrated Tomato Food is the country's favourite liquid plant food for tomatoes, enriched with seaweed extract. It is ideal for tomatoes, vegetables and flowering pot plants and produces top quality, full flavoured tomatoes.
HOW TO USE
Use measure provided.  Dilute 20ml in 4.5 litres (1 gallon) of water.  Apply diluted feed to base of plant, avoid foliage.
Greenhouse: Start feeding when first truss of of tomatoes (stem with small green fruits) has set.  In soil feed at alternate waterings.
Outdoors: Start feeding when second truss has set.  In soil, feed every 7-14 days and use 4.5 litres for two plants.
Grow Bags: Use 4.5 litres per bag.  Outdoors, feed once a week.  In greenhouses, increase to twice a week when second truss has set.
WHERE TO USE
Levington Tomorite is recommended for feeding tomatoes and other flowering and fruiting plants growing under glass, out in the garden and in grobags or other patio containers.
FERTILISER ANALYSIS
NPK 4-3-8
Always read the label and product information before use.
When do I start feeding my tomatoes?
If your plants are in a greenhouse, start feeding when the first truss of tomatoes (stem with small green fruits) has set. If outdoors, start feeding when the second truss has set.
Can I use this on my strawberries?
Yes, you can use it on strawberries and on other plants where liquid feeding is required. Use at the diluted rate recommended on the bottle.
How much Tomorite Concentrate do I use?
For Tomorite Concentrate products: fill the inner ring of bottle cap to the top, then dilute three measured amounts in 9 litres (2 gallons) of water.
What is the coverage?
The coverage per each pack size is as follows: 500 ml Concentrate = Makes 113 litres 1 litre Concentrate = Makes 225 litres 2.5 litres Concentrate = Makes 563 litres 2.5 litres Pour and Feed (ready to use) = Feeds up to 25 plants.
Health and Safety
Always read the pack label and product instructions carefully before use. For further information relating to product safety please review the product data safety sheet link below.