Autumn is a great time for lawn maintenance
After a long summer of getting the best out of your lawn, it is time to start preparing it for winter. There are a few simple steps that you can take to ensure that it stays looking green and healthy for those cosy autumn evenings - and ready to bounce right back in the spring.
Autumn lawn checklist
Autumn is the perfect time of year to start again with your lawn treatment as the soil temperature is still warm enough to stimulate grass growth. Here are some tips on how to maintain your lawn in autumn…
1. Scarify
Scarifying is when you rake your lawn to reduce the layers of thatch. Thatch is a collection of debris such as dead grass and old moss that can prevent water and fertiliser from getting through to the roots and soil.
Autumn is a great time to scarify as you can rake a little deeper than if you were to do it in spring when you would have to be more delicate due to the young growth.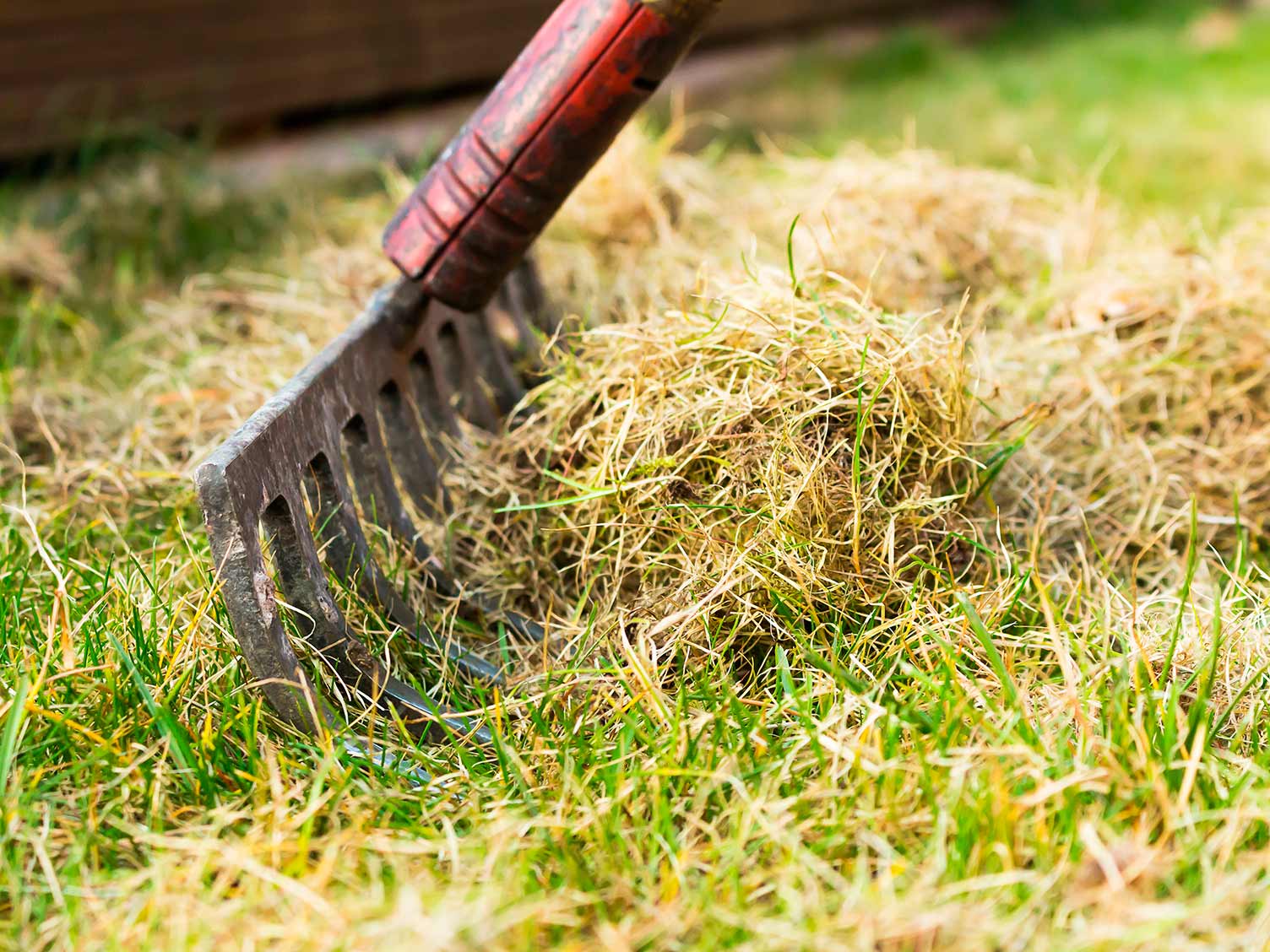 For more information read our guide to scarifying your lawn.
2. Trim back lawn and bed edges
During the summer your lawn edges may have gotten a little bit overgrown, which makes this the perfect time of year to trim back your garden edges. For edges in beds where the soil is neatly trimmed but the grass has grown over horizontally, use lawn scissors to cut back the grass.
Don't forget to pick up the cuttings from the bed. For edges that are not straight use a plank of wood like a giant ruler with a spade and trim along for a perfect straight edge. Again, don't forget to collect the trimmings.
3. Flatten and roll uneven areas
If you've had children and pets playing on the lawn during the summer, or perhaps it is just an area that has been neglected and become uneven, you should consider flattening it down to ensure you don't have any flooding or dry spots when the winter rains set in.
For areas that are particularly bumpy, you can use a half moon edging iron (or a spade if you don't have one) and shave the ground level. Once you have done this, aerate the soil underneath with a fork and re-lay turf level to the rest of the lawn. Dips/troughs in the garden should also follow this process until the whole lawn is level.
4. Aerate your lawn
Aeration is a cornerstone to having a well-maintained lawn. The process of aerating is essentially spiking the lawn to allow for more air (and nutrients including water) to get to the grass roots. Aeration will also help your lawn survive through more extreme conditions such as waterlogging or drought.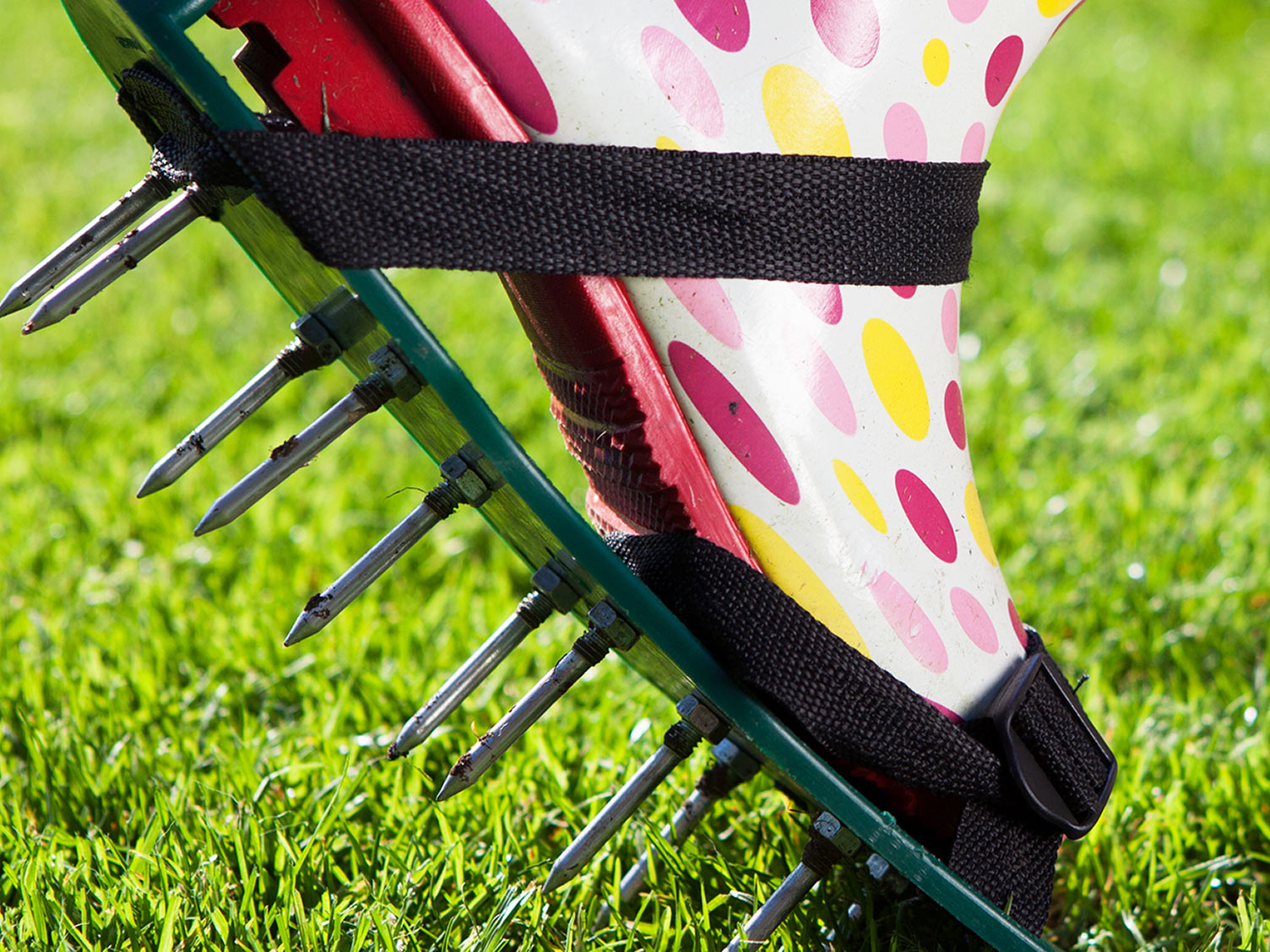 There are many different methods of aerating your lawn based on the size and soil type of your lawn. If you are unsure what the best way is for you, read our guide to lawn aeration.
5. Fork compacted areas
Areas of the lawn that get heavy traffic in the summer will be very compacted and will need forking to break up the soil and improve the drainage when the rain starts to pour. Ensure that you push the fork four to six inches in to the ground to get the proper aeration and drainage.
6. Apply top dressing
Once the lawn is flat and aerated, it'stime to put some top dressing down. We recommend using Miracle-Gro EverGreen Lawn Dressing. Top dressing improves soil structure and encourages strong root development so helps to support a healthy lawn.
Spread the lawn dressing evenly over the grass with the back of a rake, working it well into the holes created by spiking.
7. Apply autumn lawn weed and feed product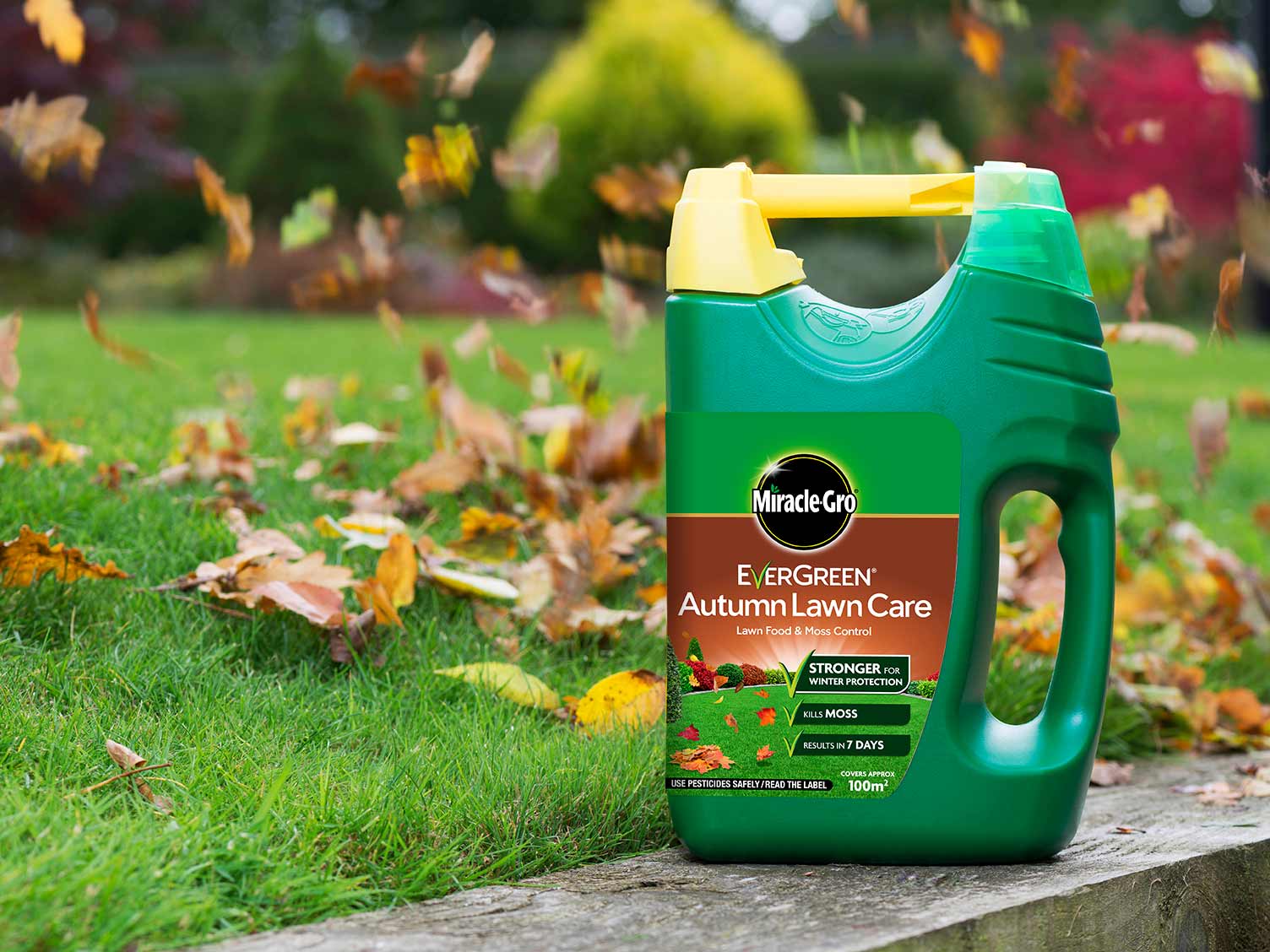 Once your lawn is treated and in pristine condition, it's important to get some lawn feed down to ensure that the roots are still growing strong throughout the winter.
You should use a different lawn fertiliser in autumn that you would use when you are preparing your garden in spring. We recommend using either Miracle-Gro EverGreen Autumn Lawn Care or Miracle-Gro EverGreen Premium Plus Autumn & Spring Lawn Food. These products are best applied using a lawn spreader to ensure even application over your lawn - this will help prevent any scorching or damage.
Try the EverGreen Wizz Year-Round Spreader (ideal for use with grass seed, fertiliser or even salt during the winter months to prevent your paths becoming slippery) or the Scotts EvenGreen™ Drop Spreader.
Autumn lawn fertiliser is high in potash and phosphates which will better protect the grass from frost and icy conditions. Spring and summer feeds that are high in nitrogen will encourage top growth, which is soft and easily damaged by frosts and not ideal for autumn lawn feeding.
Autumn lawn aftercare
There are a couple of things you can do to help the health of your lawn following your autumn lawn care. Try not to walk on the lawn too much after product application - if you have areas of your garden that you need to get to in the winter then please think about this beforehand such as building a path or putting down stepping stones.
On the rare occasion in the British winter when the weather is dry, grab the rake and remove any fallen leaves on the lawn as they not only provide habitable shelter for garden pests, but they also suffocate the lawn which weakens the grass. Add the leaves to your compost heap, where they can rot down to help make a good natural soil conditioner for your flowerbeds next year.
Check out our video tutorials for how to achieve a great looking lawn on our YouTube channel here.