Chamomile (Chamaemelum nobile, Matricaria recutita)
Chamomile (or camomile) is the name given to several daisy-like plants. The two most popular types of chamomile are German or wild chamomile (Matricaria recutita) and Roman, English or garden chamomile (Chamaemelum nobile).
Both of these plants contain essential oils and anti-oxidants that are calming and relaxing and are commonly used in herbal infusions for hay fever, inflammation, muscle spasm, insomnia and gastrointestinal disorders.
The plants of chamomile are very ornamental, producing their white, daisy-like flowers with a yellow centre throughout summer and well into autumn.
---
How to grow chamomile
Cultivation
For best results and the most essential oils, chamomile is best grown in a warm, sunny place. German chamomile will also grow in light shade or partially shaded areas. German chamomile also does well in poor, heavy clay soil, whereas Roman chamomile prefers well-drained and moderately fertile soils.
Chamomile varieties
Chamaemelum nobile is a perennial that has dark green, aromatic leaves and small, white, flowers all summer. Height up to 30cm (12in). Chamaemelum nobile Treneague is a low-growing, non-flowering variety, which only grows 6-10cm (2½-4in) high, and is mainly used for ground cover or creating a chamomile lawn (see below). It does not come true from seed, so you will have to buy plants.
Matricaria recutita is an annual with larger white flowers and grows up to 90cm (3ft) high.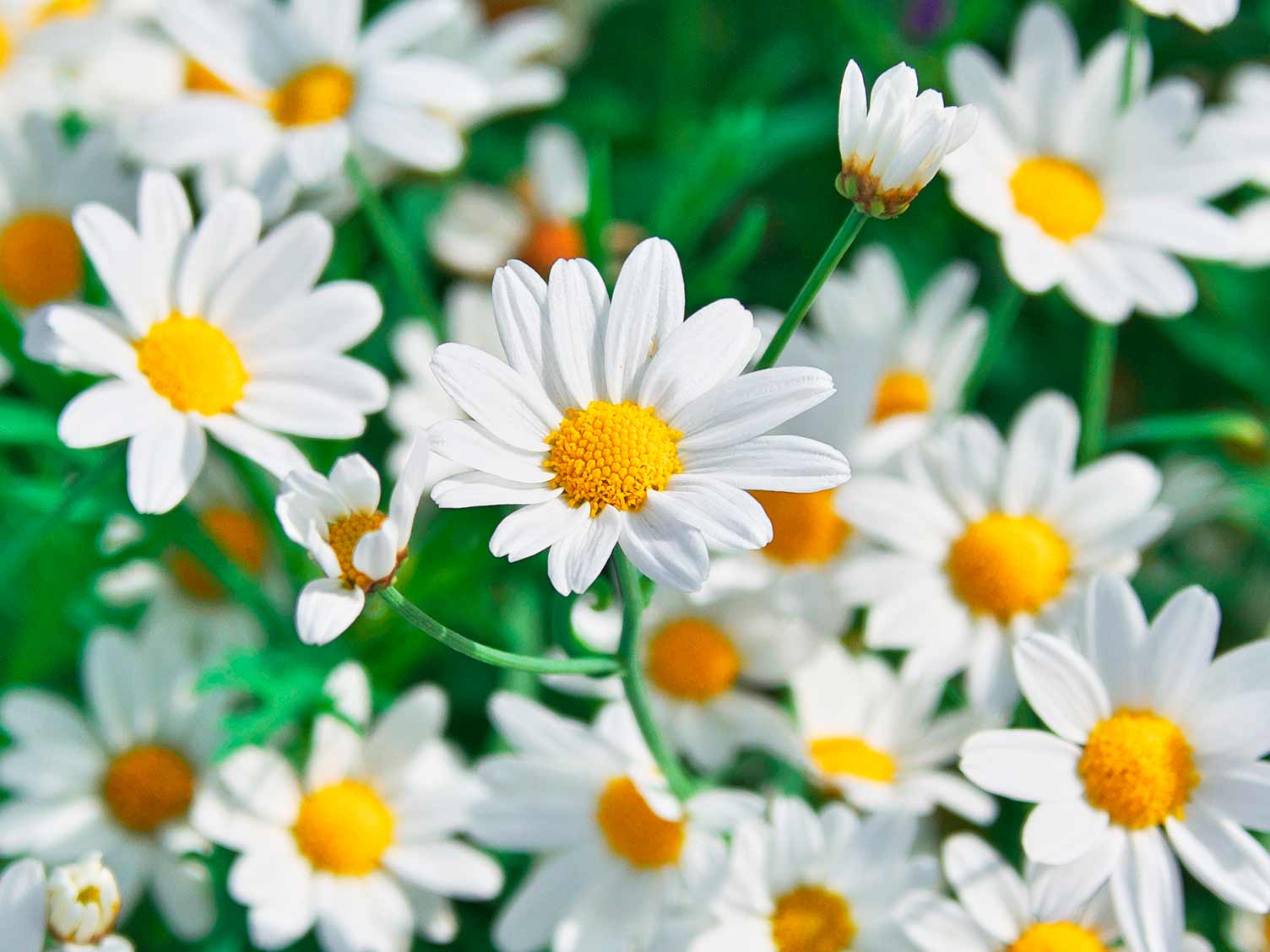 Sowing chamomile
Sow seeds in February or March in pots or trays of moist seed sowing compost at a temperature of 18-20°C (65-68°F).
Transplant seedlings when large enough to handle into 7.5-10cm (3-4in) pots. Harden off by growing on in cooler conditions for 10-14 days before planting out after all risk of frost, 15-30cm (6-12in) apart.
Planting chamomile
You can buy young plants from garden centres, nurseries or mail order suppliers. Perennial varieties can be planted at any time of year, although autumn or spring are the best times.
Dig over the planting area, incorporating lots of organic matter – such as compost or planting compost, especially if the soil is heavy clay or light, well-drained sandy soil. Dig a good sized hole big enough to easily accommodate the rootball.
Place the rootball in the planting hole and adjust the planting depth so that the crown of leaves is at soil level.
Mix in more organic matter with the excavated soil and fill in the planting hole. Apply a general granular plant food over the soil around the plants and water in well.
Suggested planting locations and garden types
Flower borders and beds, patios, containers, city and courtyard gardens, cottage and informal gardens, wildflower gardens, lawn.
---
How to care for chamomile
Water plants whenever necessary to keep the soil or compost moist during spring and summer, as this will prolong flowering.
Apply a granular general plant feed around the plants in spring or feed with a liquid plant food every couple of weeks in the growing season to encourage more flowers.
Deadhead faded flowers regularly – or harvest flowers before they fade – to encourage more blooms to be produced.
In autumn, tidy up perennial plants and cut down stems to ground level after they have died back.
Chamomile is generally pest free.
Harvesting
Chamomile tea is made from the chamomile flowers. As the plants flower all through the summer, there isn't a specific harvest time.
You only want the flowers, not the leaves or stems, so you have to pick them carefully. You can also go through the chamomile after picking to remove any leaves and stems.
You can use the flowers fresh, but it's more typical to dry them before use. Spread them out somewhere warm and well ventilated to thoroughly dry out of direct sunlight. Indoors is usually best. Once dry, you can store the flowers in a sealed container for a year.
When making tea, use roughly 1 teaspoon of dried flowers per cup, twice that for fresh chamomile. As the taste is quite bitter, use a little honey for sweetness.
Check with your GP before taking chamomile tea.
Creating a chamomile lawn
Chamaemelum nobile can also be used to make a chamomile lawn. You will need to choose a sunny site on light soils; chamomile lawns rarely grow well on heavy clay soils. Chamomile lawns only tolerate light foot traffic, and become patchy when walked on excessively.
Chamaemelum nobile Treneague is the best choice as it is compact, low-growing and doesn't flower.
Thoroughly prepare the soil, adding lots of bulky organic matter, such as compost and remove weeds, especially perennial weeds, before planting. Space plants 10-20cm (4-8in) apart, depending on their size.
Don't walk on new chamomile lawns for at least 12-13 weeks, and keep foot traffic to an absolute minimum for the first year.
| | |
| --- | --- |
| Flowering season(s) | Summer, Autumn |
| Foliage season(s) | Spring, Summer, Autumn, Winter |
| Sunlight | Partial shade, Full sun |
| Soil type | Chalky, Loamy, Sandy |
| Soil pH | Neutral |
| Soil moisture | Moist but well-drained |
| Ultimate height | Up to 90cm (3ft) depending on variety |
| Ultimate spread | Up to 60cm (2ft) depending on variety |
| Time to ultimate height | 4-6 months |