French beans (Phaseolus vulgaris)
French beans are a very productive summer crop, producing lots of tasty pods. They are usually much easier to grow than runner beans, and a great alternative if you have problems with this crop or don't have the necessary room to grow them.
Although they're not as productive as runner beans, many people prefer their texture and taste, and they are generally more reliable. They're easier to grow too, and hardly ever have the problem of poor flowering and not setting pods, which runner beans can be subject to.
They are susceptible to cold weather and frosts, and they need to grow fast and without checks to growth to get the best results.
---
How to grow french beans
Cultivation
Although French beans prefer a warm, sunny position they can tolerate light shade.
For best results, ensure the soil is well dug over and has lots of bulky organic matter added, such as garden compost, which will hold plenty of moisture - necessary for a good crop. Avoid manure as this may be too rich for them and contain too much nitrogen.
You could make a bean trench, especially in poor, free-draining soils. Take out a spade depth of soil in a trench approximately 90cm (3ft) wide and dig into the bottom of the hole all the organic matter you can get hold of, including well-rotted garden compost, kitchen waste, shredded newspaper and even torn-up cardboard.
Before sowing or planting out, give a light dressing of a general granular feed.
French bean varieties
Both dwarf, bush and climbing varieties are available. There are also varieties that produce either yellow or purple pods, which are very ornamental.
Bush: Delinel, Golden Teepee, Masterpiece, Purple Teepee, Sprite, Tendergreen, The Prince.
Climbing: Blue Lake, Diamant, Hunter, Kingston Gold.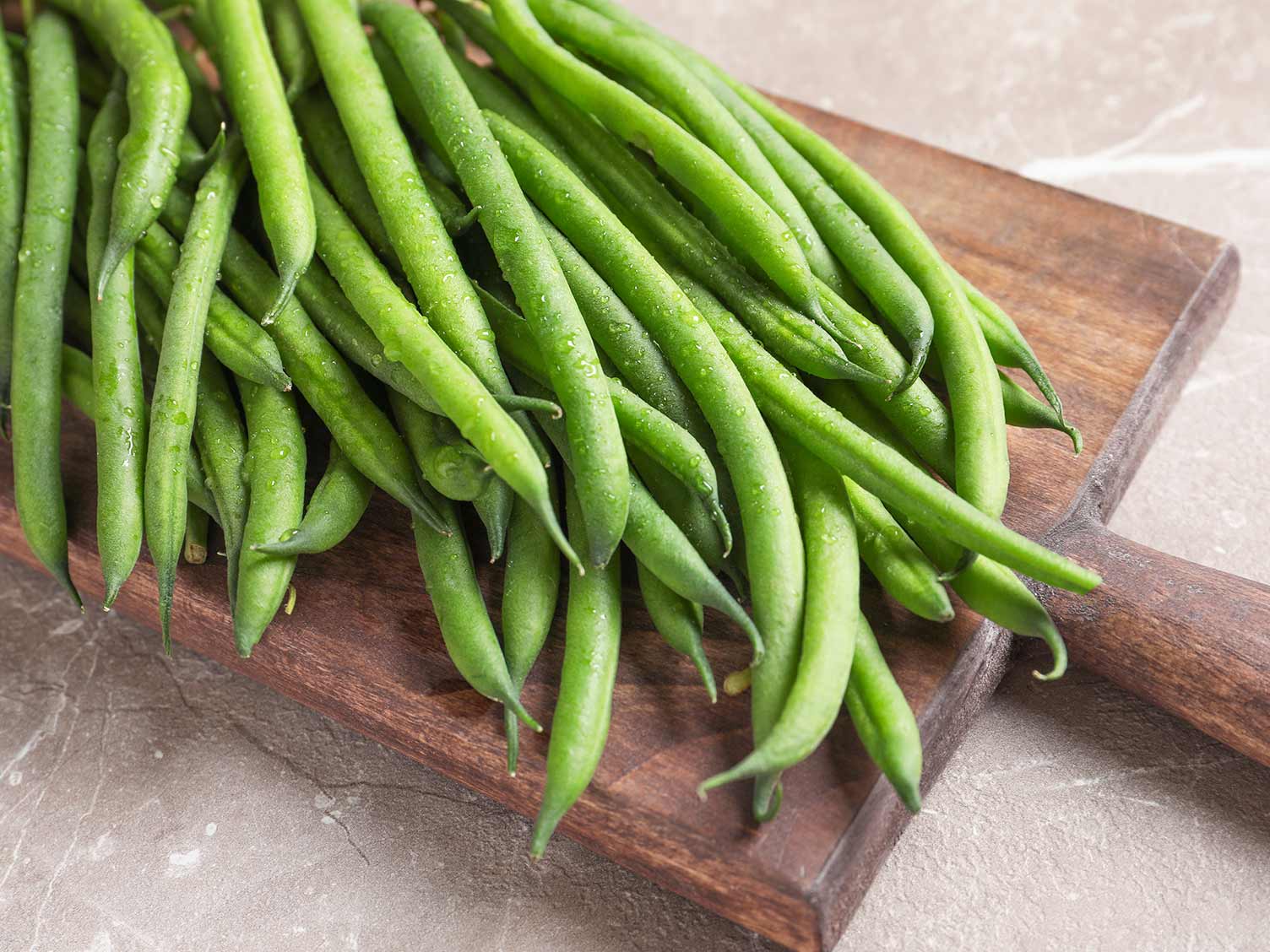 Sowing french beans
Indoors For an early crop, sow seeds individually in 7.5-10cm (3-4in) pots of seed sowing compost in April and May. The young plants will be ready for planting out at the end of May or early June, after the last severe frost.
Outdoors Sow seeds 10cm (4in) apart in rows 38-45cm (15-18in) apart, 5cm (2in) deep at the end of May or early June and cover with fine soil. Water in well.
To minimise any damage to new roots, erect the supports for climbing French beans before sowing the seeds. Space the supports 23cm (9in) apart and sow 1 seed at the base of each support.
You can also sow seeds outside in early July for a much later/autumn crop.
---
How to care for french beans
French beans are tender and susceptible to cold and frost damage. Cover them with horticultural fleece in cold weather and until temperatures warm up.
Ensure the soil is kept constantly moist - especially when the flowers are setting - and even mulch the soil in June and July to conserve soil moisture. A liquid feed applied over the foliage and around the roots every couple of weeks will ensure the plants are fed and watered at the same time and help improve cropping further.
Growing in containers
French beans are easy to grow in containers. Supporting climbing varieties with a wigwam of canes provides an attractive and colourful patio feature that will provide more than enough beans for delicious summer meals.
Harvesting
Pick the beans regularly when they are around 10-15cm (4-6in) long to enjoy the best flavour and ensure continuous cropping. They are ready when they snap easily and before the beans can be seen through the pod. If you fail to pick regularly the plants will stop cropping.
| | |
| --- | --- |
| Flowering season(s) | Summer, Autumn |
| Foliage season(s) | Spring, Summer, Autumn |
| Sunlight | Partial shade, Full sun |
| Soil type | Chalky, Clay, Loamy |
| Soil pH | Alkaline |
| Soil moisture | Moist but well-drained |
| Ultimate height | Climbing varieties up to 1.8m (6ft) |
| Ultimate spread | Up to 60cm (2ft) |
| Time to ultimate height | 3 months |