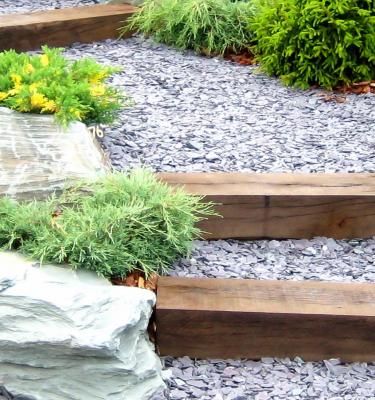 Garden landscaping with railway sleepers
When it comes to garden projects, railway sleepers are the perfect product to transform the look and feel of your garden, no matter what shape or size.
What are railway sleepers?
A railway sleeper can be described as the rectangular support system that makes up the bottom rails in railroad train tracks. Normally they lay perpendicular to the rails themselves, helping the rails remain spaced correctly and also hold them upright. Traditionally railroad sleepers are made of wood, but concrete is now also widely used.
How does this relate to gardening? Railway sleepers have been used in garden landscaping for some time. The wood is used to build beautiful garden steps, furniture and raised garden beds. Railway sleepers can be the perfect addition to any garden, big or small, adding a designer's edge to natural space in an organised and efficient way. Full steam ahead, then?
Original and new sleepers
Garden railway sleepers have become popular in garden projects. Attention-grabbing and cost-sensitive, railway sleepers are the perfect hard landscaping material. The aged wood gives an aesthetically appealing and natural quality to your garden. There is a range of varieties of reclaimed sleepers available to buy from your local garden centre or online. Original reclaimed railway sleepers will be aged and will have holes drilled in them. Original sleepers will be creosote-treated which means they are wood preserved to help achieve a longer life span.
New railway sleepers, on the other hand, are available in durable hardwood and softwood and in comparison to original hardwood, are untreated. The wood appears more natural because of this and can vary in colour from light brown to grey. As well as being in better condition than original reclaimed sleepers, new sleepers are available in a larger range of sizes, for example, boards and planks.
Hardwood vs. softwood sleepers
Hardwood sleepers can weigh up to 50kg each as a result of a much higher density than softwood. This makes them longer lasting when in contact with the ground which makes them ideal for retaining walls and permanent garden structures.
Softwood sleepers are usually sourced from the Baltics and are easy to handle, and also cut and drill. The colour of softwood sleepers will change to a grey/silver colour over time. Softwood sleepers are lighter and smaller, and thus, easier to manoeuvre.
Using railway sleepers in your garden
The normal measurements of sleepers are 250mm in width and 125mm deep and can range in length between 1.8 to 3m. The size makes it easy to use for a multitude of garden projects. You can find railway sleepers for use in your garden from a range of suppliers in the UK.
Ensuring long life
It is always worth considering how to preserve your timber. The lifespan of your timber will greatly depend on the type of wood. If you predict the wood is likely to be in regular contact with moisture then it is fair to assume the lifespan will be reduced. The lifespan is also likely to be reduced if you cut the wood down to size. Yes, this is a useful way of ensuring you get the best size for the purpose, however doing so can, unfortunately, expose the untreated core to damage.
Firstly, aim to use only certified, high-quality timber from a legitimate supplier to ensure a long life span. Secondly, we recommend purchasing treated timber to prevent problems such as rot and extending longevity. Timber that has been treated with preservative is the best choice in most cases – UC3 treated timber is best for use out of the ground, while UC4 treated is best for in-ground. Another type of timber available is green oak, which does not need treating as they are long-lasting naturally.
Different uses for railway sleepers
There are so many uses for sleepers in garden projects, depending on your garden and your taste, there is something for everyone.
Raised vegetable beds
A very popular use for garden sleepers is raised vegetable beds. Perfect for drainage, they keep pathway weeds away, and provide a barrier to pests such as slugs.
Garden furniture
If you an advanced DIY-er, why not try building your own custom garden furniture? Customised tables and chairs are bound to put a personalised mark on your garden and create a conversation starter at the next garden party.
Steps in the garden
Railway sleepers, new or old, also make great rustic garden steps. Easy to install, railway sleepers are a no-hassle, simple alternative to concrete steps.
Decking
If you fancy a big garden renovation, garden decking could be the perfect addition coming up to the warmer months. Garden sleepers provide a natural-looking extension to a garden landscape and provide a wonderful environment for dinner parties or a lounge in the sun. Why not add some fairy lights to create a bit of magic?
Raised pond
A pond is another bigger project, but one that can completely transform a garden. Adding another dimension to your garden, a raised pond can create a relaxing place of Zen, full of wildlife, without any need to dig up your garden. Of course, with a pond, there is likely to be certain precautions that needed to be taken in order to keep the water fresh, especially if you plan on habituating it with wildlife. We would recommend that you use new sleepers just to be on the safe side as the Creosote could potentially affect the water.