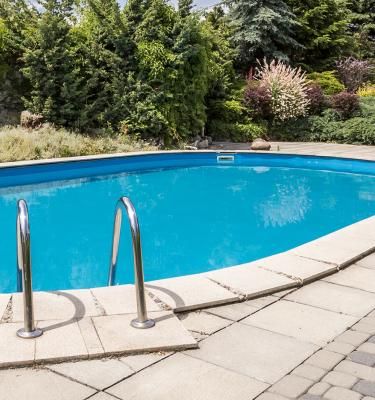 Things to consider during pool landscaping
When you have a nice and welcoming outdoor swimming pool you want to have a nice landscaping and gardening solution as well. You will need to be aware of the larger part of your garden, letting you take care of it with a good combination of trees, shrubs and flowers that would require some lawn care and landscape work.
Before you begin working on this, you should keep a few simple things in mind. This is so you can make the approach more practical and aesthetically pleasing:
Creating Shade Close To Your Pool
Ensuring you have good shade nearby will be a good landscaping solution. You will need to keep some extra shade to make your place more comfortable and interesting. You will need to make sure your shade doesn't cover the pool since you are meant to enjoy it after all.
Do keep in mind that any trees and shrubs too close to the pool will be shedding leaves, so you will need to clear your pool every autumn. A very common problem in most pools!
Warmer climates can get away with the use of palm trees, which have a small root ball and shed large leaves that are easier to handle. But with our inconsistent British weather, it is nye on impossible to be able to grow those exotic palm trees!
---
Planting In Specific Pockets
Pool landscaping from scratch offers a number of advantages. This doesn't mean you will not have a chance to work on redoing any older pool landscaping solutions with a new twist.
Smaller ornamental grasses would look very decorative and would supplement your gardening and landscaping efforts. Feather reed grass and other pocket solutions are just a couple of examples that would make for a really good look.
---
Adding More Height To Your Place
You can make use of raised beds close to your pool, such as using planting beds that would add to a more interesting look for your garden that you can count on and make useful in the long run. You can also have some nice mobile containers with patio roses, shrubs and trees as well so you can add some height to the area, but you can move them out of the way if need be.
Plants will provide privacy from nosey neighbours, but they will also allow you to grow into an excellent aesthetic choice for gardening and landscaping purposes. There are a number of fast-growing hedges that will provide you with privacy.
Vines will also give you more flexibility, as well as providing useful shade when you need it. Furniture will give you a chance to add more to your pool landscape with the right colour combination as well, so make it part of the design.
---
Keeping Insects Away
Even though bees are usually welcome in most gardens, having a pool around could pose a problem if you're not careful. For the most part not dealing with insects, pests or diseases would make for a dangerous move, especially if you have kids around and they will use the pool.
There are flower species that don't attract bees, such as dwarf evergreens planted in mobile containers, which won't spread and they come in various colours as well; These plants could be a great idea for your pool area.
---
Get In Touch
Have you had success with landscaping an indoor or outdoor pool in your garden? Perhaps you have some words of tips or advice for any fellow pool owner? We would love to hear from you, or even see some photos of outdoor swimming pools! Get in touch with us via our social media sites, or alternatively leave a comment on this post!