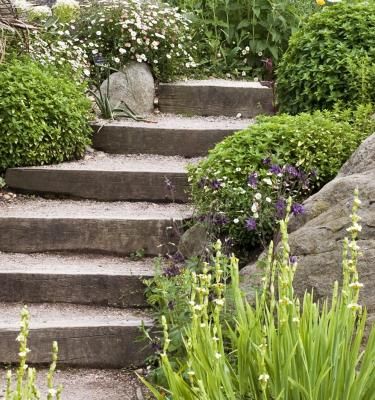 8 gardening ideas for a prettier garden
Do you long to bring a touch of femininity to your garden? A splash of pink perhaps? Cascading, wispy flowers and those special little touches that will make your garden well…distinctly girlie? Well dust off your pink wellies, stock up on the floral gloves and get out into the garden with our 8 gardening ideas for a prettier garden!
---
1. Being flamboyant with flowers!
As you start planning your spring and summer planting and displays why not go for a super girlie look by only choosing plants that will have pink or white blooms. And don't think that just because you go for one colour means it will look dull. Choose different shades of pink and plants with different height and structures.
From the many shades of pink of apple, cherry and crab-apple blossom and peonies in early spring, through midsummer with pink geraniums, roses, hollyhocks, foxgloves, dahlias and fuchsias, to the late summer pinks of the phlox and anemone; enjoy a garden that is awash with the girliest flowers of them all.
---
2. Shed the old look
Have you got an old shed or summer house in your garden or maybe the budget for a new one? If so what about adding some unmistakably girlie touches to it? It doesn't take much to turn even the smallest shed into a haven of femininity. Paint it in shades of pinks and pale greens, maybe going for a dark pink on the outside and pale pink on the doors and window frames for contrast.
Add floral curtains or voiles and then add as many finishing touches as make your heart sing. Hanging baskets, strings of pretty fairy lights or stencilled on hearts, before you know it your shed will have made your garden look super stylish and very girlie.
---
3. Jazz up your chairs
While you've got your design head-on, what about breathing new life into your outdoor table and chairs. Paint old benches in pretty colours, add floral cushions and a wax table cloth in a pretty design and opt for a girlie picnic set and don't forget to include a floral table display when you invite friends over.
With very little effort, your barbeque and outside dining area will be a delightful pocket of girliness and perfect for a girls' night out in the garden.
---
4. Go potty
Pots, containers and hanging baskets provide lots of opportunity for your feminine side to shine! Why not line a pathway with containers filled with pink and white flowers.
We love the idea of huge but delicate hydrangeas with their large pom-poms of pink, and cascades of pink and purple petunias and lobelias from hanging baskets to add a touch of romance.
---
5. An archway into another world
There's nothing more delightful than a pergola or archway laden with flowers. You can buy or build a variety of different archways for your garden from free-standing arches, an arch-shaped trellis you fix to a wall, to long covered walkways.
You can always jazz up an existing pergola with climbing plants. The sweet fragrance of jasmine, honeysuckle, the romance of wisteria and the carpets of flowers you get with the right variety of clematis means you'll soon have a magical archway into another world.
---
6. Rocking girlie gardening
Create or replant your own rock garden planting tiny pink plants such as rose thrift and dianthus. Go for a really girly feel by adding stone or tiny toy fairies to your rock garden. You might even add a miniature house, fairy furniture and a tiny water feature for your fairies to dip their toes into.
---
7. Get out the bunting
Bunting can add a whimsical feel to your garden and you can make your own out of offcuts of old material or by dotty, striped, floral, pink, checked or a variety of other patterns and styles.
Then why not paint a birdhouse pink or purple and add some lanterns to your garden. You can get permanent outdoor lanterns or the round paper lanterns which add great globes of colour wherever you hang them.
---
8. Get all dressed up
So you've planted in pinks and painted and decorated your way around the garden for a truly girly wonderland and now for the finishing touches. If you've gone for all pink why not buy some floral wellies, gloves and gardening tools?
You could buy pink watering cans, wheelbarrows and buckets, pink twine and pink hanging baskets and even a pink and purple picnic rug to throw on the lawn when you've finished.
We hope you've enjoyed our dip into girlie gardening and that it's given you lots of lovely ideas for turning your garden into something magical. We would love to see your ideas and know how you get on. So please share your photos of girlie gardens with us via our social media sites and let's go girlie gardening mad this summer!