The root of ginger can be used in many ways from fresh, powdered, dried, in oil or added to a juice or smoothie. As ginger is a tropical vegetable it will not be able to survive frosty climates.
The best time to begin growing ginger from home is the early spring, after the last of the frost. It is worth knowing how to grow ginger if you are interested in growing herbs and spices for the kitchen.
Choose your ginger plant
To grow ginger you will need a ginger root which can be picked up from the supermarket. The most common species of edible ginger is known as Zingiber officinal, not to be confused with ornamental flowering plants, these are inedible species but make lovely houseplants or border plants in a sunny, sheltered spot.
Ideally choose organic ginger that is plump but firm. Look for tiny eyes, these are the beginning of the shoots that your plant will grow from.You can plant the whole root but you can also divide the root into sections to create multiple plants just make sure that each section has at least 2-3 eyes.
After dividing up your root plant (leave the pieces in a dry location for at least a few days – this will allow the ginger pieces to form a protective callus over the surface and heal, reducing the risk of infection. each piece of cut ginger will require approximately 20cm (8") of space between them.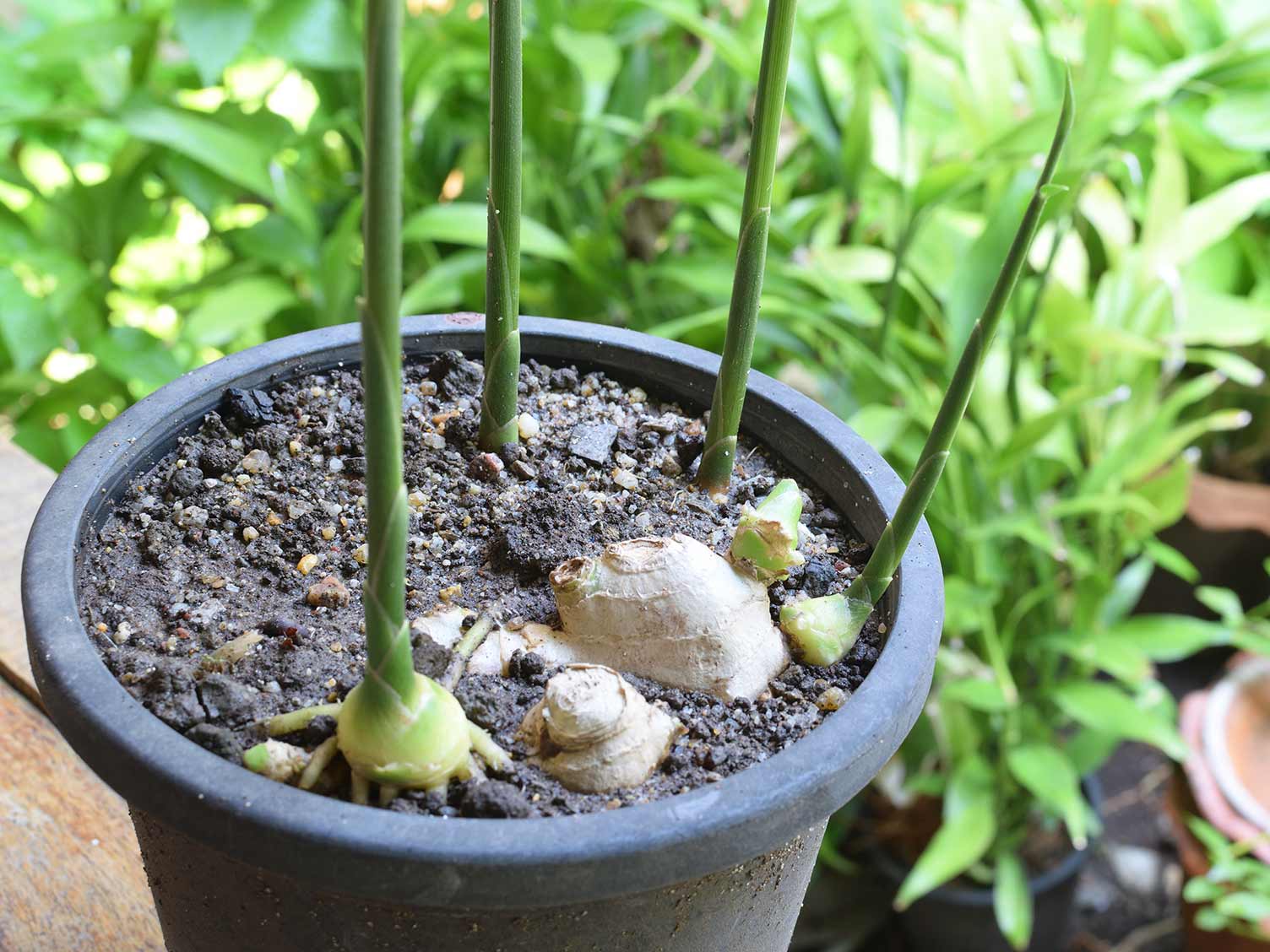 Growing ginger inside
For the best chances of success, use a high-quality, compost like Miracle Gro Premium Peat Free All Purpose Compost. Fill a seed tray with compost and place the root on the surface.
Cover with a few centimetres of compost but make sure some of the eyes are still showing.
Water gently with a fine rose watering can.
Place the tray in a warm, dry and light place for a few days and allow the shoots to develop.
Cover the lower part of the shoots with more compost.
Once the shoots are growing strongly pot the whole plant into a pot filled with compost.
You can leave the plant indoors or plant it outdoors in a prepared bed filled with good compost once all risk of frost has passed.
Choose the ideal location to grow ginger
Ginger thrives in partial shade, or at most, areas with morning sun. They are best suited planted away from large roots, and ideally should be sheltered from wind and moisture. If you are growing your ginger in a pot, ensure you pick one that is at least 30cm (12") deep If growing in the ground plant each growing ginger at least 20cm (8") apart.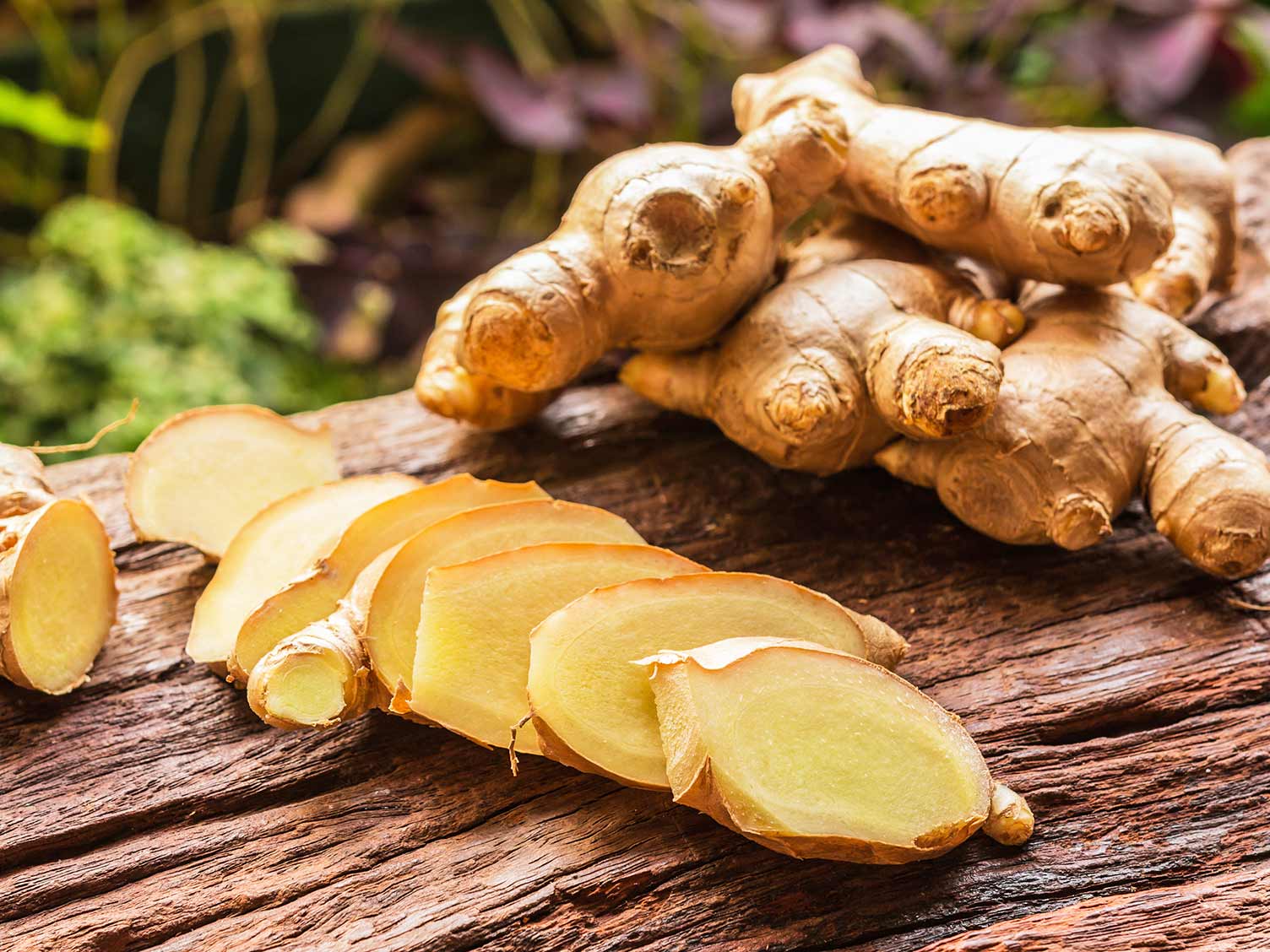 Ginger plant after-care
After planting your ginger, it is important to keep the soil damp, achieve this by watering lightly straight after planting. Check your ginger often, and water when the soil appears to start drying out, but before it does completely. If you notice poor draining, adjust watering so that you water less to avoid soggy soil, as this can cause rotting.
Harvest your ginger by digging up the plant, washing it and allowing to dry thoroughly. Store ginger somewhere dry, cool and dark. You can also store ginger in the freezer and then grate what you need straight from frozen.
Ensure you look after your ginger through the cooler months. Bring your ginger in during the winter, and store in a dry and warm location.