How to choose the best compost for your plants
What is compost?
"Compost" is the word used generally for 'decomposed organic matter'. added to soil to improve it for growing plants. It's rich in nutrients and beneficial organisms because it is made by breaking down organic materials such as plants, leaves, shredded twigs or garden scraps. It can be hard to know which compost to choose as there are so many types available but don't worry, that means there's one just right for the job!
Why do I need compost?
Some garden soils can be good for growing plants, however they can vary considerably (even within the same garden) and very few gardeners are lucky enough to have perfect soil. Adding compost or soil improver helps to provide the right growing conditions, which will ensure you achieve bigger and healthier results.
Choosing the right compost is the way to get the best out of your plants/fruit/vegetables but the ingredients for composts can vary dramatically. For optimal results it is wise to use a 'fit for purpose' compost which has been tailor-made for the job in hand.
The 5 main types of compost
Broadly speaking, there are five different types of compost:
1. Peat based compost
Peat is a naturally occurring substance made from decaying vegetation (sphagnum moss or sedge) which varies in colour from black to dark brown and pale brown. Peat in its raw state is generally low in nutrients but provides a warm, aerated environment around plant roots as well as holding moisture and added nutrients without becoming water-logged.
There are many formulations of peat based composts available to the gardener. These are made from a base of peat blended with other ingredients such as fertiliser, sand and/or grit, vermiculite or perlite, wetting agents and lime. The exact formulation will depend on the intended use of the compost.
2. Loam based compost
Sterilised loam is loam that has been heat treated to ensure that all diseases and weed seeds have been destroyed. John Innes Composts are soil-based composts made from a mixture of loam, sand (washed to ensure that any residues of salt have been removed) or grit (added to keep the structure of the compost open, improving aeration around the roots and drainage) and peat with increasing amounts of plant foods added.
3. Peat free compost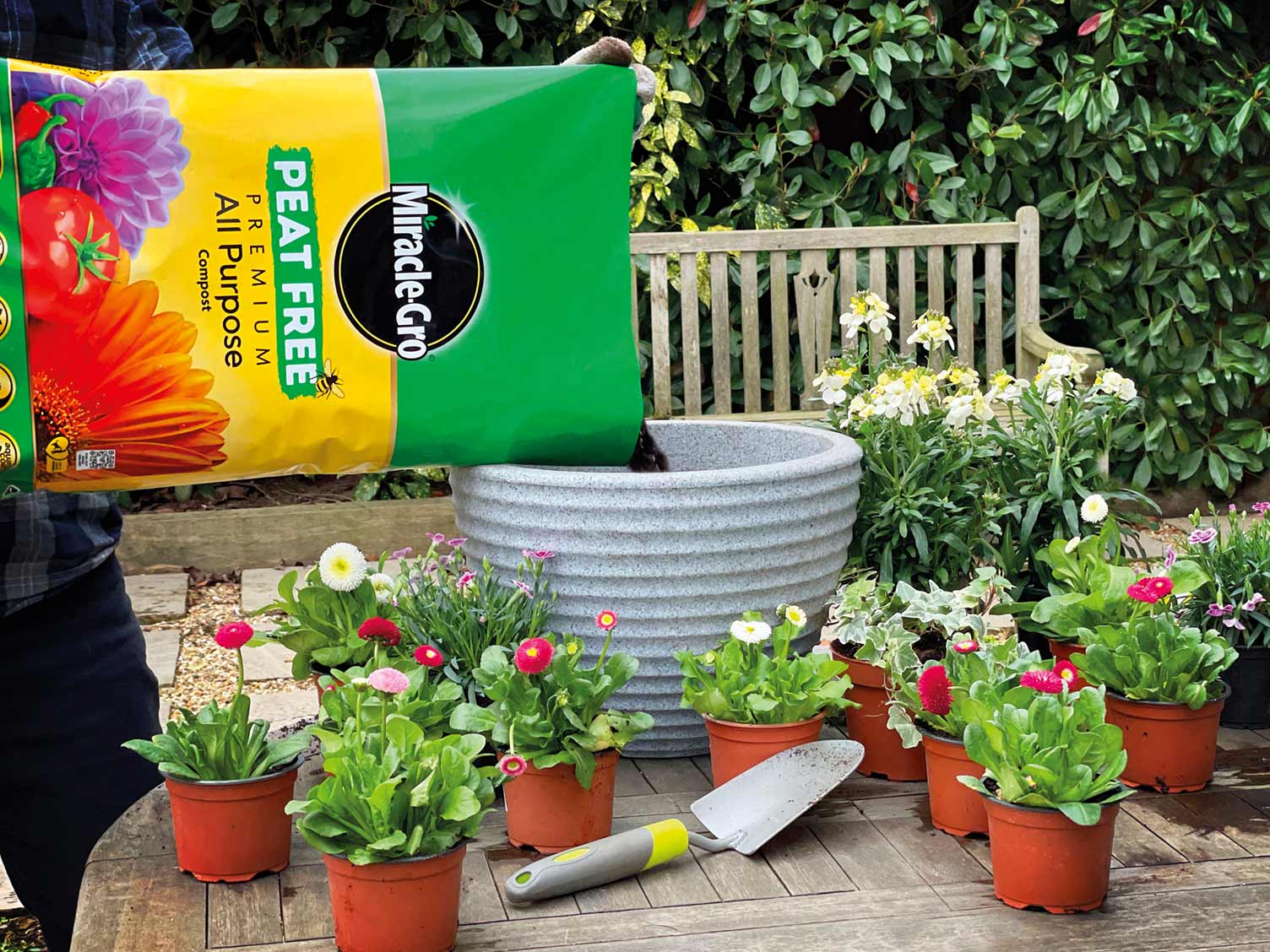 Peat free compost can be made from several different base ingredients, such as: wood fibre, composted bark, coir (a natural by-product made from coconut husks which has excellent water retaining properties without easily becoming water-logged), and green compost.
4. Organic compost
Organic composts contain a mixture of materials in varying proportions, such as peat, expanded wood fibres and composted bark. They are enriched with naturally occurring nutrients and derived from plants and animals. Organic matters feed plants for differing periods and, depending on the organic compost purchased, some feed for up to 3 months. In addition the composts may be certified as organic by organisations such as the Organic Farmers and Growers Association.
5. All/multi purpose compost
This is a compost that can be used around your garden in beds, borders, pots, containers or hanging baskets. It comes in different blends of ingredients. For example some contain varying plant foods that will feed your plants anywhere from 6 weeks up to 6 months. Others can limit the amount of watering you need to do by absorbing water then storing and releasing it as the plant requires.
Top tips for using compost
Most plants you buy from garden centres are already planted in suitable compost so, to encourage the roots to grow out and into the ground, try and match these conditions when you plant. This means enriching the planting hole with a good all purpose compost. If your plant is pot bound, you can tease out the roots to help them root into it.
Autumn is the best time to plant out all permanent bed and border plants, giving the roots time to establish before winter sets in.
When container planting, make sure the container has good drainage holes. You can add a layer of stones, gravel or crocks (broken plant pots) to provide a good drainage layer.
Acid loving plants such as rhododendrons, azaleas and camellias, must be planted in a specialist ericaceous compost.
You'll need to give your plants an additional boost once the plant food in your compost has been used. For fantastic results make sure you feed them regularly with products such as Miracle-Gro All Purpose Plant Food.
If you don't use all of the compost bag, make sure you store it somewhere dry and roll the top over to keep it moist.
Compost should be used within a year, as after this time the nutrients and any added feed will lose performance.
What other types of compost can you use in the garden?
You may also want to consider the following for your garden:
Barks
Bark can provide a clean visual background that makes plants and flowers stand out. However, applying a layer of organic material such as bark (known as mulching) does more than make your garden look attractive. It also helps to retain soil moisture, suppress weed growth and will gradually improve the structure of your soil.
You can get other types of mulch such as pebbles, sea shells, slate, cocoa shells and coloured wood chips.
Top tips for bark mulching:
The best time to lay down a layer of bark or mulch is when the soil is thoroughly soaked through, warm and free from weeds. Generally this is in early autumn or spring.
You should put down a layer that is at least 5cm thick as this will help prevent water evaporation.
There are different bark and mulch products available so you can choose the one you prefer the look of. They come in all different colours and sizes, so take your pick.
Bulb fibre
This compost has a more open texture which helps root growth and has little nutrient content, as bulbs themselves don't really need them to develop until flowering stage. Bulb compost normally has ingredients such as charcoal or oyster shells in it, which keeps the compost fresh.
Top tips when using bulb compost:
Put a thin layer of gravel on the top of the pot as this will help with moisture retention and stop weeds from growing.
Grow sacks/planters
These are great if you are limited on growing areas in your garden. They take up very little space and can be placed just about anywhere. You can grow all sorts of wonderful fruit, veg and herbs. Including salad leaves, Tomatoes, Carrots, Potatoes, Onions, Strawberries and Cranberries. Most Grow sacs will have a plant food mixed in that will feed for up to 8 weeks and after this time you would then need to feed regularly. You can also get peat free and special water absorption ingredients mixed in.
Top tips for using grow sacks/planters:
Don't let a lack of outside space put you off growing your own. You can produce an abundance of crops in small pots, containers and window boxes which will fit nicely onto the smallest of outside spaces.
If you have children or grandchildren then get them involved! They can help you sow the seeds, care for them, harvest, cook and enjoy eating the delights of their labours.
Do check your watering regularly and check bags/planters before watering as bags of compost hold water differently to pots.
Potting compost
This compost is best for starting plants off. Either seedlings that you have grown and are at the next stage, or young plants you have brought. Most potting composts will have added extras that your young plants need to help them develop into strong healthy mature plants.
Levington Seed & Cutting Compost: For sowing seeds, striking cuttings, delicate seedlings. Unique balance of nutrients for stronger, healthier plants. Specially formulated with high-phosphate content for optimum root growth.
Miracle-Gro Moisture Control Enriched Compost Pots & Baskets: Perfect for hanging baskets, patio pots and houseplants. Exclusive Aquacoir formula stores and releases water when plants need it. Absorbs twice as much water as ordinary multi purpose compost and feeds for up to 6 months.
Top tips for using potting compost:
Make sure you only pot up one size at a time. This means each time you do your plants will get fresh compost which contains fresh nutrients and a good boost. If you put a small plant in a huge pot the benefits of the compost will be lost over time before the plant can use them.
To prevent roots from growing out the bottom of your pots you can raise them 1-2cm off the bench, this will also allow air to pass under the pot.
Seed compost
Young seedlings are very sensitive to their environment and need different nutrients and care than more mature plants. Normal potting composts are too rich for seedlings and have a texture that is too coarse for fine seedling roots to penetrate. Specialist seedling composts have lower nutrient levels but higher phosphate, which helps to develop a strong root structure. Compost for seeds also has a finer texture to create the perfect surroundings for the young plants to flourish.
Levington John Innes Seed Compost: Ideal for maximum root growth of seedlings and root cuttings. Contains a traditional mixture of loam, peat and sand. The use of sand increases drainage in the compost which helps the development of seedlings. Produced with the specially balanced nutrient levels.
Levington Seed & Cutting Compost: Specially formulated with high-phosphate content for optimum root growth. Ideal for anything small and sensitive such as seeds, striking cuttings, delicate seedlings and all sensitive young plants.
Levington John Innes No.1: With a specially balanced nutrient mix ideally matched to the needs of developing seedlings, young plants, and newly rooted cuttings, this compost features a traditional mix of loam, peat and grit.
Top tips for using seeding compost:
Many plants can be grown from seed but their requirements are all different. Make sure you check the care instructions before planting and follow them closely.
Avoid feeding your seedlings until they are established to avoid damaging them or causing a surge in growth too soon.
When buying seeds, look out for varieties marked 'F1 Hybrid'. These have been specially bred to produce more vigorous growth and beautiful blooms.
Soil conditioner
These are used to improve aeration and drainage in heavy clay soils and add body to light sandy soil to help retain moisture and nutrients. It also boosts the soil fertility by adding nutrients to encourage healthy foliage, flowers and root growth.
Top tips for using soil conditioners:
If you're planning to plant directly into your garden soil, add a soil improver to enhance growing conditions.
It's unlikely that you will be lucky enough to have naturally great soil, so dig through a product such as Levington Organic Blend Soil Conditioner to greatly improve your results.
Don't get rid of any worms that are in the soil when digging in, as worms help with aeration and drainage.
Specialist composts
There are a multitude of specialist composts for plants with special tastes. Roses, Ericaceous, Cactus and Bonsai's are some which have specific requirements from the soil they are grown in. Each dedicated compost will contain what that specific plant needs, and if you try and grow these in the wrong soil environment then they may produce poor growth.
Top tips for finding your specialist compost:
When buying plants, check the care label to see what type of conditions they prefer. If they are acid-loving you'll need to make sure you have the right compost, feed, etc.
Check the acid/alkaline balance of your soil with a simple pH Test Kit (available from all good garden centres). Then you will know what plants like your beds and what may do better in pots.
How do you choose the right compost for your plants?
With so many different types of compost to choose from, sometimes it can be a little difficult to find the right compost to buy for your plants. Here, Horticulturalist David Domoney breaks down the life of plants into stages to help simplify the compost conundrum.
Young n' restless
As a plant begins its life, it needs the right conditions to grow. Give your plants a head start by potting them in compost designed to allow delicate roots to explore easily.
Compost containing sand is specifically well-suited for seeds and young plants due to their lighter structure. This means new roots aren't restricted or smothered by heavy soil conditions — vital for early development.
Just like a curious toddler, the plant will want to run wild and explore further. Once you can see that your plants' roots are filling the container, it's time to repot them into a slightly bigger home. For fast growers, select a fairly large pot. Slow growers can be moved into a pot that's just a few inches bigger than its last.
Houseplants are no exception. Their soil needs a boost too, especially because they are exposed to drying conditions from indoor central heating. A compost that absorbs water easily will help, and Miracle-Gro Premium Houseplant Potting Mix Compost has amazing Waterlock™ technology, meaning it absorbs up to 25% more water than ordinary compost. Plants will benefit from consistent water levels, rather than fluctuating conditions, which can cause stress.
All grown up
Plants need to be transferred to a pot with more room so that root systems continue to spread. This helps build strong foundations, anchoring the expanding vegetation above ground. Even though the plants are better established, there's plenty more development on the go, so the right nutrients are essential to keep growth healthy.
Keep a close eye on pots and containers. As they only have limited access to soil, they tend to dry out quicker and deplete the soil's resources much faster. Miracle-Gro's Premium Moisture Control Compost for Pots and Baskets delivers a delightful mix of nutrients that are the perfect recipe for your plants, incorporating a unique combination of nitrogen, phosphorus and potassium. Each plays its part in healthy plant growth. The specially-coated granules, with Smart Release feeding, supplies the plants with food gradually when the conditions are right for absorption—now that is smart.
Meet the needs
For specialist plants, like orchids, you need a compost which accounts for more specific needs and encourages them to flourish. Bark-based compost is used for orchids because it needs to have a free-draining structure. Miracle-Gro Premium Orchid Compost fits the bill as it is made up from high-quality pine bark which provides the conditions that will let your orchid's roots explore freely. Phalaenopsis (moth orchids) have unusually green roots and this is because the roots aid photosynthesis. These can be potted in a clean container to help the roots access enough sunlight to maintain energy levels. Clear pots also allow you to keep an eye on what's happening in the pot.
A variety of plants such as Azalea, Camellia and Rhododendron are ericaceous, which means they're acid-loving and need environments with a lower pH to be sure that the luscious leaves don't turn yellow. For a Mediterranean look in your hanging baskets, Pelargoniums are a great choice for adding bright clusters of flowers on long stalks. Many Mediterranean plants are used to stony soils and are fairly drought-tolerant, so overwatering can occur. These plants will love the Aquacoir® formula in Miracle-Gro products. It stores and releases water exactly when plants need it. Meaning, less need to worry about watering!
Improve the soil
Garden soils can be bolstered using soil conditioners to greatly benefit plant development. As garden soils range from clay, sand, loam or chalk, and have differing levels of pH, a variety of soil improvers are available to buy. We can make our soil have better drainage, structure, organic material (for microbes), or specially-added nutrients to fit exactly what our plants need. Products like Miracle-Gro Premium Border Booster Soil Improver supplies the soil with material to aid structure and drainage. This, in turn, produces air pockets to help soil life thrive.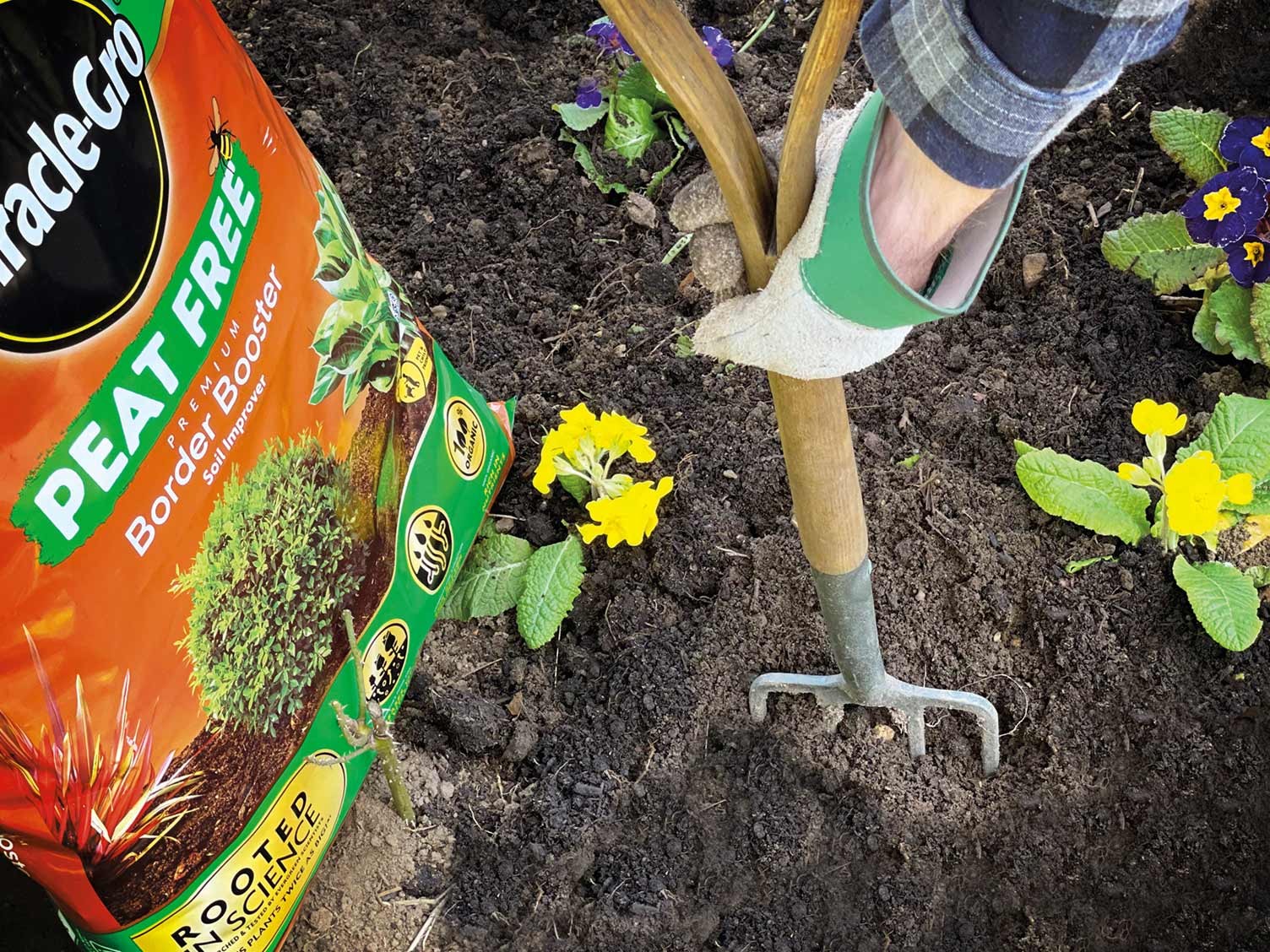 You can add a decorative touch to your paths, and boost moisture retention at the same time, with this cracking product. Levington Water Saving Decorative Bark will look striking and give a protective layer to suppress weeds. This makes it a great addition to a low maintenance garden. It has a natural and fresh pine fragrance and is sustainably sourced, so it's a win-win for your garden.
The dos and don'ts of compost
The dos
Do choose a specialist compost for the task in hand. This will ensure you create optimum growing conditions.
Do check out your garden soil pH balance before you get planting as, depending on the results, you may need to mix in Lime soil improver to get you started.
Do use any leftover compost by digging it into your existing soil around your garden as a soil improver.
Do use fresh compost each year to pot up your existing and new plants as this minimises risk of pests and diseases being carried over. It will also provide fresh nutrients to replace those that have been used up.
Always water in your plants (even if the ground is moist) to remove air pockets and ensure the roots are in contact with the soil.
Do use gloves when gardening.
The don'ts
Don't sow seeds in standard compost. For best results use a specialist seed compost that provides for optimum root growth and contains plant food to help them develop.
Don't be put off growing fruit and vegetables by lack of space. You can achieve healthy crops in pots, hanging baskets and grow bags; even in the smallest of areas.
Don't forget that some acid loving plants such as azalea, camellia or rhododendron will require an ericaceous compost with a lower pH.
Don't assume that there are enough nutrients in your garden soil to use for potting up containers and baskets. Garden soil may contain unwanted weeds, pests and diseases and may hold water differently so your plants may suffer.
Don't forget that decorative barks don't just look great on beds and borders, they suppress weeds and help retain valuable moisture too.
Don't forget to follow the compost label instructions.
Frequently asked questions about compost
How do you know if compost is good quality?
Good quality garden compost will have a variety of characteristics. For example, it should be a rich dark brown colour and should dry and crumble between your fingers like good coarse sand. It shouldn't be wet and stick together.
If you're making your own compost at home, you'll also want to check the smell – (good compost shouldn't smell) and the temperature – there should be a moderate amount of heat coming from it but it should never be too hot or too cold.
When it comes to shop-bought compost, it's important to buy compost from a reputable brand such as Miracle-Gro or Levington.
What is the best compost for beginners?
The best compost to use in your garden will depend on what you're planting. However, most beginner gardeners will likely start off with patio pots, hanging baskets, herbs or flowering bedding plants. For these jobs we recommend low peat or peat free multi purpose compost. It will also be the right choice for most houseplants too – except cacti, other succulents and orchids.
As a beginner gardener, it's likely you'll buy a lot of your plants from garden centres. They will already be planted in the right compost, so it's important for you to try and match these conditions when you plant them in the ground. A good all purpose compost is perfect to enrich your planting hole to encourage the roots to grow out and into the ground.
Which compost is best for all plants?
For the majority of plants in your garden – whether planting in pots, hanging baskets, containers, beds or borders – a good multi purpose compost will cover all bases. But just remember, some plants will need a specialist compost whether you're planting roses, orchids or cacti.
Can I re-use my patio pots year after year?
You can certainly re-use them but it's best to tip out all of the old compost and then wash the containers thoroughly with warm soapy water, followed by a good rinse with a solution of cold water and a garden detergent. It's important to do this because your existing compost may be harbouring vine weevil larvae or other garden nasties. It's far better therefore to have a spring clean and thus minimise the risk of pests and diseases infesting or infecting your new displays.
Why can't I use my own garden soil to pot up plants?
Garden soil doesn't hold as much water and can lack essential nutrients, so plant growth will be slower and watering can be difficult. Garden soil will often also harbour pests and diseases.
I've opened up my compost and it looks like an insect has laid eggs in it
This is most likely to be the small round coloured granules of controlled release fertiliser, that when squeezed will pop open releasing a liquid which is the fertiliser concentrate. These little granule cases have a semi permeable membrane which allows water to soak into them to dissolve the feed inside them. The nutrients are then released back into the compost in a soluble form for the plants to absorb. The cases will naturally breakdown in the compost over time.
How can I find out whether my soil is suitable for rhododendrons?
The best way is to use a soil pH testing kit. If the results show your soil is naturally acidic then rhododendrons, azaleas, camellia and the like will thrive. If it's neutral then you can still plant, but do feed with a special plant food that's been formulated for acid-loving plants such as Miracle-Gro Water Soluble Ericaceous Plant Food. If you've got alkaline soil then your best bet is to plant the rhododendrons in a container filled with a suitable ericaceous compost. Try Miracle-Gro Azalea, Camellia & Rhododendron Enriched Compost and then feed with an ericaceous plant food throughout the Summer.
Can you explain the differences between the John Innes composts?
John Innes Composts are soil-based growing media made from a mixture of loam, sand or grit and peat with increasing amounts of plant foods added. Levington John Innes Seed Compost contains the smallest amount of nutrients as this encourages the best germination and growth of tiny roots and shoots. Levington John Innes No.1 Compost has slightly more nutrients and is for transplanting seedlings. Levington John Innes No.2 Compost for when you are potting up small plants and Levington John Innes No.3 Compost has the most nutrients, as this is designed for final planting up of plants ready for display or cropping.
Does compost contain fertiliser?
Most composts have fertilisers added to them to help the plants grow. Plants need both major nutrients (Nitrogen, Phosphorous and Potassium) as well as secondary nutrients and trace elements. The main two types of fertilisers used are:
Soluble fertilisers: These gradually dissolve in water. Soluble fertilisers generally only provide enough nutrients for the plants for the first 6 weeks. However many of the Scotts range of composts use a unique, secret recipe mix providing both the major nutrients as well as trace elements which are just as vital for healthy plant growth.
Granular fertilisers: There are two types of granular fertilisers - slow release and controlled release. 'Slow release' fertilisers are dependent on soil moisture to work and release their nutrients all the time the compost is damp. If the compost becomes over-wet, or alternatively dries out, the plants cannot absorb the nutrients. 'Controlled release' fertilisers are specially developed to gradually release all the major nutrients and trace elements over a period of up to 6 months. Unlike slow-release, the nutrients are released depending on soil temperature and therefore available to the plant when they are required for growth.
What other materials are common in composts?
Other additions that are common in composts are:
Lime: Peat has a natural pH of approximately 3.5 to 4. Lime is added to compost mixes to increase the pH generally to 6 or 6.5. This is the ideal pH for most plants, except ericaceous ones where specialist ericaceous compost should be used.
Wetting agent: If a compost is allowed to dry out it can be difficult to re-wet, as the water will tend to bead off and run away. By treating the compost with a wetting agent, the surface tension of the compost is reduced. This makes it much easier for the water to penetrate into the compost and therefore not run off.