What is compost?
On a homemade level, garden compost is a mix of green and brown materials that have been decomposed over a matter of time depending on the materials and the size and type of composting facility.
Green materials include:
Grass
Plant stems, leaves and flowers
Food waste such as potato peelings, banana skins, apple cores
Green materials are high in nitrogen.
Brown materials include:
Cardboard & paper
Woody stems
Dried leaves
Brown materials contain carbon and are needed to stop the compost from going slimy and smelly.
These materials are mixed together and after a few months of decomposing the materials break down into a rich humus, ready for the garden.
Compost is used to help improve soil texture, aid soil fertility as it is rich in nutrients and it also contains healthy bacteria that improves the soil health
What types of compost are there?
Generally, compost falls into two categories:
1. Bagged compost
Bagged compost that is bought from a garden centre, DIY shop or supermarket is made using a different and faster process with different ingredients that produces compost ready to be used straight away, with different formulas suiting different plants as well as being weed and disease free and with varying levels of nutrients in them.
Bagged compost is perfect for using in pots, containers, seed trays and hanging baskets as well as for filling up raised beds. It can also be used mixed in the bottom of a planting hole with garden soil.
2. Homemade compost
Homemade garden compost is best added to beds and borders as a mulch to improve structure and health and it's best not to use it for containers as disease and pests might be in it, the nutrient levels may not be right and it tends to dry out more quickly.
Let's have a look at the different types of composts available to buy and what goes in them.
Peat Free All Purpose (or Multi Purpose) Compost
All purpose compost does what it says – it can be used around your garden in beds, borders, pots, containers or hanging baskets. It comes in different blends of ingredients and usually contains mineral-based plant foods that will feed your plants anywhere from 6 weeks up to 6 months. Others can limit the amount of watering you need to do by absorbing water then storing and releasing it as the plant requires.
All purpose is generally not recommended for small seeds as often the nutrient levels can be too high although it tends to work for larger seeds like beans and sunflowers.
Peat free compost is the replacement for peat and will often contain a mix of more fibrous material ingredients including:
Expanded Wood Fibres
Green Compost
Composted bark
Top Soil
Coir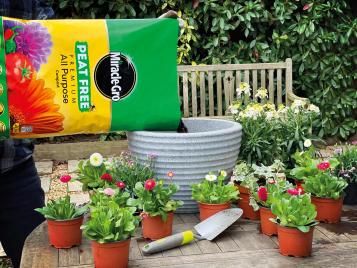 Multi-Purpose Compost with added John Innes has added grit so is perfect for larger plants grown in containers such as smaller trees and shrubs as it adds a heavier weight and helps to prevent the compost from collapsing.
Organic compost
These tend to be an all purpose compost with organic plant food rather than mineral based. These organic feeds tend to release the nutrients more slowly.
Ericaceous compost
This compost is specially formulated to be used for growing plants that need a more acidic soil type. These plants include Rhododendrons, Camellias, heathers, Pieris, Acers as well as blueberries. If plants like these are grown in a lime-based non acidic soil (called 'alkaline') they will be unable to access the nutrients they need and the plant's foliage will go yellow and have very few flowers and fruit and eventually die.
If you don't have acidic soil then I would always recommend growing these plants in a container filled with ericaceous compost and to use a specially formulated ericaceous feed.
Loam and soil based composts
These composts are based on the John Innes formulation which as well as green compost, expanded wood fibre and fertiliser, also includes top soil or loam and sand or grit. The grit or sand helps to keep the structure of the compost open, improving aeration and drainage around the roots.
There are 4 types of compost in the John Innes range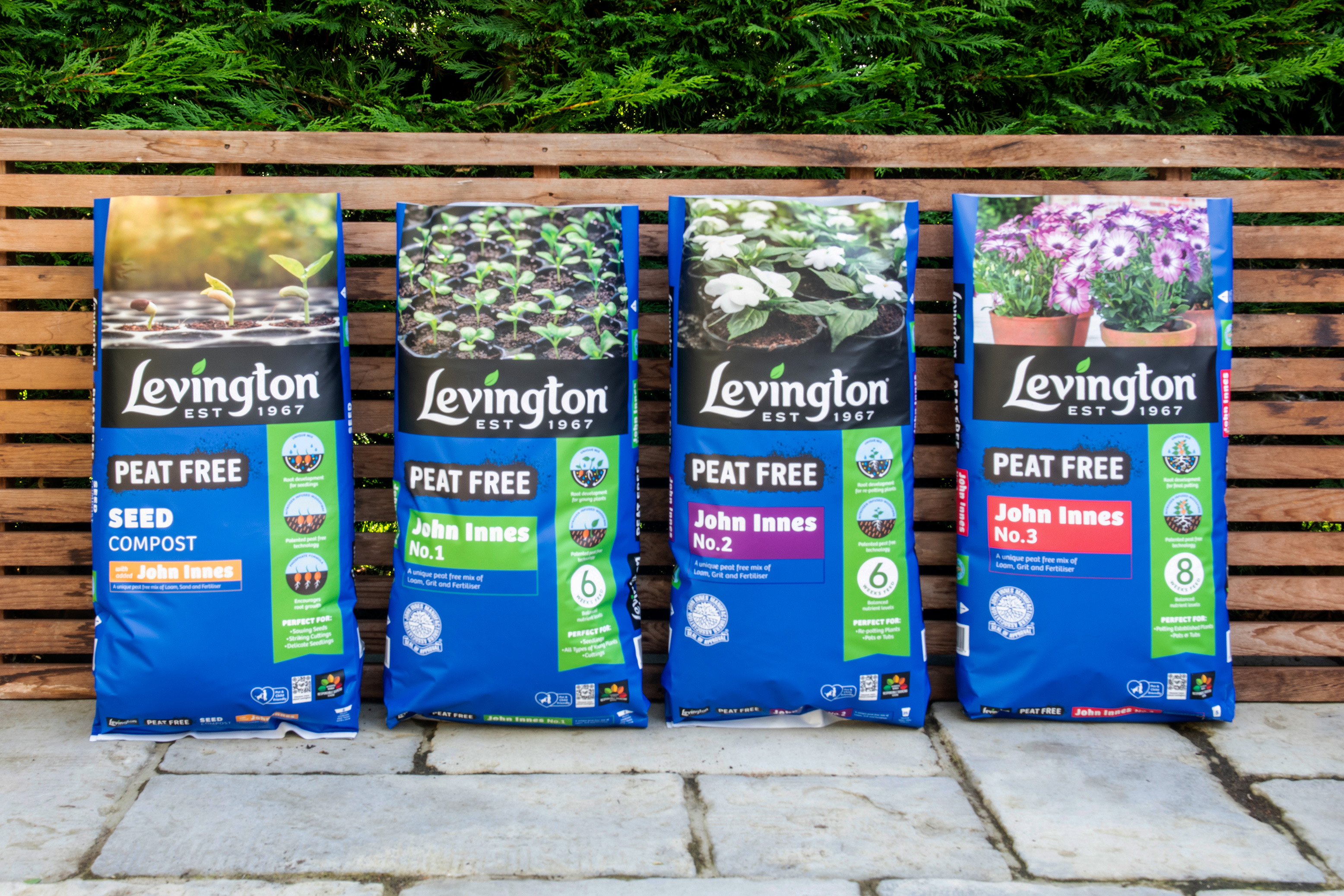 Gro bags/planters
These are great if you are limited on growing areas in your garden or don't want to buy additional containers. They take up very little space and can be placed just about anywhere. You can grow all sorts of fruit, veg and herbs in these but tomatoes, aubergines, peppers and strawberries in particular work really well. These planters have a plant food mixed in that usually feeds for about 8 weeks - after then you'll need to feed regularly with a liquid plant food.
Specialist composts
As well as those mentioned above there are other specialist composts for plants with special tastes. Including:
These dedicated composts contain what the specific plant needs and will help that plant not only survive but thrive.
How do you choose the right compost for your plants?
With so many different types of compost to choose from, sometimes it can be a little difficult to know which is the right compost to buy for your plants. The best way to think of it is by breaking it down into the life cycle of a plant.
Seeds and seedlings
As a plant begins its life, it needs the right conditions to grow. Give your seeds and very young plants a head start by potting them in a fine compost designed to allow delicate roots to explore easily.
Compost containing sand is specifically well-suited for seeds and young plants due to their lighter structure. This means new roots aren't restricted or smothered by heavy soil conditions — vital for early development.
As your plant starts to grow and you can see that its roots are filling the container, it's time to repot into a slightly bigger home (transplanting). Don't be tempted to go too big too soon though; just a few inches bigger and be prepared to transplant a few times if needed.
2nd stage – established plants
Plants still need to be transferred to a pot with more room so that root systems continue to spread throughout their life. This helps build strong foundations, anchoring the expanding growth above ground. Even though the plants are better established, there's plenty more development to go, so the right nutrients are essential to keep growth healthy.
Keep a close eye on plants that spend their life in pots and containers. As they only have limited access to soil, they tend to dry out quicker and deplete the soil's resources much faster. Miracle-Gro's Premium Peat Free Moisture Control Compost for Pots and Baskets delivers a unique mix of ingredients that helps keep the plant hydrated.
Improve the soil
Although not strictly a compost, garden soils can be boosted using soil conditioners to greatly benefit plant development in beds and borders.
These are used to improve aeration and drainage in heavy clay soil and add body to light sandy soil to help retain moisture and nutrients. It also boosts the soil fertility by adding nutrients to encourage healthy foliage, flowers and root growth.
They make a great mulch and are best added to the top of moist borders and beds in a thick layer to help suppress weeds and lock in hydration.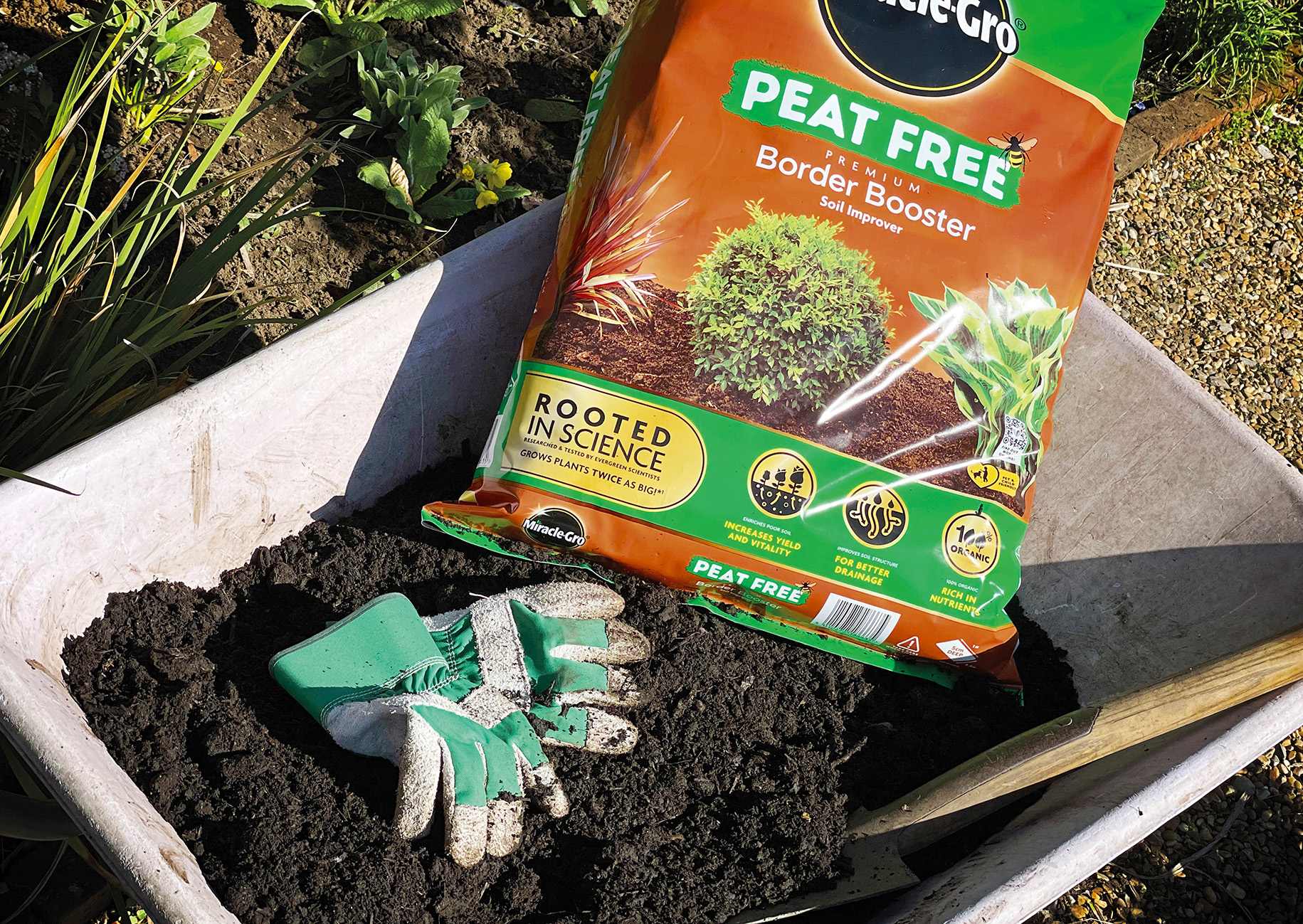 The dos and don'ts of compost
The dos
Do choose a specialist compost for the task in hand. This will ensure you create optimum growing conditions.
Do check your garden soil pH balance before you get planting to see if you have acid, neutral or alkaline soil. This will help you work out what type of plants will work best in your garden. Tests are easy to find online and in garden centres.
Do use any leftover compost by raking it into your existing soil around your garden as a soil improver.
Do use fresh compost each year to pot up your existing and new plants as this minimises risk of pests and diseases being carried over. It will also provide fresh nutrients to replace those that have been used up.
After planting, always water in your plants (even if the ground is moist) to remove air pockets and ensure the roots are in contact with the soil.
Do use gloves when handling compost.
The don'ts
Don't sow seeds in standard all purpose compost. For best results use a specialist seed compost that provides for optimum root growth and provides the right plant food to help them develop.
Don't be put off growing fruit and vegetables by lack of space. You can achieve healthy crops in pots, hanging baskets and grow bags; even in the smallest of areas.
Don't forget that some acid-loving plants such as azalea, camellia or rhododendron will require an ericaceous compost with a lower pH.
Don't use your garden soil for potting up containers and baskets.
Don't forget to always follow the compost label instructions.
Frequently asked questions about compost
How do you know if compost is good quality?
When it comes to shop-bought compost, always buy a reputable brand so that you know the quality will be consistent and of a high standard such as Miracle-Gro or Levington. Homemade compost needs to be a rich dark brown colour and should be dry and crumble between your fingers. You know when your compost is ready as there will be no nasty smell, just a deep earthy smell.
What is the best compost for beginners?
The best compost to use in your garden will depend on what you're planting. However, most beginner gardeners will likely start off with patio pots, hanging baskets, herbs or flowering bedding plants. For these jobs we recommend a peat free all purpose compost. For houseplants it's always best to use a peat free houseplant compost.
Which compost is best for all plants?
For the majority of plants in your garden – whether planting in pots, hanging baskets, containers, beds or borders – a good peat free all purpose compost will cover all bases. But just remember, some plants will need a specialist compost such as roses, orchids or cacti.
Can I re-use my patio pots year after year?
You can certainly re-use them but it's best to tip out all of the old compost and then give your pots a clean to minimise risk of pests and disease. If you have a really large container then you can re fresh the top few inches of old compost with fresh and remember to keep feeding.
Why shouldn't I use my own garden soil to pot up plants?
Garden soil doesn't hold as much water and can lack essential nutrients, so plant growth will be slower and watering can be difficult. Garden soil will often also harbour pests, diseases and weeds.
For more answers to compost questions, check out our dedicated compost FAQs page.