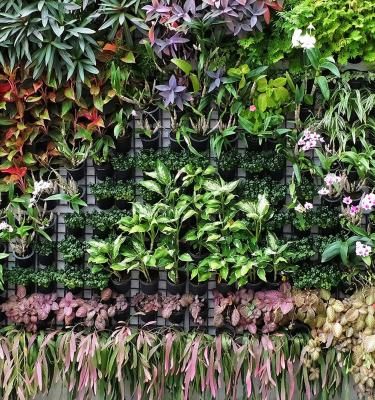 Make your own vertical garden
Many of us would love to be able to enjoy the beauty and tranquillity of nature at home but do not think we have the space to do so. However, there are a wide variety of options available for those that are wishing to inspire a green-fingered touch to their outside space. This is a guide on how to make your own vertical garden.
Whether it is wanting to add a little colour and artistic design that piques your interest, or the ability to be self-sufficient by growing your own produce, there are ideas available to help everyone get involved. Especially when it comes to building your own vertical garden, there are many different ways it can be done.
Vertical gardening is a great way to create your own unique garden and can be done with any budget. Starting from the most basic and cost-effective by recycling old goods to the more extravagant and expensive custom designs, there are many ways to get the style you desire.
So for anyone wanting to be inspired or are ready to get their hands dirty here are a few things to get you started. Recycling is a fantastic way to make good use of old products whilst creating a visually stunning and artistic garden.
---
Vertical Gardening With Bottles, Buckets, Tins & Cans

Step 1 - Cut Or Shape The Vessel To The Right Size
These can be cut and shaped to taste and used either horizontally or vertically and come in a wide variety of materials to match the style of your garden.
Step 2 - Attach The Container To Wall
You ideally want your containers to be attached by fixing them with nails or hanging them in tiers or rows. Think about the size, space and elements in the garden you have to work with.
Step 3 - Fill The Containers With The Desired Contents
Once you have appropriately attached your vessels to the wall you should fill them with the correct soil, depending on the plant you are putting in. Then you simply plant your flower or veg in the soil. Easy!
---
Create A Vertical Garden With Wooden Pallets
These can be used in a few ways to accomplish different effects. The most popular way to transform them is with landscaping fabric to cover the back of the pallet and the gaps between the slats to create a planter with tiers. This can be leant against a wall or fence, or fixed to it. If you would like to do this without landscaping fabric you can insert individual plant pots of a suitable size in between the slats.
Alternatively, the pallet can be taken apart and the wood can be used to reconstruct a planter directly on the wall. Depending on the look desired they can be slanted planters or standard boxes and can be placed in patterns or rows. Here are the steps to make a basic vertical pallet garden:
Step 1 - Style Your Pallet
To begin with, you will need to sand down, treat and paint your pallet. Be sure not to use anything harmful for plant growth when treating/ coating the wood.
Step 2 - Use Landscaping Fabric To Contain Soil
You must first measure the size of your pallet gaps where you will attach your fabric. We would recommend allowing an extra inch on each side, then use heavy-duty staples to make sure that the fabric stays in place.
Step 3 - Attach The Pallet To The Wall/ Fence
Now you need to find the right place to fix the pallet. It is advised to use a good-sized screw, as these can be a little on the heavy side once filled with soil. Landscaping screws will do the job just fine.
---
Furniture
Rather than hauling your old chest of drawers or bookcase down to the tip why not make it into a garden feature? You can line the drawers with landscaping fabric, top them up with soil and plant your favourite flowers, whilst adjusting the amount the drawers are open allows for different plants to be used. A bookcase can either be leaned against a wall as shelving for potted plants or be cut down and used to make fixed shelves or boxes.
---
Other Inventive Vertical Gardens That You Can Make
Using a similar step by step approach that has been explained above you can make a vertical garden out of many items. Here is a small list of common things you can use to construct your vertical garden.
PVC pipes or metal guttering to make horizontal planters that can be hung or fixed to the wall.
A material shoe rack that can be hung or create attached 'pockets' on the wall. Some come with plastic lining, if not you can line it yourself with landscaping fabric in order to retain water.
For shade and privacy purposes you can create a screen with a fence panel or a wooden frame with wire mesh and line it with ivy or other climbing plants.
Creating an ornament wall with old gardening equipment filled with plants. For example, watering can be a centrepiece with wellies either side.
Alternating sized jars, these can also be placed at different levels on small shelves and can be accompanied by jars with tea light candles inside.
Stackable planters, ready-made plant pots and homemade tiered plant pots.
Ladders can be used as platforms to place planters on if they are stand-alone and still in good enough condition to endure wind etc.
All of the above ideas are interchangeable and can be adapted to suit your individual needs, allowing your creativity to show.
Revitalise your recycled materials by painting them, cutting and shaping them and adding some embellishments. Alternatively, the materials required can be purchased and are widely available, as well as personal design and landscaping services dependant on budget. Each type of vertical garden can be used to plant a wide selection of items.
It can even be a space saver if you are wanting to have your own manageable allotment to grow a range of salads, vegetable, root crops, herbs and small fruits. It also gives nature lovers the opportunity to provide an inviting environment for wildlife, for example, you can build suitable housing for bees and birds amongst the flowers.
A vertical garden doesn't just look great, it has many amazing benefits as well. It keeps all of your produce and flowers safe from animals and insects that may damage them, it reduces the spread of weeds, the elevation allows the plants better exposure to the sun and it also gives you a more relaxing space by improving the air quality within the area.
So why wait? Get started on improving your outside space today and turn it into somewhere you'll love to relax. If you have an amazing method of building a vertical garden then share it with us @LoveTheGarden.