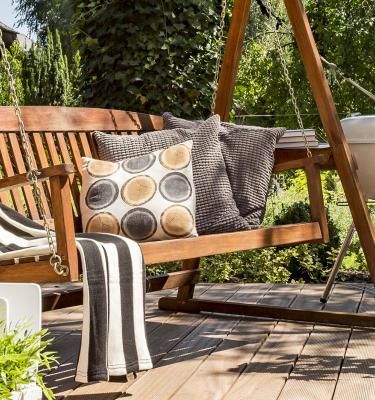 By Hannah Gransden, Seasonal Pro
The Garden Patio has a variety of functions. It is somewhere in which you can sit to relax alone or with your loved ones or even to entertain friends with a dinner party. It is also a place to enjoy the outdoors in your own secluded back garden. It is a space that is your very own. Wondering how to make the most of your patio and would like some ideas? There are many ways in which you can!
Making the most of your patio
Why not turn your patio into a communal space for your friends and family this summer? Host a barbecue and make the most of your garden area. Set out some furniture and bring some friends or loved ones round to enjoy spending time on your patio. With a good communal space and a barbecue grill, the patio is the perfect area for you to grill some food and socialise. And when the sun goes down, you can move away from the barbecue grill and huddle around the firepit to continue the party and keep warm on the patio as night time falls. Then enjoy cooking some marshmallows and making the most of a pleasant British summer's evening.
A firepit is also a key component of an envied garden space and can be bought and built in to your patio area or purchased as a mobile unit. A built-in firepit can be designed in a very stylish way to fit in with your garden design. Firepits can come in various shapes and sizes and it really does depend on how much you are looking to spend or what kind of design you are looking for. The price between portable and built-in firepits can vary dramatically. Some of the built-in firepits do look rather stylish but will set you back in price. The portable designs are on the whole cheaper and some can be acquired for around the £50 mark. There are various different portable firepits that will suit a wide range of gardens.
Of course with our, sometimes, unpredictable summer weather, what needs to be considered is shelter from the almost inevitable rain? A canopy can be acquired for such a time, as well as providing shade away from the sun on a hot day. A purpose built roof would of course provide the same function as the canopy yet not allowing for the flexibility a canopy would offer.
Seating would of course be a key feature for your patio area and should be carefully considered. You could provide a mixture of cushioned seating from sofa's and padded chairs to complement your patio area. When relaxing in the garden with a good book, enjoying your outdoor space, sitting on your comfortable outdoor sofa would be pretty much an ideal scenario for you!
Of course, when its meal time at your barbecue with your loved ones then you will we need somewhere to sit down and eat! Why not look at some contemporary designs for your table and chairs to fit in with your sofa. You can also consider some reclining sun loungers to soak up the summer sun. If your garden is a sun-trap then these would be a must-have for the summer. If you do have a pool area and do not have sun-loungers- purchase them immediately!
You can add some potted plants and shrubbery to your patio area to make it more aesthetically pleasing on the eye to add something extra to your garden. Depending on the colour scheme or overall design of your garden you can add a mixture of flowers that will complement your garden and add to your patio area. Make sure that you are managing your flowers correctly and water them when necessary, of course.