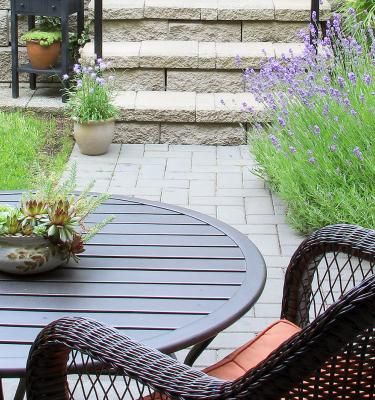 If you are looking for a few tips on transforming your patio but only have a limited area to work with, then we can help you here with an insight into how to use your small patio space. You have a small patio space, but you want to make the most of the area you have available. Many others have encountered the same conundrum. There are various ways in which you can design your patio area in your own style.
It very much depends on what you want to do with your patio area. Whether you want to create a minimalist patio setting, or to fill the area with potted plants and furniture, or if you are debating whether decorating your patio in a contemporary, modern or rustic fashion. There are many different ideas and decisions to be made! If you have a chic studio flat in Hammersmith or a small patio space in your country house in Suffolk, you will have the same dilemmas as every patio owner.
What kind of furniture would suit your patio?
There are so many different styles of furniture that can be suited to your garden no matter what look you are going for! If you are looking to buy contemporary furniture for your patio then why not look at a stylish deep seated sofa with a number of fashionable cushions to make your summer afternoons in the sunshine reading a book all that bit more comfortable! A stylish sofa can cost you in the region of £2,000-3,000 depending on the exact style and if the design is fairly elaborate then expect this price to rise.
Or perhaps you are looking to turn your patio area into an extended dining area. Look at buying 2-4 steel stackable chairs to accompany a table to turn your patio into a social spot for you and your friends. This look is very distinguished and chic but also very comfortable for an evening dinner party. A single steel chair can cost between £130-170.
If you have a balcony, you can purchase a balcony bistro foldable table that attaches to your balcony and will act as a dining table before being easily detached and packed away to then again make more of your patio space. A really smart yet classy design, but will set you back in the region of £150-170.
If you are looking for some comfortable seating with a twist, why not look at a Sundance folding armchair. Has almost a 'hammock' cross director's chair look and will give your patio the edge this summer. These chairs will be a little pricier to the steel chair design and will come in at around £230 and upwards.
Accessories for your small patio
Why not include something a little different for your small patio. An example of a water feature that does not take up a lot of room is a raised pond. A 50 gallon raised pond is fairly easy to assemble and can accommodate up to 8 goldfish and although the pump is not included, although you can purchase one for a fairly good price alongside it. You can purchase a raised pond for a price in the region of £100-200 and the pump can be bought for a sum between £20 and £30.
Perhaps you may be looking at a water feature but are not set on a raised pond- a waterfall feature could be a cool addition for your patio. Garden waterfalls can vary in quality and style, but if you are looking to get a design that suits your patio space then expect to pay between £50 and £300.
If you are looking at providing a shaded area for your garden patio then a gazebo would be a great addition to your garden. Depending on whether you would like to get a portable or permanent structure in place, it can be a varied price. If you were looking for a portable gazebo you would be looking to pay in the region of £45-200. If you were looking to build a gazebo for your patio then you would be looking to pay anything between £150 at its cheapest to anything exceeding £1,000, aside from labour costs.
If you want to decorate your patio space with a floral arrangement, why not look at using garden patio roses to display in containers such as tubs, hanging baskets or flower beds. Very easy to maintain and only need to be watered once every two days. These flowers will need basic maintenance at 2-3 points in the year with simple procedures that will prolong the look of your garden roses.