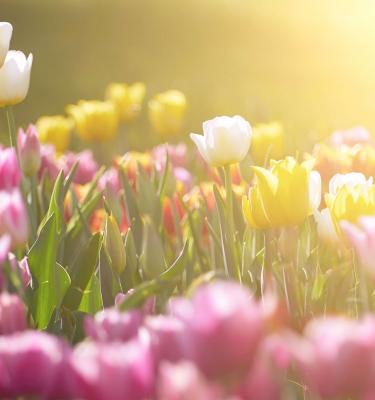 How and when to grow tulips
With their elegant flowers and jewel-bright colours, tulips turn spring into something quite sensational. There's a whole host of different types of tulips – short ones, tall ones, tulips with fringed or double petals, even scented tulips.
Our guide takes you through the various types of tulips, as well as giving you some tips on how to grow tulips and how to care for them.
When to plant tulips
Tulip bulbs are best planted in late autumn, as the cold weather reduces the risk of the bulbs being affected by viruses. November is considered the best month to plant tulips, although you can carry on planting them into December provided the soil is not frozen or waterlogged.
Where to plant tulips
Tulips look spectacular woven in swathes through a border or crammed into pots. They need a well-drained soil in full sun and are prone to rot in heavy wet soils, so if your soil is heavy clay, plant your tulips in pots instead.
Types of tulips
Tulips are divided into around 15 different types, based on breeding history, shape, size and flowering period.
Species tulips – often small, ideal for pots and rock gardens and good for naturalising.
Fosteriana tulips (also Emperor tulips) – early-flowering, with exceptionally large flowers.
Kaufmanniana Hybrid tulips – also known as water lily tulips, with short stems bearing flowers that open almost completely flat, resembling water lilies. They flower early and are good for naturalising.
Single Early tulips – early, cup-shaped flowers on short stems. Good for bedding and as cut flowers.
Double Early tulips - early flowering, with double flowers on short, strong stems. Good for bedding and as cut flowers.
Greigii tulips - attractively mottled leaves, with flowers on short stems in mid to late spring.
Giant Darwin hybrids – also known as perennial tulips, they flower in mid-season, with large flowers on long, strong stems.
Triumph tulips – a cross between Darwin and Early tulips, flowering in mid-season with large flowers on strong, medium length stems.
Peony-flowering tulips – eye-catching late season tulips, with large, scented, peony-like double flowers on long stems.
Parrot tulips – very striking late season tulips, producing flowers with fringed, scalloped or twisted petals.
Viridiflora tulips – late-flowering, with flowers in soft colours, feathered with green on the petals.
Lily-flowered tulips – elegant, graceful flowers with slim, outward-curving petals on tall stems. Late-flowering.
Single late tulips – late-flowering, with large shapely flowers on long, strong stems. Some varieties have three or four flowering stems per plant.
Fringed tulips – late-flowering, with frilled-edged or fringed flowers on long stems.
Rembrandt tulips – long-stemmed tulips bearing striking flowers brushed with streaks of contrasting colour.
How to plant tulips
Essential equipment
To plant tulips at home in your garden, you will need:
Follow these planting tips, for tremendous tulips:
Dig a hole at least twice the depth of the bulb, either with a hand trowel or with a bulb planter – a cylindrical digging tool that is pressed into the soil and removed, leaving a neat hole ready for a bulb to be dropped in.
Drop in the tulip bulb, tip pointing upwards.
Fill in the hole and compact the soil gently.
Allow 15cm (6in) between tulips in borders.
Planting tulips in pots
Choose a pot with good drainage holes and place a few crocks (pieces of broken pottery) in the bottom of the pot to stop the holes clogging up.
Use a 50/50 mix of potting compost and horticultural grit. Place a layer of this mix in the pot, then arrange the tulip bulbs on top of it, tips pointing upwards. Plant them close together for maximum impact, with around 2.5cm (1in) between bulbs.
Fill the pot up with the compost/grit mix and firm it down.
Water the pot and place in a sunny spot outdoors. Water in dry periods.
Tip: A layer of grit on top of the compost helps stop squirrels digging up the planted bulbs.
Caring for tulips
Apart from a few groups (Species, Greigii, Kaufmanniana and Fosteriana tulips), most tulips don't re-flower well after the first year, so for the best display, plant new tulip bulbs each autumn. If you do want to re-use old bulbs, lift and dry them before storing. Here's how it's done:
Deadhead tulips as soon as the flowers fade, to stop the plants putting energy into producing seeds.
Once the foliage turns yellow, carefully lift (dig up) the bulbs using a garden fork.
Brush off the soil and leave the bulbs to dry.
When the bulbs are dry, store them in paper bags or nets in a warm, dark, well-ventilated space. Remember to label the bags!
How to choose the right types of tulips
If you're new to growing tulips, it can be very hard to choose which ones to plant first! To help, we've selected some of our favourites.
Tulips for naturalising
Tulip 'Lilac Wonder' (species tulip)
Tulip 'Little Beauty' (species tulip)
Tulip 'Ice Stick' (Kaufmanniana tulip)
Early flowering tulips
Tulip 'White Emperor' (Fosteriana tulip)
Tulip 'Princess Irene' (Single early tulip)
Tulip 'Foxtrot' (Double early tulip)
Midseason tulips
Tulip 'Apricot Beauty' (Triumph tulips)
Tulip 'Helmar' (Triumph tulips)
Tulip 'Apricot Impression' (Giant Darwin hybrid tulips)
Tulip 'Hakuun' (Giant Darwin hybrid tulips)
Late season tulips
Tulip 'Black Parrot' (Parrot tulips)
Tulip 'Estella Rijnveld' (Parrot tulips)
Tulip 'Ballerina' (Lily-flowered tulips)
Tulip 'Queen of Night' (Single late tulips)
Tulip 'Violet Beauty' (Single late tulips)
Tulip 'Fancy Frills' (Fringed tulips)
Short-stemmed tulips
Tulip 'Red Riding Hood' (Greigii tulips)
Tulip 'Toronto' (Greigii tulips)
Tulip 'The First' (Kaufmanniana tulips)
Get creative with your tulip planting this year and enjoy a spectacular display in spring!