Most of our summer colour comes from the brilliant displays of bedding plants such as pelargoniums and begonias along with gorgeous scented roses but summer-flowering bulbs - especially dahlias and lilies - all have the potential to flower consistently for months.
Checking these plants regularly and giving them some TLC will ensure their displays continue well into autumn. The three things that you need to check are watering, feeding and deadheading. A quick 10-15 minute check every day or so is all that's needed.
When to water plants in summer
When and how often you water your plants in summer will depend on where your plants are, whether in beds, containers or hanging baskets.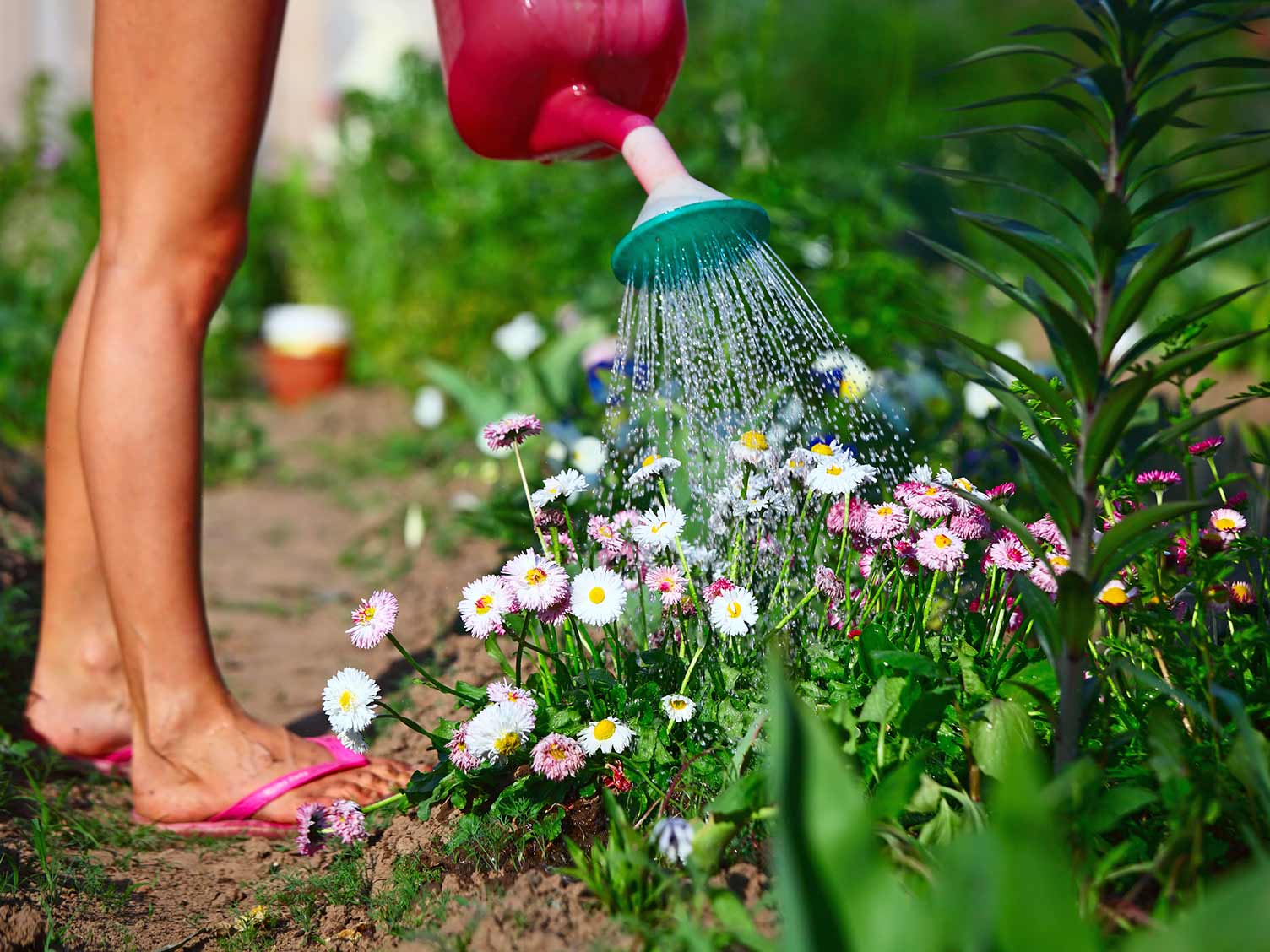 Summer bedding plants
Plants growing in beds and borders may not need any watering, depending on the weather. But if they do, a thorough watering once a week is far better than giving them a quick 'splash' every day. The aim should always be to get the water deep down into the soil where the roots can use it - rather than have it sitting on the soil surface.
Container plants
Plants growing in containers are another matter altogether. Even if it rains, it may not be enough to supply all the water they need. The aim should be to keep the compost evenly moist, not allowing it to dry out and then overwatering it. This is the easiest way to ruin the display and even damage or kill the plants. Check the compost to see if it's moist or not (you can easily do this by inserting your finger to feel if it's dry) before watering.
Hanging baskets
Hanging baskets are always the first to dry out, especially if they are in a windy position, and may need daily watering to keep the compost moist.
How often do you feed summer plants?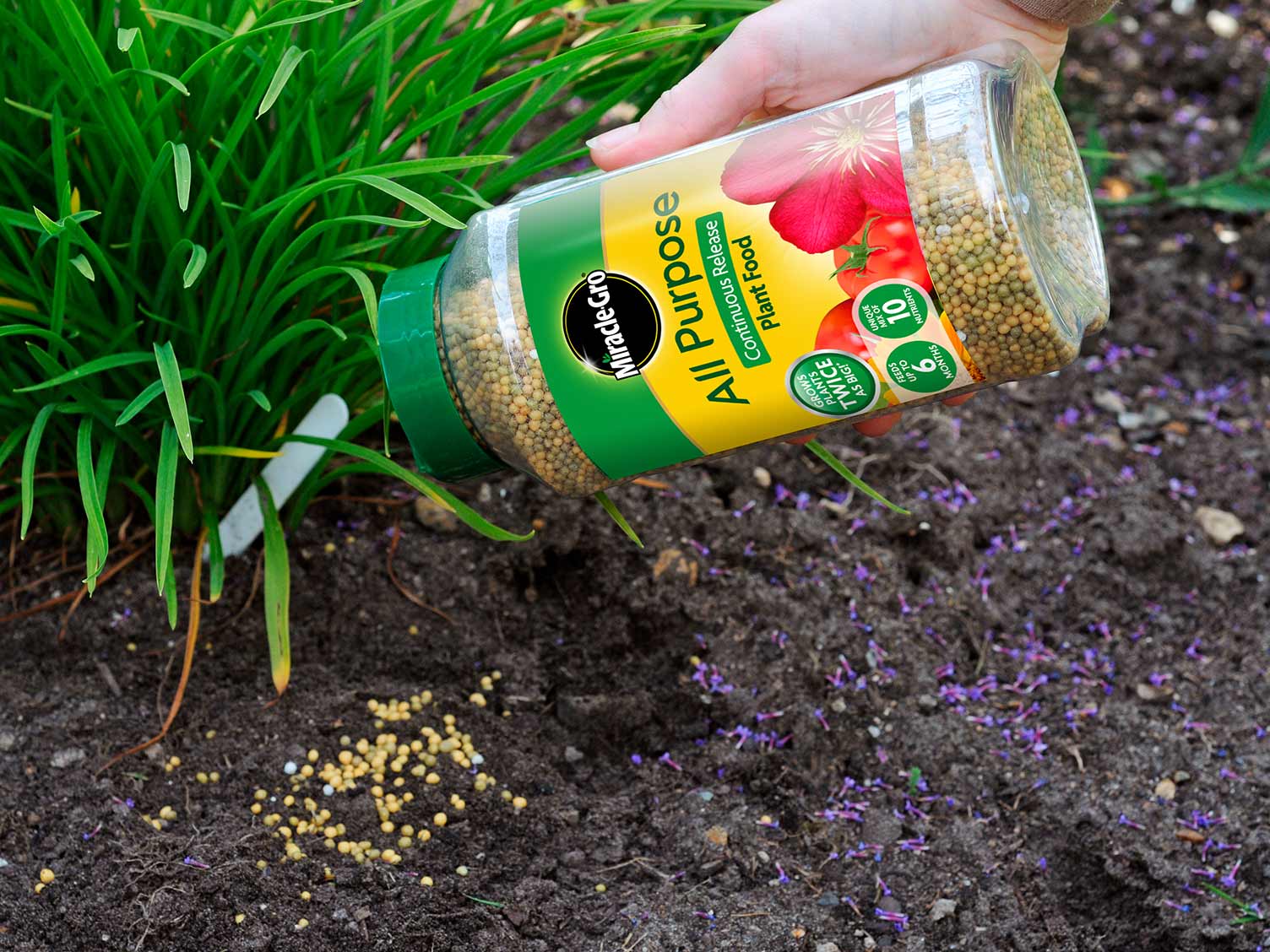 Summer-flowering plants need regular feeding to keep them healthy and flowering. How often you feed them depends on the plant and your chosen plant food.
Controlled-release fertiliser
If you used a controlled-release fertiliser at planting up time, you may not need to feed further, but always check in case some additional nutrients are needed.
Liquid fertiliser
Another option is to use a liquid fertiliser every 10 to 14 days to provide all the food needed for continuous flowering. This will come either as a concentrate which will need to be diluted with water or a ready to pour formulation. Plants such as dahlias are very hungry plants and respond well to regular feeding.
Rose fertiliser
Roses and some flowering shrubs are best fed with a specific rose fertiliser. With established roses, you can use a granular rose food initially in early spring (or after pruning) and for a second time in mid-summer. If you use a continuous release rose feed, you can feed them just once in spring. Roses can also be fed every 14 days with a liquid feed but this is best for roses growing in containers.
Azalea, camellia and rhododendron fertiliser
Lime-hating rhododendrons, camellias, azaleas and other ericaceous plants are best fed with a specific azalea, camellia and rhododendron fertiliser that contains all the nutrients these plants need to grow strong and healthy and flower profusely. If using a liquid feed, you should feed these plants every two weeks from early spring to late summer. If using a continuous release fertiliser then add this round the base in early spring and lightly fork in.
Deadheading flowers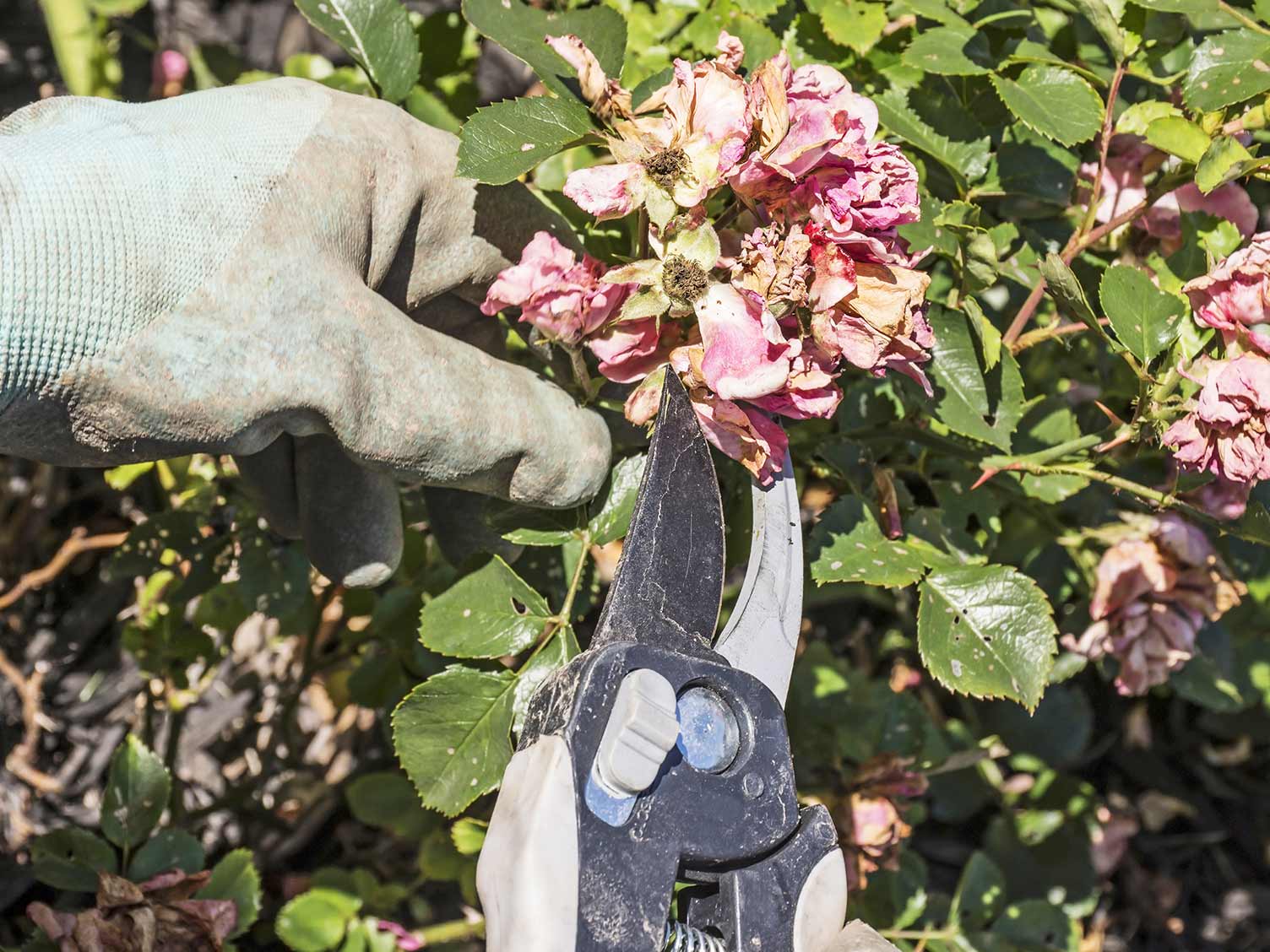 Plants only flower for one reason: to produce seeds. If you remove the developing seed heads/seed pods from plants that can repeat flower or flower continuously, then they have to flower again to produce those seeds. Regular deadheading ensures they just keep on flowering and flowering.
You will need to make sure that you remove the seed head/seed pod (which forms just behind the fading flower) not just the flower itself and generally cut with a sharp pair of scissors or secateurs down to the next leaf joint. Cut flowers when they still look good so you can have them in the house and still be encouraging more blooms.
So, keep an eye on your summer plants and reward them with water, food and deadheading, and they'll reward you with beautiful blooms until autumn and when the weather turns frosty. It's a reward worth working for!
Create a stunning floral display in your garden this summer
Are you ready to wow your garden guests this summer? Read our guide to the top 10 summer flowering bulbs to help decide what to plant. And make sure you're stocked up with the right products to keep your flowers in bloom, whether controlled-release fertiliser, liquid fertiliser, rose fertiliser or azalea, camellia & rhododendron fertiliser.
Frequently Asked Questions about how to keep summer plants flowering
What is a summer bedding plant?
Bedding plants are usually annual or biennial plants which flower for one season. Summer bedding plants flower during the summer season and are used to create a temporary planting scheme throughout the summer.
When should I remove bedding plants?
You should remove summer bedding plants at the end of the season once they have finished flowering. As most summer bedding plants are annuals and only grow for one season, they can be removed and placed on your compost heap. You can then make room in your beds for winter bedding plants.
What months do plants start flowering?
Summer bedding plants should flower for the full summer season, in some cases flowering as early as May or June right through into autumn. This of course depends on the weather and growing conditions.