Lose the lawn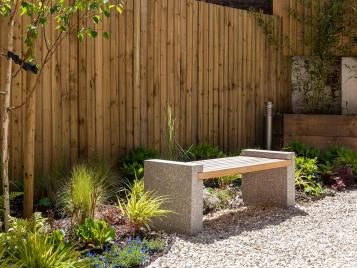 One instant timesaver is to replace your lawn with paving, decking or aggregate. Cutting down on the hours you need to spend mowing and raking each month will leave you free to focus on your vegetable patch or flower borders.
That's not to say that these alternatives are completely maintenance-free - garden decking needs to be cleaned and treated yearly, paving will require the occasional deep clean if it's going to stay looking its best, and even aggregate needs weeding now and then. But if planting is your priority, you'll hardly notice the occasional fifteen minutes you'll have to spend spraying weed killer.
Hate mowing but love the look of a lawn? Artificial grass has come a long way in the last two decades. Today's high-tech turf solutions are more realistic looking, softer to the touch, and last for years with very low upkeep. However, artificial lawns have environmental consequences so please be aware of the side-effects of installing these lawns.
Keep the lawn
Who says a low maintenance garden can't include grass? Many of us enjoy our lawns but don't want to spend hours each month nurturing it. If you've got children, turf is a great soft play surface - and pets love it too.
So why not keep the lawn, but cut down on overall upkeep by losing the border planting? To add interest, make a statement with coloured aggregate as a top layer for your borders; plum slate or pastel decorative stone make ideal low maintenance fillers while still being visually appealing.
Edge it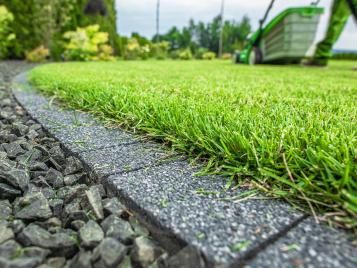 Want to keep your lush green grass and your flower borders but still cut down on maintenance time? Then lawn edging is your new best friend.
Most gardeners will agree that the most time-consuming aspect of turf maintenance is the edges - even if you splash out on a specialist tool. Grass can also begin to take over your garden borders if left unchecked. Installing some simple stone or wooden edging addresses both issues - and it also adds instant polish to your landscaping.
Be selective
When it comes to plants, that is. Conifers, grasses and certain varieties of the shrub are all low maintenance garden plants that can add texture, height and colour to your garden without being too demanding of your time. Consider periwinkle, daffodils, ferns - your local garden centre will be able to point you in the direction of undemanding species to suit your soil type.
The key is to prep the soil before planting and keeps new plants adequately watered - particularly while they're becoming established. If you treat them carefully at first, you'll be rewarded with a garden full of plants that will thrive with a minimum of upkeep.
Use containers (but don't go overboard)
Planting in containers can be a real timesaver, particular when it comes to weeding. They're also ideal for gardeners with reduced mobility, as they're at a more convenient height.
While you can grow almost anything in a container, you'll also want to make careful choices when it comes to planting. For example, root vegetables will be limited by the space available to them. And do bear in mind that some containers will need a good scrub every now and then to keep them looking their best.
Swap hedges for fences
Hedges can look very attractive, if well kept - but they do tend to be rather high maintenance. They'll need regular trimming, especially if they're at the front of your property alongside a public footpath - and this can either be time-consuming or if you're not able to do the job yourself, costly.
Replacing a hedge will require some initial outlay but save you considerable upkeep over the years to come. If the hedge is as the front of your property, you'll also be improving your home's security - a dense hedge reduces visibility. A low fence or brick wall adds kerb appeal and will instantly cut down on maintenance, so it's a win-win.