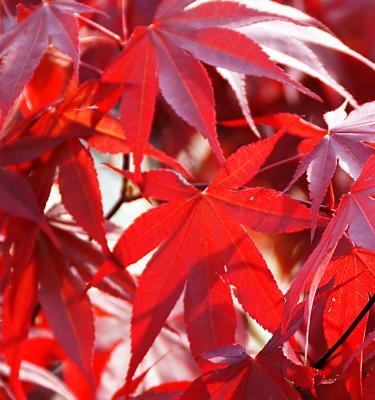 Even if you have a more modest garden, you've probably got a room for at least 1 small tree. Not all trees are massive – only suitable for parks – many are much more manageable. They'll provide height, structure, a focal point and maybe even somewhere to sit for a bit of shade on a very hot summer's day.
When choosing a tree for a small garden always bear in mind its main purpose. Obviously, you need to check its overall height and, often, more importantly, its spread. Some trees are quite slow growing so will take several years to reach their final height. Many can be pruned regularly if they start to outgrow their space, whereas others can't – or don't like being pruned. But regular chopping back may start to ruin its shape, so don't rely on pruning to keep a large tree smaller.
Trees that grow up to 7.5-9m (25-30ft) tall are usually reasonable choices for most small gardens, but there are trees that grow less than this. In some cases, a taller tree with a narrow habit may be a better choice than a smaller tree with a spreading habit, although the latter will provide welcome shade.
Think about the tree's attributes – evergreen or deciduous, flower rime and colour – and, wherever possible choose something that has more than one season of interest to get the most ornamental impact and value. As well as flowers, think about its foliage colour in spring and summer, as well as autumn tints, whether it also produces ornamental fruit and whether it has ornamental bark.
Suitable trees for smaller garden

Here's just a selection of some of our favourites. Good garden centres will be able to help you choose trees suitable for your garden or use the Frank P Matthews Tree Selector (heights quoted are in 10 years):
Acer palmatum varieties, such as Sango-Kaku, compact Japanese maple with coral-red young branches and leaves that open pinkish-yellow, turning green in summer and yellow in autumn. 6×3m (20×10ft)
Amelanchier lamarckii Ballerina White flowers in spring among bronze young leaves maturing to green and then orange and red in autumn. Small red fruit in summer. 4×3m (13½×2½ft)
Cercis siliquastrum The Judas tree produces rosy-pink, pea-shaped flowers in spring before the broadly heart-shaped leaves, which turn pale yellow and brown in autumn. 8×8m (26½×26½ft)
Cornus cousa var. chinensis Year-round interest from creamy bracts in spring, strawberry-like summer fruit, red and orange autumn colour and attractive bark. 4×2m (13½×6½ft)
Crataegus laevigata Paul's Scarlet Produces a profusion of dark pink double flowers in spring. 8×8m (26½×26½ft)
Malus Evereste Conical tree with white flowers, red in bud, and yellow-orange fruit. 5×5m (16½×16ft½)
Malus tschonoskii A narrowly conical tree with white flowers, pink in bud, greenish-yellow fruit tinged red and orange, red and purple autumn tints. 8×4m (26½×13½ft)
Prunus Amanogawa The flagpole cherry, is a small, columnar tree with greenish-bronze young leaves, lightly fragrant, semi-double, pale pink flowers in spring and orange and red autumn leaves. 6×2m (20×6½ft)
Prunus Pandora Bronze foliage when young, single, pale pink flowers in spring and orange autumn leaves. 8×4m (26½×13½ft)
Sorbus hupehensis Pink Pagoda Blue-green leaves that turn rich red in autumn, white flowers in spring followed by pink berries. 8×6m (26½×20ft).
Styrax japonicus An elegant tree with white bell-shaped flowers in spring and yellow-orange leaves in autumn. 8×4m (26½×13½ft)
See our plant guide on crab apples (Malus) and flowering cherries (Prunus) for more information.