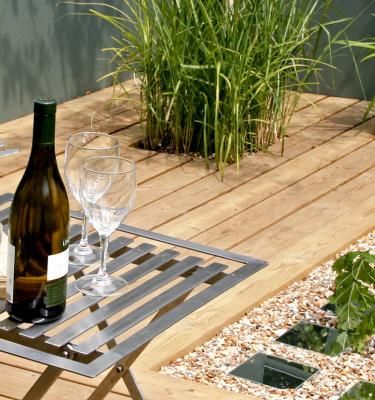 When it comes to gardening, size really isn't everything, though smaller gardens tend to need more planning than bigger ones to ensure maximum use of space and avoid a cramped, overcrowded feeling.
Rather than tell you exactly what to plant and where, I think it's more helpful to give you some top tips to follow, that way you can put your own personal mark on your space and tailor your garden to give you what you need.
Whether it be a peaceful place to sit and relax, a productive garden full of fruit and vegetables or a balanced combination of the two. No garden is too small and with careful planning, anything is achievable.
Here are my top 5 small garden ideas for getting the most out of your 'spatially challenged' garden.
---
1. Somewhere To Sit
To fully enjoy your small garden you will want somewhere to sit and admire all your hard work. On a nice sunny day watch which area of your garden gets the most sun and grab this for yourself. There are a wide range of choices out there, but I would suggest you plan a seating area with room for at least 2, somewhere to put your drink and if needed the addition of shade for really hot days.
---
2. Vary Your Textures
Quite often you see small spaces that are all laid in one style, paved being a commonly used one. This can make the space look smaller than it is and limit your design. Adding a flower bed/border would be ideal, or even a small barked area. Gravel is also often used, but don't limit yourself – there are loads of different aggregates to try. It is also worth noting that even a small grassed area will help trap dust and reduce air temperatures on dry and hot days. View research carried out in the USA, which shows a reduction in ADHD symptoms when time is spent in green spaces.
---
3. Lighten Up!
Using light colours on fencing, sheds and furnishings will make your space feel more open. If you have room for a small shed or store, try painting it in a lighter shade and see how it helps reflect light and enhance your small garden. Use pastel colours for your furniture and ornaments it all helps to add light to shaded areas. I tend to avoid the use of large mirrors in gardens as birds can get confused and fly into them, though smaller or mosaic style ones should be fine and very effective at reflecting light and giving the illusion of more space.
---
4. Don't Forget The Verticals
It is very easy to just focus on the ground, but don't forget your walls and fences too. Many climbers will grow well in pots and trellis or wire can be easily attached to provide support if needed. Vertical gardening has come on leaps and bounds over the last few years and there are now a fantastic range of wall baskets, vertical planters, flower towers...you can also make your own planters to attach to your wall, see how inventive you can be!
---
5. Avoid Straight Lines
This one is not always easy, but adding a wavy edge to your lawn or a curve to your path will help break up the usual 'boxy' feeling you can get in smaller spaces. It will also give you more scope to be artistic with your planting, where a border curves outwards you get more planting space so add some smaller shrubs at the front and a nice tall shrub at the back. Break up the line of vision, so you have to move around the garden to see it all properly.