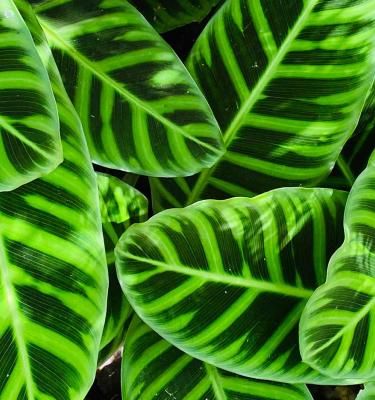 How to grow calathea
Calathea bring plenty of colour to the home through their beautiful foliage – and this foliage even has a fascinating quirk of moving throughout the day in response to light. As they are particularly sensitive to levels of both light and moisture, Calathea do have a reputation of being tricky to grow, but these challenges are well worth mastering, because when you do you'll have a highly attractive houseplant to enjoy in your home.
Types of calathea to grow
Widely called 'prayer plant', there are over 50 species of calathea to choose from, and many more cultivars. Some of the most widely known calathea types include:
Calathea crocata. Very dark green leaves which are gently furled, and red-purple beneath. Most Calathea will not flower in the UK, but this one is the most likely to, with bright orange blooms appearing in late summer.
Calathea lancifolia. One of several types of Calathea known as the rattlesnake plant. This one has long, lance-like leaves with deeply contrasting patterns.
Calathea makoyana. Also known as the Peacock plant, this showy species has highly contrasted variegated leaves. A small plant reaching just 30cm (1') tall.
Calathea orbifolia. It has round, leathery leaves with light green-grey leaf markings.
Calathea ornata, and Calathea sanderiana 'ornata'. Featuring wide, deep-green leaves with pronounced white, pink and green stripes. Often marketed as 'Pin stripe Calathea'.
Calathea rufibarba. Featuring slender, pointed leaves with an undulating edge. The undersides of the fluffy leaves are purple. Try cultivar 'elgergrass'.
Calathea warscewiczii, or Jungle Velvet. Velvet textured dark green leaves, with a red-purple underside. One of the larger species, this one will reach 1.2m (4') if allowed.
Calathea zebrina. Velvety leaves with two shades of green, resembling the patterns on a zebra. A larger houseplant which can reach over 1m (40") tall.
Many of these species have recently been reassigned to the genus Goeppertia, but for now you will probably find most of them still labelled as calatheas.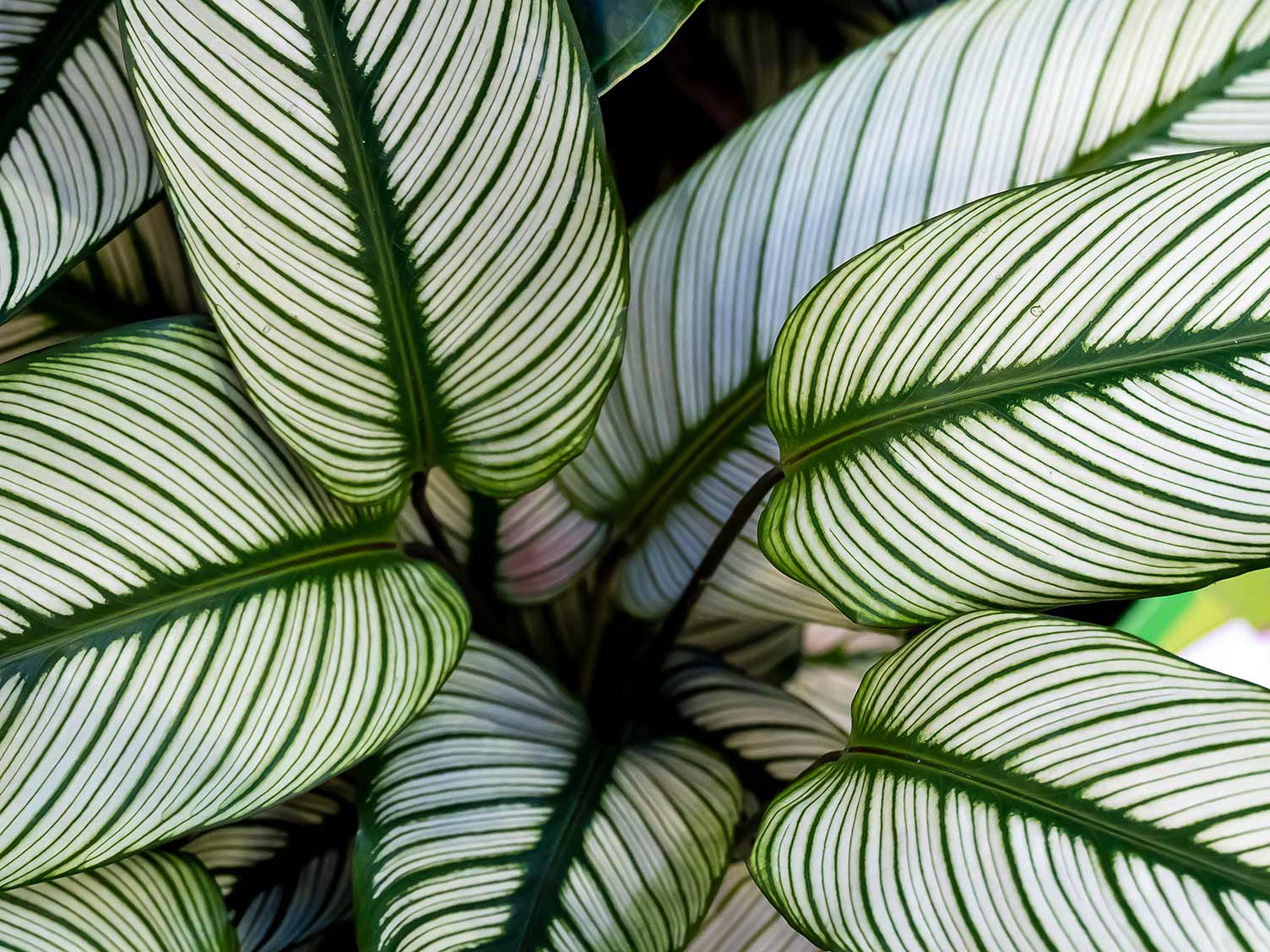 What you'll need to grow calathea
Spring is the best time to plant up a new Calathea. Gather the following items together:
Gloves
Pot (with holes in the bottom)
An attractive container, slightly bigger than the pot (with no holes in the bottom)
Calathea plant
Watering can
You should always wear gloves when handling compost and calathea plants. To plant Calathea you'll need to:
Water the plant before transplanting.
Loosely half-fill the pot with Miracle-Gro® Peat Free Premium Houseplant Potting Mix.
Remove the Calathea plant from the pot it arrived in, and place in the pot of compost. The top of the rootball should be just below the surface of the new pot.
Add more compost around the edges of the pot so that the Calathea sits snugly in its new home. Cover the surface of the rootball with a thin layer of compost.
Water the soil surface, but make sure it doesn't sit in water at the bottom of the pot.
Place the pot in the container and put it in its final location.
Where to plant and place your calathea
Calathea needs to be grown indoors in the UK. They are native to the tropics and will thrive when given similar conditions in the home, meaning a bathroom or kitchen is often the perfect location for a Calathea.
It's important to provide lots of indirect but bright light, erring towards a slightly shaded spot rather than too sunny. Calathea need humidity and temperatures which are consistently 16°C (60°F) or higher. Make sure you keep your calathea away from draughts and especially windowsills, where both colder temperatures and strong sunlight will damage it. Most calathea will reach about 1m (3') high, so you'll need plenty of space for it to grow upwards.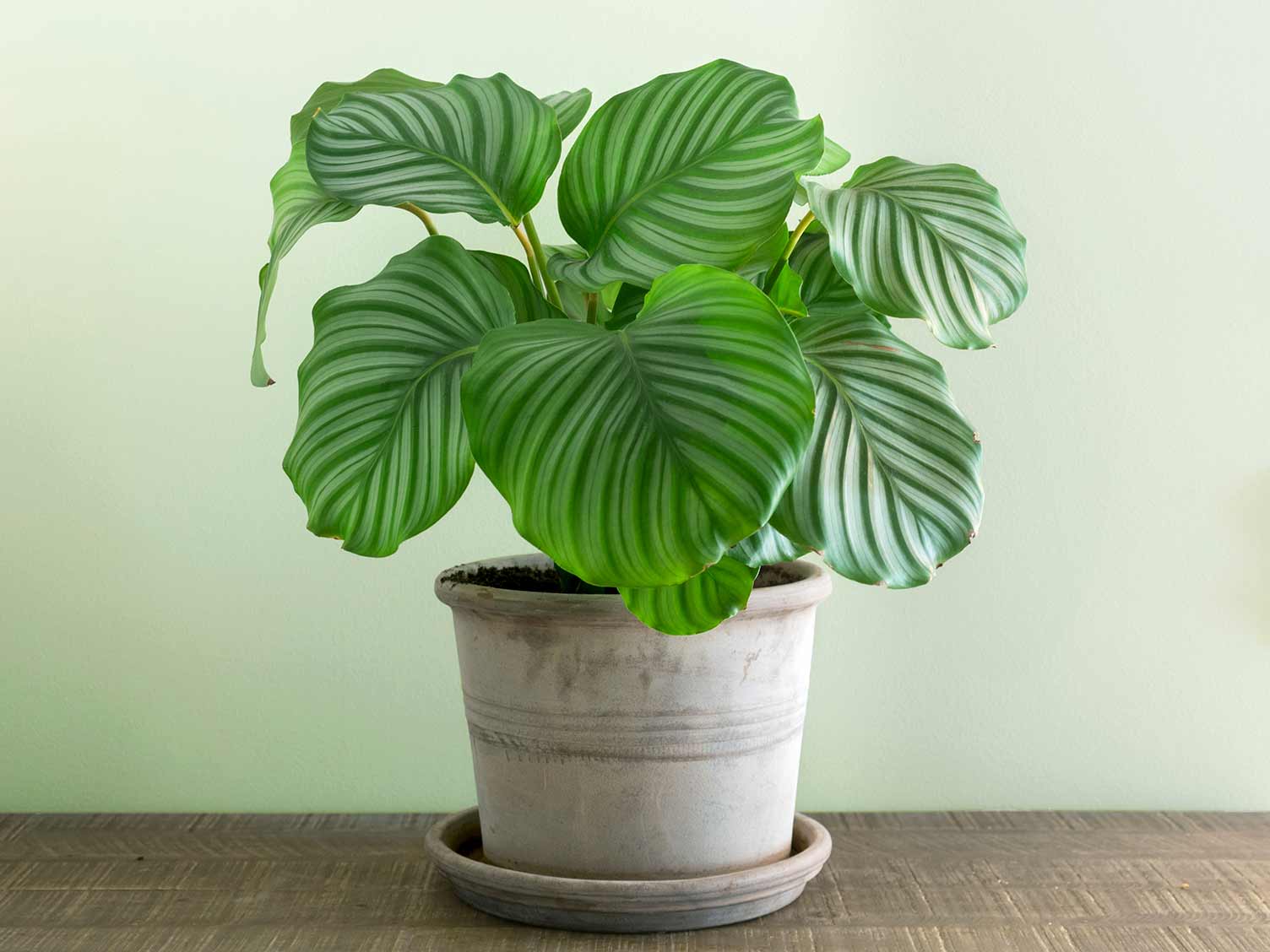 Caring for and nurturing your calathea
The two most important things to do to care for your calathea are to provide adequate moisture and light.
Compost should be moist but never sodden. It's easy to over and under water calathea, and this can cause lots of problems. But there is no hard and fast rule as to how often you should water a calathea. The best way to check is by using your finger - feel the top centimetre of the soil and if it is dry, water it. If it is moist, leave it and check again in a couple of days.
Calathea loves a humid environment, so mist regularly with room temperature water. Ideally, use rain water rather than tap water.
You should provide the calathea with indirect but bright light. Too much direct sunlight will damage the leaves, causing brown patches. Wipe dust from leaves every couple of weeks, using a damp cloth. You should feed your calathea monthly from April to September using a liquid plant feed such as Miracle-Gro Organic Pump & Feed.
It's recommended to repot calathea every couple of years in the spring, and this is a great opportunity to divide the plant to propagate more. Simply lift the calathea from the pot and gently tease the rootball apart. A clump of the rootball should come away easily – then all you need to do is pot this up, following the steps above.
Frequently asked questions about calatheas
Why are the leaves on my calathea turning brown?
The leaf tips and edges of calathea will turn brown if the air is too dry – to counter this you should provide humid conditions and mist more often if needed. Brown patches on the leaves can also be a sign of sunburn - make sure your calathea does not receive much direct sunlight.
What does an overwatered calathea look like?
Yellow or wilting leaves are the main symptom of overwatering. If this is the problem, stop watering for a while, and stand the pot on a tray of gravel or pebbles to allow excess moisture to drain away.
Why are the leaves on my calathea turning yellow?
Overwatering can cause leaves to turn yellow. Calathea are susceptible to root rot, which can happen if the plant is allowed to sit in moist conditions for too long.
Can I mist my calathea with tap water?
Rain water is great if you have access to a clean supply. But if you only have tap water available, you should allow it to stand for a day before using it as this helps any chemicals to dissipate.
Common pests and diseases with calathea
Calathea are susceptible to some of pests and diseases.
What is the fine webbing on the leaves of my calathea?
Red spider mite can infest calathea, damaging the pretty leaves. It's important to increase the humidity around the plant, whilst ensuring good air circulation at the same time.
Why does my calathea have brown patches on the leaves?
If you have brown patches on your plant and have ruled out moisture and temperature issues, then it might be that the calathea is suffering from leaf spot. This is often the case when the brown patches are typically surrounded by a yellow edge. To care for your calathea plant, you should remove and destroy any affected leaves. It's also important to avoid using tap water when watering the plant.
Key features of calathea
| | |
| --- | --- |
| Botanical Name | Calathea spp. |
| Plant Type | Houseplant |
| Family | Marantaceae |
| Light Exposure | Indirect to partial shade |
| Soil pH | Neutral to slightly acidic |
| Flowering Time | June - August (Calathea crocata only - others unlikely to in the UK) |
| Flower Colour | Orange (Calathea crocata only) |