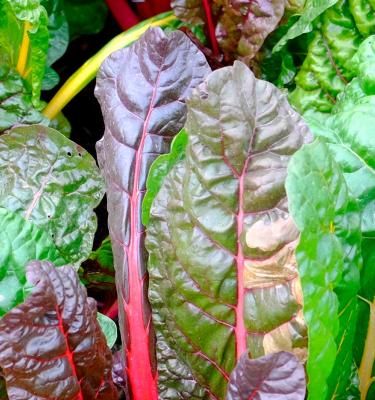 How to grow chard
Chard, or Swiss Chard, is a delicious and beautiful plant which will bring harvests to the kitchen and colour to the garden all year round. Beta vulgaris subsp. vulgaris is a deep green leafy vegetable with brightly coloured stems, quick to grow from seed and needing little aftercare. It's an easy plant for new gardeners to begin growing, and will quickly become an essential part of any keen home grower's vegetable patch.
Types of chard to grow
There are many varieties of chard, all of them having the characteristic large fleshy leaves and thick crispy stalks. The plant is also known as 'silver beet' and 'leaf beet'.
Chard can have red, burgundy, yellow, bright pink, white or orange stems. They look stunning all year around, but particularly against a frosty or snow-white ground. The names of different chard varieties often give a clue to the stem colour:
'Bright Lights' - a mixture of varieties with differently coloured stems
'Bright Yellow' - golden coloured stems and slow to set seed
'Fantasy' - red stemmed and resistant to downy mildew
'Fireworks' - a mixture of varieties with different coloured stems
'Rainbow' - multicoloured stems
'Green Wave' - green stems and leaves, looking rather like perpetual spinach
'Peppermint' - pink and white striped stems
'Ruby Red' - bright red stems
'White Silver' - white stems
The leaves can be picked young and eaten in salads or, as they mature, cooked like spinach, whilst the stems can be chopped and cooked in stir-fries or pasta sauces. All varieties of chard are high in vitamins A, C and K, iron and fibre, making them a great addition to any dish.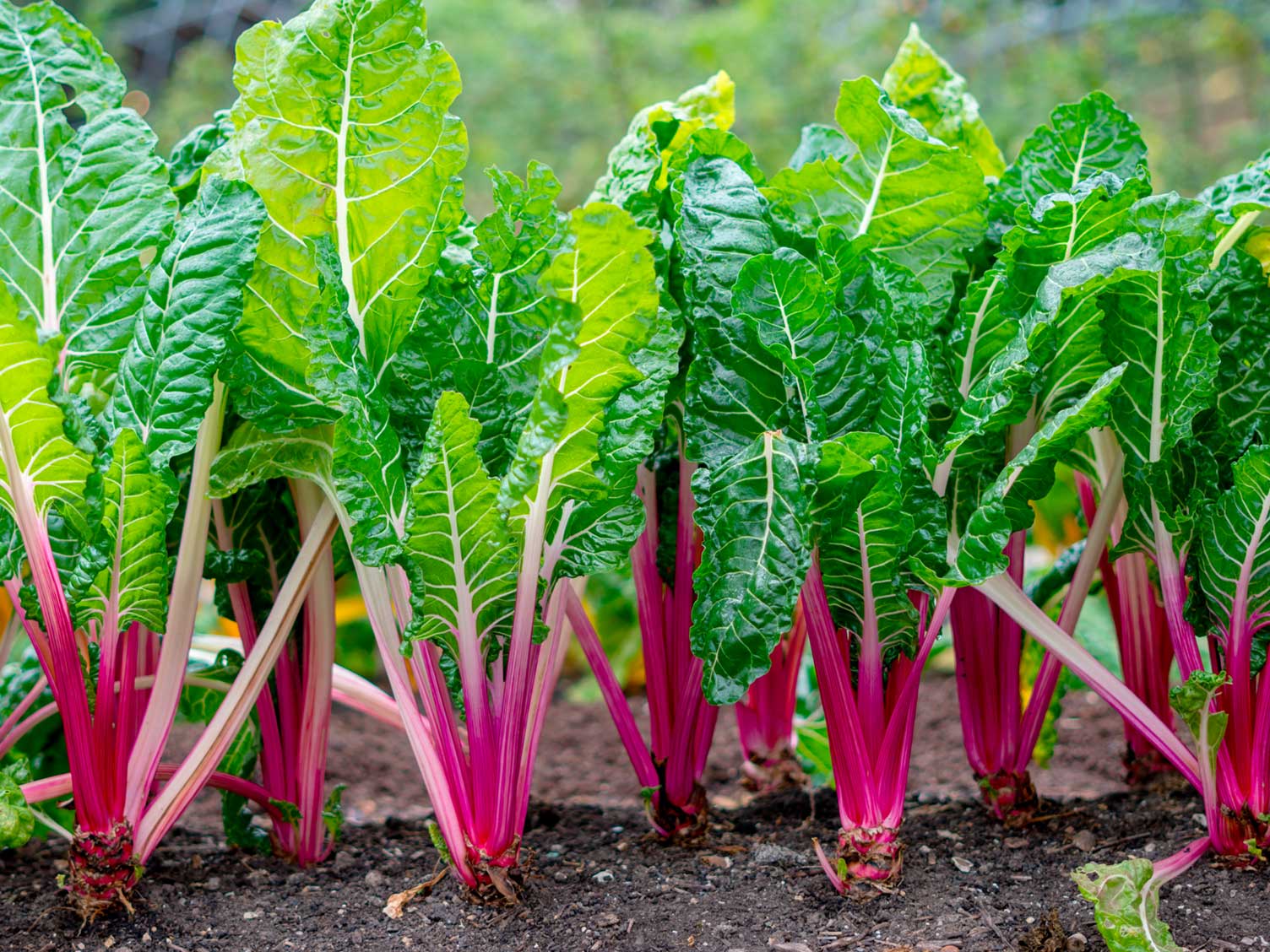 What you'll need to grow chard
It's simple to grow chard from seeds. You can sow chard seeds direct in the ground from March through to September. You will need:
A trowel or hoe
Watering can with fine rose
Water
Chard seeds
Create a shallow drill in the soil, no more than 1.5cm (1/2") deep, using the trowel or hoe.
Water the drill, and then place a seed every 10cm (4") apart along the length of it.
Cover the seeds with soil, and water again using the fine rose on your watering can.
Water every day until the seedlings germinate. Thin to 40m (16") apart as plants grow larger.
The seeds can also be sown in modules, with young plants then transplanted to their final location.
You can also grow chard in pots or containers. Simply, follow our guidance above, filling the container with a peat-free multi-purpose compost. Be extra vigilant in watering them, as pots tend to dry out more quickly.
Young chard leaves can be harvested after just two months, and fully grown leaves after three months. Cut them from the outside of the plant, close to the soil. New leaves will shoot from the centre of the plant as the season progresses.
Where to plant and place your chard
Chard is a hardy and robust plant and will grow well in most soil types. Ideally, plant them in an open sunny position although they will tolerate partial shade.
Chard looks great planted informally amongst other plants in the border or vegetable patch. It is also stunning when planted in a more formal pattern, with careful thought given to how the plants are arranged to show off their colourful stems. Chard will grow to 50cm (20") in height, and as the stems are the eye-catching feature, position them so that they can be seen towards the front of a bed.
Caring and nurturing your chard
Water regularly during hot spells, so that the plants do not flower and set seed. At some point, regardless of your efforts, chard will do this - you can leave the seedheads to spread and germinate at random for next year, or collect them for drying and sowing in another location.
Harvest throughout the year, although growth will slow in very hot and very cold weather, so quantities will fluctuate. When harvesting, always leave some greenery on the plant so that it can continue to absorb sunlight and convert this into energy for new growth.
Mulch around mature plants in the summer and autumn with farmyard manure help retain moisture around the plants. Water regularly in dry spells. Feed fortnightly with Miracle-Gro® Performance Organics Fruit & Veg Concentrated Liquid Plant Food to encourage continuous leafy green growth.
Frequently asked questions about chard
Can I eat all of the Chard plant?
You can eat the leaves when young, raw, in salads, or cook the stems and leaves as they mature. Larger stems and leaves are very versatile, and go particularly well in pasta dishes, pizza, omelettes and curries.
Can I grow chard in containers?
Yes! Chard looks great in containers as a central, feature plant, with low-growing bedding plants around the edges. Sow in modules first then transplant when they have a few true leaves. Choose a large container filled with a good peat-free compost, such as Miracle-Gro® Peat Free Premium All Purpose Compost. Water regularly as containers can easily dry out.
Can chard grow in shade?
Chard will grow in shade, but much more slowly than plants receiving sunlight.
Does chard come back each year?
Chard is not a perennial plant, but their lifespan does cover two growing seasons. Plants will freely seed themselves, meaning that you can plant them once and have many years of self-grown plants appearing in your garden.
Common pests and diseases with Chard
Why do the leaves of my chard plant have white-grey patches on them?
Downy mildew thrives among crowded plants, so thin as needed to ensure good air circulation.
Why does my chard plant have furry grey patches on it?
Grey Mould can affect any part of chard, spreading to and damaging other plants too. Ensure good air circulation by thinning plants as needed.
Why are the leaves of my chard plant shredded around the edges?
Birds can tear the edges of chard leaves in search of moisture. Cover plants with netting if this has become a problem.
Why do the leaves of my chard have white or brown blisters and blotches?
Beet leaf miner maggots can tunnel into the leaves, making them look unattractive. Add fine mesh to deter beet leaf miner flies from laying their eggs on leaves, and squash maggots on sight.
Key features of chard
| | |
| --- | --- |
| Botanical Name | Beta vulgaris |
| Plant Type | Biennial |
| Family | Amaranthaceae |
| Light Exposure | Sun to partial shade |
| Soil pH | Neutral to slightly acidic |