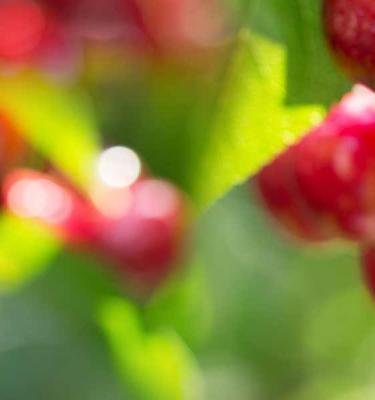 How to grow cherry trees
Cherry trees are usually grouped into being either an ornamental type grown for their flowers, or a type grown for producing cherries for eating. The ornamental type is well-celebrated in Japan, where the annual cherry blossom festivals attract thousands of visitors from across the world. Cherry trees are truly beautiful, with different species of Prunus spp. offering gorgeous flowers, bark, leaves, and fruit. You can bring a bit of this to your garden with our easy to grow guide.
Types of cherry trees to grow
Ornamental cherry trees are usually labelled as such. These varieties do produce fruit, but they are not always edible – blossoms are the reason to grow them rather than for their flavour. These stunning cherry blossom trees are also known as sakura, and there are several hundred cultivars of tree to consider. We recommend:
Prunus 'Accolade' gives interest throughout the year, with large pink flowers in the spring, and bright orange-red leaves in the autumn.
Prunus apetala. A small tree growing to 5.5m (17') with white to light pink flowers, and very dark fruit.
Prunus 'Kanzan'. A pink flowering variety which has a large spread of up to 8 metres (25') wide.
Prunus nipponica, or Japanese alpine cherry. This Japanese cherry blossom tree is very tolerant of cold conditions, this variety usually has light pink flowers with attractive yellow-orange leaves in the autumn.
Prunus pendula 'Pendula Rubra'. A weeping cherry tree cultivar, with an arching habit offering dark pink flowers.
Prunus 'Royal Burgundy'. Grown for its stunning foliage, the leaves of this variety emerge as a copper colour, turning to bright red and eventually purple.
Prunus sargentii. A pink flowering cherry tree with bronze to orange leaves.
Prunus serrula. Also known as the birchbark cherry, paperbark cherry, and Tibetan cherry tree. Grown for its shiny copper coloured bark, a medium sized tree reaching 6-9m (18-27' high).
Prunus 'Shogetsu'. Large flowers which turn from pink to white.
Prunus × subhirtella 'Autumnalis Rosea'. Unusual insofar that this cultivar will flower in a mild winter, as well as in the spring.
Prunus 'The Bride'. A small tree with bright white flowers.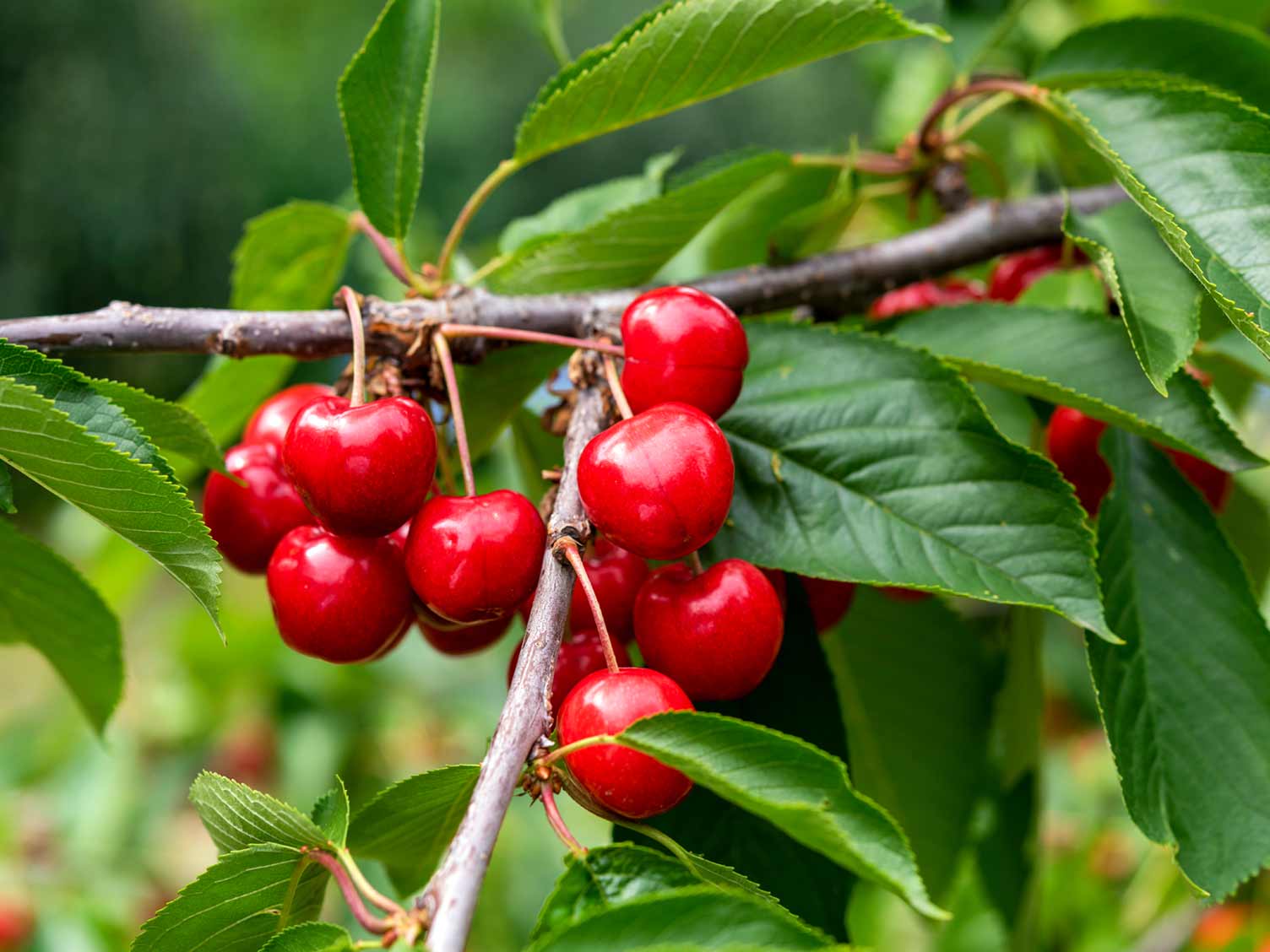 Other cherry trees, not carrying the label 'ornamental' are usually grown for their fruit. The delicious fruit can be sweet or acidic. Sweet cherries are great for eating fresh, whilst acidic cherries are better for cooking. We like:
Prunus 'Sweetheart'. A sweet cherry which will continue cropping into early autumn.
Prunus 'Morello'. A dark-red fruited acidic variety, great for making into jams and tarts.
Prunus 'Merchant'. A heavy cropping sweet cultivar with dark fruits, this one needs a pollination partner.
Prunus 'Lapins'. Another heavy cropping sweet variety, this one does not need another cherry tree nearby as it is self-fertile.
Both types of cherry tree are truly beautiful, so whichever you choose, just be sure to give it a good start by following our top tips for growing cherry trees, below.
What you'll need to grow cherry trees
A wide range of cultivars of cherry tree are available to buy online. You'll also find cherry trees for sale at most garden centres. Choose one with an appropriate rootstock for the space you have available - rootstocks limit the size of the mature plant.
'Gisele 5' rootstock (dwarf cherry tree) is perfect for small gardens and pots, growing to just 1.5 metres (5') tall, making the cherry tree a dwarf size. The rootstock 'Colt' is better for a larger garden, limiting the height of a sweet cherry tree to 8 metres (24'), and acidic cherry trees to 4 metres (12').
Some cultivars need a pollination partner to produce fruit, so check this when purchasing. If necessary, buy a second plant to be grown nearby. To plant the cherry tree:
Dig a hole slightly bigger than the rootball, or if growing in a pot, add plenty of compost to a large container which is at least 50 cm (18") across.
Add plenty of water to the hole or pot, and allow to drain away.
Place the plant in the hole to the same depth it was planted when grown in the nursery - look for a change in the appearance of the bark, slightly above the roots.
Add a stake to the ground, and use string tied in an '8' shape to secure the tree to it.
Backfill soil in the ground, or add more compost to the pot, gently firming in to ensure good contact between the roots and the soil.
For cherry trees planted in the ground, add a mulch of Miracle-Gro® Peat Free Premium Fibre Smart™ Mulch.
Plant outside from mid-autumn through to the end of the winter, when the plant is dormant and the ground isn't frozen.
Where to plant and place your cherry trees
Cherry trees grow well in pots, as well as fanned against a wall or in the ground as a free-standing tree. They can be relatively small, so are suitable for most gardens no matter the size. Choose an appropriate rootstock so that the tree will only grow to the size you want it to.
They don't cast much shade, so are perfect for underplanting with flowers that like dappled shade. Cherry trees like sun and to be protected from wind.
Cherry trees need a period of cold weather, so don't be tempted to grow them indoors in a heated environment.
Caring and nurturing your cherry trees
Cherry trees flower in mid-late spring, and fruiting varieties are ready to harvest throughout the summer. Protect from birds who will enjoy the fruits, by securing netting over the plant. Make sure there are no gaps as birds will get in and may get trapped.
They like lots of sunlight, and prefer well-drained soil which can retain some moisture. Mulch annually in late winter and early spring with Levington® Peat Free Organic Blend Farmyard Manure.
Prune young trees from March to April, and mature trees in the summer only if needed. This should focus on maintaining the shape desired, and to ensure good airflow around the plant. Prioritise removing dead and diseased growth.
Protect from frost when flowers are forming, using horticultural fleece. Remove this each day once the weather warms to allow pollinators to reach the flowers, replacing at night before frosts return.
Water container-grown and young plants to ensure consistent moisture. Mature specimens should not need watering except in the very driest of summers.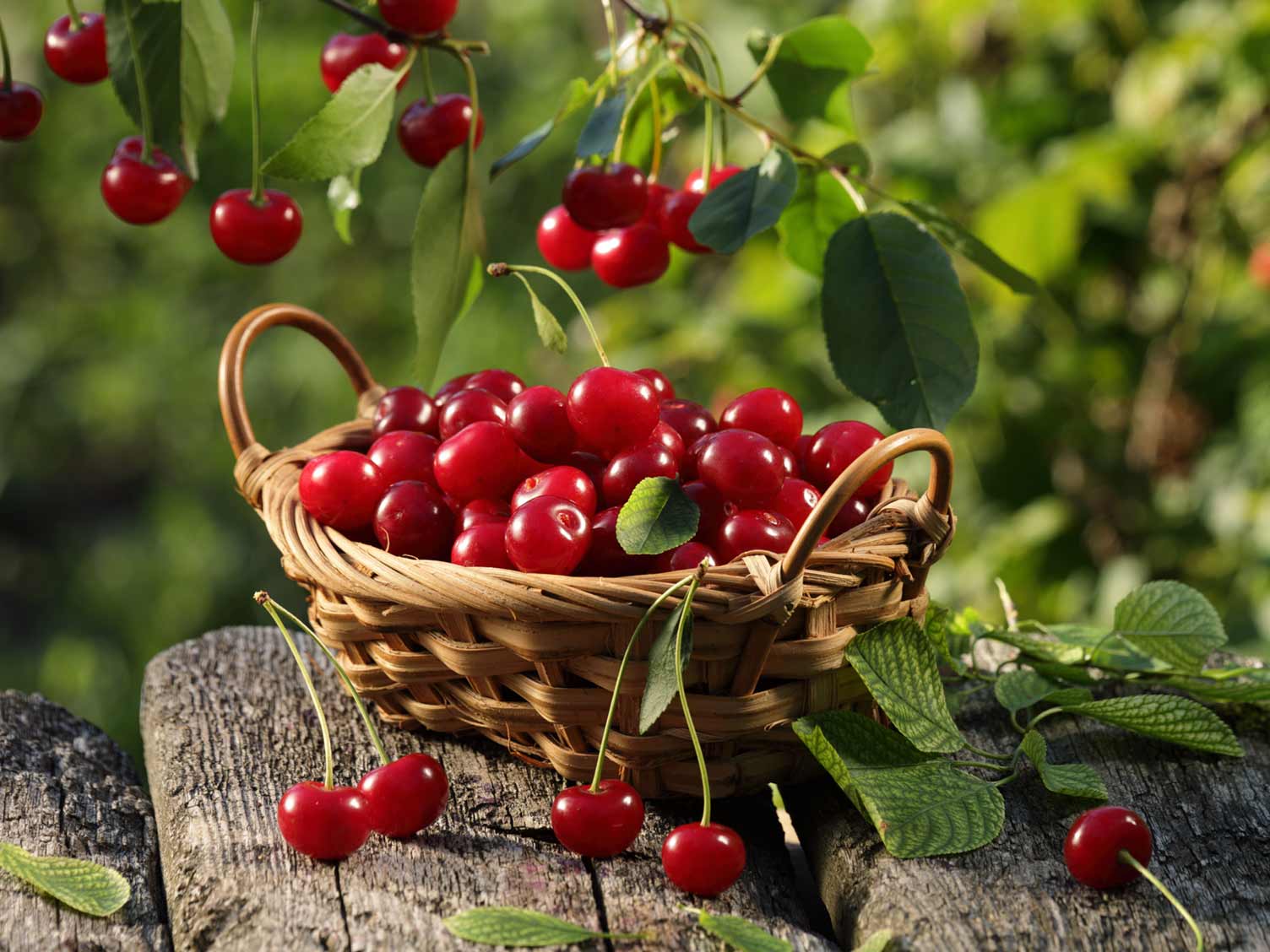 Common pests and diseases with cherry trees
Why are the cherry tree leaves on the tips of the branches curling up?
Black cherry aphid suck sap from the leaves, causing them to curl up and become distorted. It doesn't look very nice but is largely harmless - encourage birds outside of the fruiting season, as they will enjoy eating the aphids.
Why do my cherries have small holes in them?
Cherry fruit fly can lay eggs in young fruit, and when these hatch the worm-like larvae eat the flesh and then exit the fruit, leaving a small hole. You can prevent this by encouraging birds into the garden (protect with netting when fruits are forming). Squish small populations by hand, and spray with BugClear™ Ultra Gun! If the problem persists.
Why does the bark of my tree have a split which is weeping?
Canker is a serious disease which can kill a cherry tree and can spread to other trees. Remove infected sections of the plant using secateurs or a pruning saw, cleaning the tool carefully before using again. Destroy the affected material.
Frequently asked questions about cherry trees
Do cherry trees have thorns?
No, cherry trees are thornless.
Can you grow a cherry tree from a cherry pip?
Cherry trees can be grown from seed, but the size of the mature tree is then not controlled by a rootstock, so they can become rather too large for most gardens.
Are cherry trees poisonous to horses?
Yes, the leaves of a cherry tree contain cyanide, and are toxic to horses if eaten.
Key features of cherry trees
| | |
| --- | --- |
| Botanical Name | Prunus spp. |
| Plant Type | Woody perennial |
| Family | Rosaceae |
| Light Exposure | Full to partial sun |
| Soil pH | Neutral to slightly acidic |
| Flowering Time | April-May |
| Flower Colour | White, light and dark pink |