BugClear™ Fruit & Veg Ultra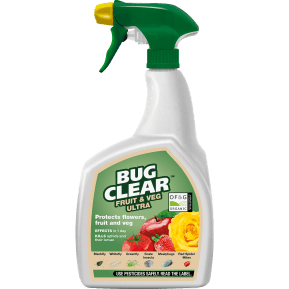 BugClear™ Fruit & Veg Ultra
BugClear™ Fruit & Veg Ultra ready to use spray controls aphids, scale insects, mealy bugs, red spider mites and other mites. It is ideal for fruit, vegetables and ornamentals, and can be used in organic gardening. Effects seen in just 1 day. Based on rapeseed oil, the product is fully certified for use in organic gardening. Bottle is made from 100% recycled material and can be recycled.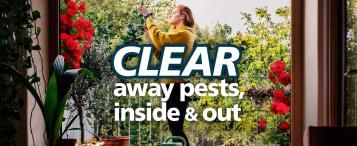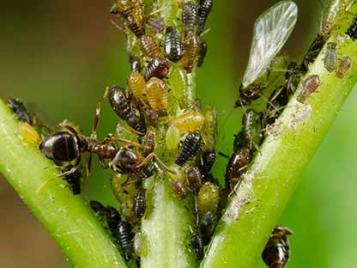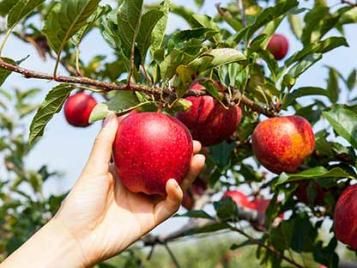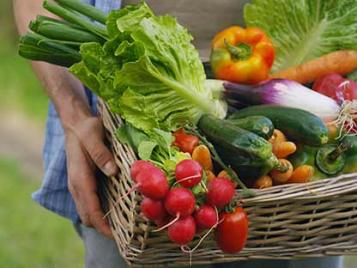 How to use
Shake bottle well before every use (5 seconds).
Choose a calm day, avoid bright sunlight, drought and frost.
Spray early morning (7-9am) or evening (6-8pm) to minimise risk to bees.
Press down firmly on top of trigger heard immediately behind yellow nozzle to depress safety tab.
At the same time, twist nozzle to depress safety tab. At the same time twist nozzle to spray position (¼ turn each way). Spray plants thoroughly to wet upper and lower surfaces of leaves. Avoid contact with non-target plants. Turn nozzle to the 'OFF' position after use.
Where to use
Ideal for ornamental plants, fruits and vegetables. Some plants may be sensitive to oils. It is always advisable to test a sample of plants by treating them and leaving for at least two weeks, before treating a large or valuable collection. Do not treat sensitive species of floral plants (e.g. Poinsettias, cyclamens, kalanchoes, african violets, ferms or ivy etc. Do not spray directly onto blooms.
How often to apply
Spray at first sign of insects and repeat applications at 7-10 day intervals. It is essential to ensure comprehensive coverage of the plant surface, particularly the underside of the leaves. On fruit trees, depending on tree size, complete coverage may not be practical, and the product is unlikely to give complete control of widespread populations. Do not use during high temperature (above 25°C) or during periods of high light intensity. Blooms and young leaves may react sensitively.
Maximum number of treatments: 3 per crop.
Coverage area
Spot treatment.
Cautions
Contains rapeseed oil.
We recommend you wear gloves when gardening.
Wash hands after use.
Use plant protection products safely. Always read the label and product information before use
Health and Safety
Always read the pack label and product instructions carefully before use. For further information relating to product safety please review the product data safety sheet link below.

BugClear™ Fruit & Veg Ultra
800ml (other sizes available)