Levington® Organic Compost Maker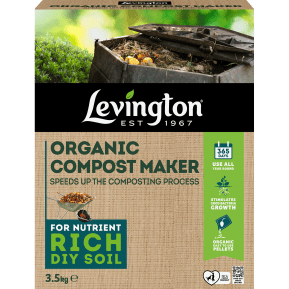 Watch our video all about Levington Organic Compost Maker.
Levington® Organic Compost Maker
Levington® Organic Compost Maker is a soil supplement for a nutrient-rich DIY soil. Levington® Organic Compost Maker speeds up the composting process. Its nitrogen rich base helps to stimulate bacteria growth. It is suitable for organic use and ideal for garden and kitchen vegetable waste.
How to use
Site your compost bin or heap in a warm, sheltered part of the garden. For best results it should be in contact with the soil and have a cover. Add a good mixture of garden and kitchen waste, shredding or breaking up larger pieces. Do not add large quantities of grass, paper, card or woody branches all in one go.
Keep the compost moist but not waterlogged. Water the heap if the waste is dry or woody.
Forking over, mixing or turning the contents every few weeks or so will help the composting process.
The top of the heap should be kept warm and moist by covering it with a lid, plastic sheet or similar covering. Do not add cooked food as this may attract vermin.
Where to use
Grass cuttings, vegetable matter, egg shells, weeds, leaves, shredded stems and other woody material.
On compost heaps: sprinkle evenly over 20cm to 25cm of composting material and lightly fork in.
In compost bins: mix evenly with 20cm to 25cm of composing material as the bin is filled.
How often to apply
This product can be used at any time you are making your own home-made compost. It is especially useful from autumn to spring when temperatures are lower and is a great way to get a new compost heap started.
Coverage area
Add 150g-200g to each 20cm-25cm layer of garden waste.
Cautions
Always wear gloves when gardening.
Only use where there is a recognised need to feed plants. Keep away from plant leaves and stems.
Do not exceed the appropriate application rate. Increasing the dosage may result in damage to your plants.
Store in the original container in a cool, dry, frost-free place away from children, pets and foodstuffs.
Wash hands and exposed skin after use.
Do not eat or smoke while applying the product.
Always read the label and product information before use.
Health and Safety
Always read the pack label and product instructions carefully before use. For further information relating to product safety please review the product data safety sheet link below.

Levington® Organic Compost Maker
3.5kg (other sizes available)