Levington® Peat Free Organic Blend Top Soil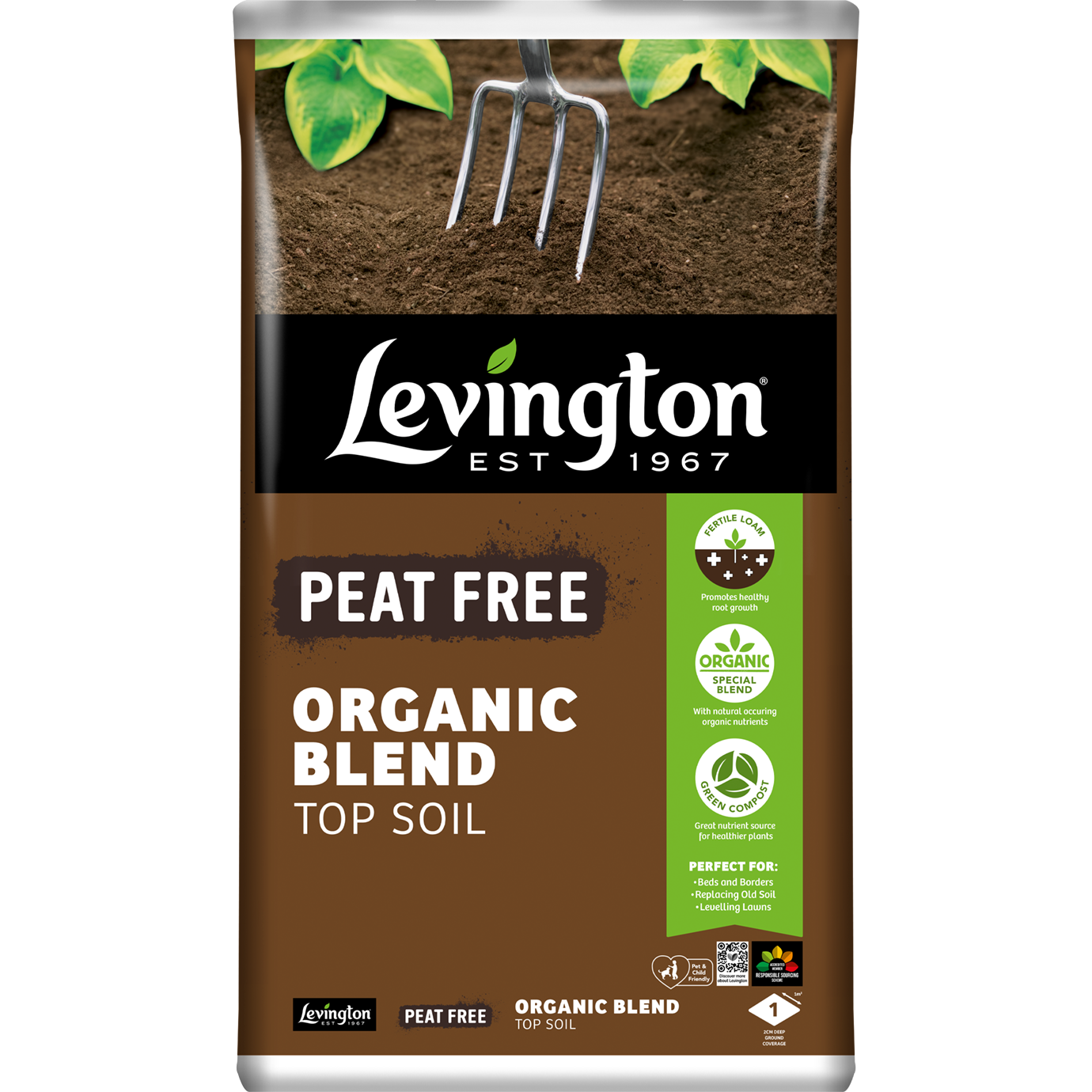 Levington® Peat Free Organic Blend Top Soil
Levington Peat Free Organic Blend Top Soil is an organic rich fertile loam-based soil that promotes healthy root growth. Perfect for creating new beds and borders, Levington Top Soil is ideal for creating new beds and borders, replacing old soil, levelling lawns and making compost.
How to use
Use straight from the bag, it's as easy as that. When filling or potting, firm lightly. Keep the compost moist and do not let it dry out. Do not leave plants standing in water.
For making composts: Due to its high organic matter content, this top quality soil is ideal for mixing with base dressings to make a loam-based compost. To enrich it add Miracle-Gro® Slow Release Plant Food granules at the rate of 25g per 10 litres of soil. For alpines and other plants that need increased drainage, add 1 part coarse grit or washed sharp sand to 3 parts of Levington Organic Blend Top Soil.
For levelling lawns: Use Levington Organic Blend Top Soil to produce a clean, level surface before sowing grass seed or laying turf or for filling in hollows in established lawns.
For beds and borders: Water the plant thoroughly. Dig a hole twice the size of the root ball. Part fill the hole with a mixture of 50% soil and 50% compost. Ensure the plant is at the same level as in the ground. Fill in firmly, then water.
For containers: In windy positions, a loam-based compost will provide the weight needed to help keep patio pots and containers upright.
For replacing sick soil: Soil in greenhouses that has developed a build-up of pests and diseases or soil that has grown roses or strawberries for a number of years may need replacing if new plants are to establish. Use Levington Organic Blend Top Soil to introduce a fresh, fertile soil in which plants can thrive.
---
Where to use
Ideal for new beds and borders, replacing old soil, levelling lawns and making compost.
---
Coverage
Fills 4 medium pots 22cm (9").
Fills 2 large pots 25cm (10").
Fills 1 large container 42cm (17").
---
Cautions
Use in a well ventilated place and avoid breathing in dust.
Always wear gloves when gardening. Wash hands after use.
Store in a cool place, away from sun.
Open bag carefully and reseal after use.
Always read the label and product information before use.
Q1: With what have you replaced Peat in the compost?
A1: Levington compost contains forest by-products, carefully processed into wood fibre to help you grow plants that improve your environment and make the world a more beautiful place.
Health and Safety
Always read the pack label and product instructions carefully before use. For further information relating to product safety please review the product data safety sheet link below.