Levington® Sulphate of Iron+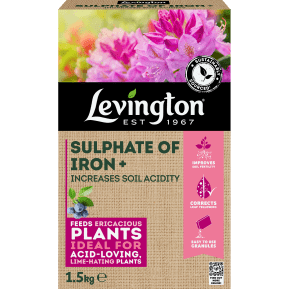 Watch our video about Levington® Sulphate of Iron+ ericaceous plant food.
Levington® Sulphate of Iron+
New Levington® Sulphate of Iron+ is a soil supplement that increases soil acidity and feeds ericaceous plants.
How to use
Use every time you are preparing the soil for planting. Sprinkle evenly over the soil and mix in well. Water well after sowing seeds and planting out, especially in dry weather.
During the growing season sprinkle evenly over the soil around plants. Gently work it into the soil surface with a hand fork or hoe without disturbing the roots and water in thoroughly.
Planting out small or bare rooted plants: Sprinkle around plants after planting and gently work into the soil.
Planting bigger plants, shrubs and trees: Mix with soil from planting hole and planting compost and use as a planting mixture.
---
Where to use
Ideal for ericaceous (acid-loving, lime-hating) plants, such as rhododendrons, azaleas, camellias, heathers, pieris, hydrangeas, roses, blueberries and acers.
---
How often to apply
Use this product whenever you need to acidify the soil, give a boost to ericaceous and other lime-hating plants and whenever leaf yellowing or poor growth is noticed. Levington® Sulphate of Iron+ can be reapplied after 6 to 8 weeks.
---
Coverage area
Soil type - light sandy: 25g per m².
Soil type - standard: 35g per m².
Soil type - heavy clay: 45g per m².
---
Fertiliser analysis
UK iron (Fe) water soluble 12%, magnesium oxide (MgO) 5%. ROI iron (Fe) water soluble 12%, magnesium (Mg) 3.01%.
---
Cautions
Only use where there is a recognised need to feed plants. Keep away from plant leaves and stems.
Do not exceed the appropriate application rate. Increasing the dosage may result in damage to your plants.
Store in the original container in a cool, dry, frost-free place away from children, pets and foodstuffs.
Always wear gloves when gardening. Wash hands and exposed skin after use.
Do not eat or smoke while applying the product.
---
Warnings
Harmful if swallowed.
Causes skin irritation.
Causes serious eye irritation.
Keep out of reach of children.
Do not eat, drink or smoke when using this product.
IF SWALLOWED: Call a poison centre or doctor.
Wear protective gloves/protective clothing/eye protection.
Always read the label and product information before use.
Health and Safety
Always read the pack label and product instructions carefully before use. For further information relating to product safety please review the product data safety sheet link below.

Levington® Sulphate of Iron+
1.5kg (other sizes available)